US official skeptical of closing locks to bar Asian carp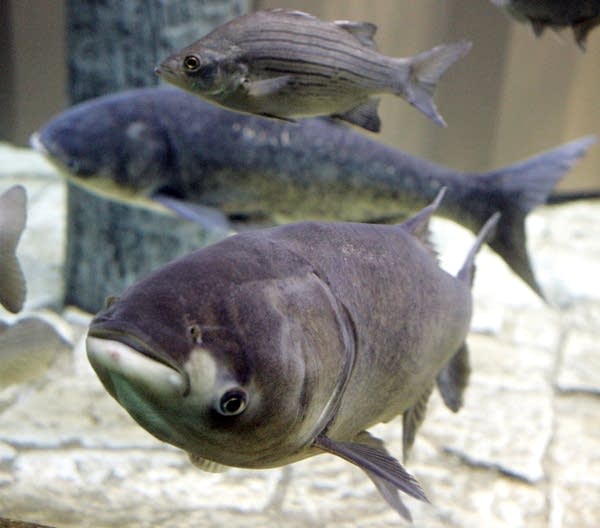 Some people call John Goss the "Asian Carp Czar." He doesn't embrace the title.
"That's a term of non-endearment I think," Goss said. "I'm a coordinator to do the comprehensive effort to stop the Asian carp from becoming established in the Great Lakes."
Goss is the Obama administration's top official working on the problem of invasive Asian carp. He was in Bloomington, Minn., Thursday for a meeting of the Asian Carp Regional Coordinating Committee. Goss, along with other federal and state officials, agree the carp pose a threat to native wildlife in Minnesota's rivers. But Goss indicated he is skeptical the latest proposal would work to stop the fish's spread.
U.S. Sen. Amy Klobuchar and U.S. Rep. Erik Paulsen have proposed closing the Upper St. Anthony Falls Lock and Dam in Minneapolis if adult Asian carp are caught above the dam in Hastings.
Goss doesn't think the idea is feasible long-term.
"It's just not that simple. Closing a lock can't just happen over night," Goss said. "They can do it for an emergency situation but not in any long-term way to keep a fish from coming through."
MPR News is Reader Funded
Before you keep reading, take a moment to donate to MPR News. Your financial support ensures that factual and trusted news and context remain accessible to all.
The federal Great Lakes Restoration Initiative, now in its third year, has provided the bulk of funding for Asian carp projects. But that money can't be spent to fight Asian carp in the Mississippi, Goss said.
"It's a significant priority to stop the establishment in the Great Lakes right now," he said. "Hopefully we'll be expanding beyond the Great Lakes into the other states in the next few years."
The delay frustrates Minnesota Department of Natural Resources Commissioner Tom Landwehr, who said a tenth of the money that is being spent on the Great Lakes could prevent the Asian Carp problem altogether in Minnesota.
"The thing that's sort of emotionally difficult about this is because there is urgency here and yet I know that the gears of government move very slowly. And yet everybody agrees there's a problem," Landwehr said. "Everybody agrees there are things we could be doing today that would help the cause but we have to still work within the system which grinds and grinds and grinds terribly slowly."
Landwehr said the solution may come from researchers who find a biological way to target Asian carp.
Landwehr said $1.8 million in Legacy funding from the state Legislature this week would allow more research on ways to stop the spread of the invasive species.
"The Legacy bill that was passed actually includes money for a new research institute at the University of Minnesota," he said. "We could have our own research facility in Minnesota that will deal with Minnesota-specific issues."
The Outdoor Legacy funding legislation was passed by both the Senate and House but the two bodies will have to reconcile their different versions.
Landwehr also plans to visit Washington, D.C. in May to appeal to Minnesota's congressional delegation and the federal government. He wants a general appropriation for feasibility and engineering studies of possible solutions on the Mississippi River.
Gallery
1 of 1