A new Twins anthem for opening day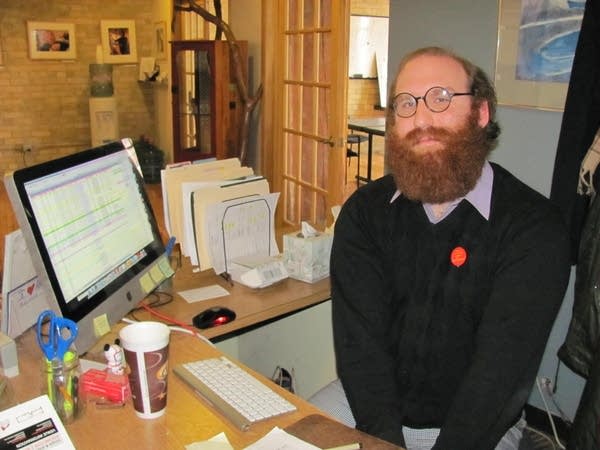 Twins fans all know and love the fight song "Win Twins" that dates back to when the Twins first moved to Minnesota in 1961.
As much as we love it, let's ask the question: Is there room for another song, perhaps an anthem? Such an anthem now exists in the form of an online sing-along.
Andy Sturdevant is pretty well known in the local arts scene. He hosts a live show at Bryant Lake Bowl every month called Salon Saloon. Two Octobers ago he had a show about baseball and he'd just seen a movie about the Leeds United soccer team and loved the Leeds fight song.
Sturdevant quickly noticed the lyrics "Here we go with Leeds United" can very easily become "Here we go with Minnesota" and the chorus of "We love you Leeds, Leeds, Leeds" very easily becomes "We love you Twins, Twins, Twins." So Andy changed the words and performed the song that night.
Grow the Future of Public Media
MPR News is supported by Members. Gifts from individuals power everything you find here. Make a gift of any amount today to become a Member!
Fast-forward to this year - there's another guy in New York named Sam Utne who heard about this anthem. Utne co-founded the Minnesota Culture Club, which is a group made for Minnesota natives like Utne who live in New York. The group is a way for Minnesotans to get together and hang out with fellow Minnesotans in the big city.
When Utne heard about Sturdevant's anthem, "I decided I wanted to make a video out of it for our site and asked for the original rough video," he wrote in a blog entry on the Minnesota Culture Club website.
"Then I created a karaoke version of it and sent it out to a whole bunch of Minnesotan friends," he said. "Over the next two months, I recorded them over Skype singing the anthem back to me while wearing headphones to keep the audio clean(ish). I completely forgot about this project until last week when I noticed the Twins were about to begin their season."
The result is a new video of several Minnesotans singing along to Sturdevant's anthem. The video, Sturdevant said, "became this kind of mass choral experience, which is perfect because that's exactly the quality you want in an anthem. It's a super catchy tune, a total earworm."
The Minnesota Culture Club, by the way, hopes more Minnesotans will record themselves singing the song so more videos might be made.
And for you purists who worry about the original "Win Twins," Sturdevant said, "we're not trying to replace any anthems. We're all great fans of 'Win Twins,' but you know, a song is like a tool kit, and tool kits should have many tools in it. I think there's a time and place for 'We're Gonna Win, Twins' and I think there could be a time and place for 'Twins, Twins, Twins.'"
VIDEO: Twins Anthem - Minnesota Culture Club
Gallery
1 of 1