Mary Losure explores the mystery behind the Cottingley Fairies
Ask anyone "Do you believe in fairies," and you'll likely raise a smile from most people.
Yet not so long ago some of the best minds in Britain believed they had scientific proof that fairies exist. St. Paul writer, and former MPR reporter Mary Losure explores what happened in her new book "The Fairy Ring."
One day an image of a teenage girl on the cover of a book caught Mary Losure's eye.
"She is sitting in the grass in the woods and she is holding out her hand, as if in greeting to this little gnome," Losure said.
Grow the Future of Public Media
MPR News is Member supported public media. Show your support today, donate, and ensure access to local news and in-depth conversations for everyone.
The book was "The Coming of the Fairies" by none other than Sir Arthur Conan Doyle, the creator of Sherlock Holmes, and a host of other popular adventure novels. But this book was not fiction. One of the most famous writers in the world claimed he had scientific proof of real fairies.
The girl in the picture was Elsie Wright, who, along with her younger cousin Frances Griffiths, unwittingly created an international sensation.
"They worked together to take these photographs that fooled the entire world really by mistake. I mean they really never meant to do this thing. It just happened to them."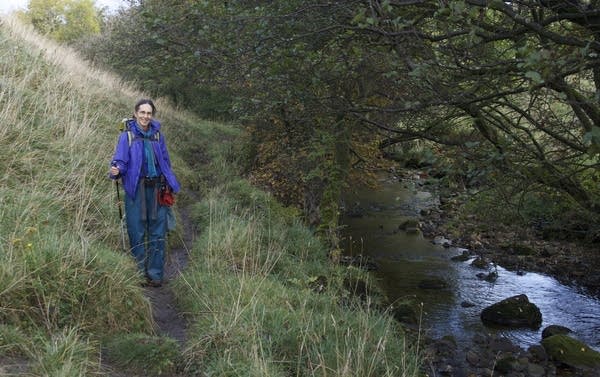 The story of Cottingley fairies began with a childish prank in a small English village during World War I. Frances and her family moved there to stay with her Elsie's family because Frances's father was going to war as a gunner in France. It was a very stressful time. Frances took to playing by the stream behind the house. Losure went to visit the place for herself.
"We climbed down into this little valley," Losure remembers. "And if you are in this little valley it's like the rest of the world goes away. You can't see anything but the tops of the houses of the village way over the trees. And the water flows and there are waterfalls. And it does seem like a magical little place. And I didn't see any fairies."
But in 1917 Frances did. She often told her family she saw fairies by the stream. Eventually they began to tease her. To get back at them her cousin Elsie came up with the idea of borrowing her father's camera to provide proof. And just to make sure they took along some figures Elsie, a talented artist, had painted.
"They took the one picture with all the fairies dancing around Frances and then Elsie just for fun took this picture of herself with the gnome, a while later in the fall," Losure said. "And then the pictures were just put away in a drawer."
And there they might have stayed except for a confluence of circumstance, belief, and assumption. The war ended but the deaths of millions of young men on the battlefield left a peace filled with desperate sadness and longing. Spiritualism became popular as the bereaved tried to contact lost fathers, husbands, and brothers.
One day in 1919, Elsie's mother attended a local lecture on nature spirits. When she mentioned to someone that her daughter had photographed fairies, she was asked to produce them. This began a chain reaction of excitement and interest which ended up with an investigation led by Sir Arthur Conan Doyle.
"And they went about it what to them seemed like in a scientific way," Losure said.
It wasn't really. Losure says Conan Doyle, who had lost a son in the war, was a spiritualist and believed the girls pictures represented an enormous breakthrough.
"He thought that fairies had been photographed for the first time and this was the beginning of a new age; this was a new era, that the spirit world would be manifest because people could take, certain people could take, pictures of fairies," Losure said.
The girls produced three more pictures. Experts at Kodak told Conan Doyle and his colleagues the pictures weren't manipulated, but they could not see how the fairies could be real. Conan Doyle only listened to that first part.
Losure said Conan Doyle and the fairy investigators also seriously misjudged Elsie and Frances.
"They were little village girls, and also they were artisan's children," Losure said. "They were working class girls, and they would not have had the wherewithal to take these photos that would fool everybody."
Except they did. The fairy photos sparked a debate that went on for decades. Some sided with Conan Doyle, others believed he'd been duped.
It wasn't until 1983, more than 60 years later that Frances and Elsie admitted what had happened. However Frances always said the fifth picture which included the fairies she claimed she had seen down by the stream for months was real.
Losure's book "The Fairy Ring" is aimed at younger readers. She will read from it this weekend at the Red Balloon Bookstore in St Paul, with other readings soon after at other Twin Cities book sellers.
While it is easy for some to dismiss tales of the supernatural, this is a tale of both science and belief, Losure said.
"It's a very complicated and in some ways explosive territory," she said. "But what I like about the book too is it's just a story."
A story of two girls, a camera, and people who want to believe.
Gallery
1 of 1