Michael Brodkorb's request for unemployment benefits rejected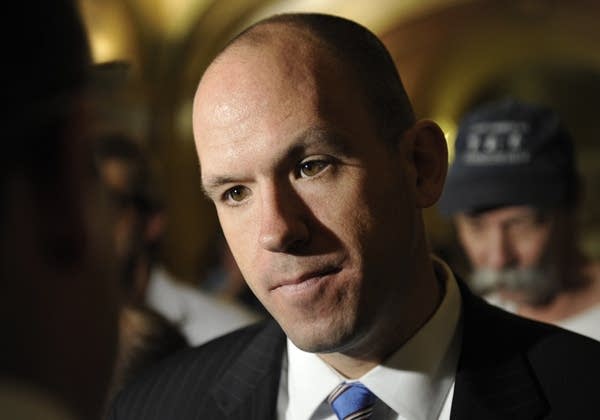 The state has rejected former Republican Senate staffer Michael Brodkorb's request for unemployment benefits.
Brodkorb is the former staffer who was fired after he had an affair with his boss, Senate Majority Leader Amy Koch. Brodkorb is appealing the decision to deny him unemployment benefits.
It's the latest twist in the legal dispute between Brodkorb and the Senate, and some say the appeal could provide a glimpse into Brodkorb's legal strategy as he prepares to sue the state.
When a person files for unemployment, the application and the subsequent payments are private under state and federal law. The decision to reject the claim is also private. But an appeal of that decision is public, however, Brodkorb's lawyer Phil Villaume does not want to talk about it.
Grow the Future of Public Media
MPR News is supported by Members. Gifts from individuals power everything you find here. Make a gift of any amount today to become a Member!
"Anything else that I would comment on is a privileged and private nature," Villaume said.
Brodkorb also declined to talk about the situation, referring questions to Villaume.
Cal Ludeman, the secretary of the Minnesota Senate and top operations officer in Senate, confirmed that Brodkorb's application for unemployment benefits was turned down.
"He's appealing the decision," Ludeman said. "That's a Department of Employment and Economic Development decision. We didn't have anything to do with that."
A lawyer at the Employment and Economic Development department declined to talk about the rejection but confirmed that Brodkorb appealed the department's decision.
Villaume expressed surprise that MPR News had learned that Brodkorb's unemployment assistance request was rejected. He suggested that the release of the information adds weight to his contention that the Senate is routinely violating Brodkorb's right to privacy.
"Since Mr. Brodkorb was unlawfully terminated at a public restaurant, representatives in the Minnesota Senate and others in state government have continually violated his privacy rights afforded to him as a state employee." Villaume said. "The unauthorized release of private information related to his former employment with the Minnesota Senate only adds to legal complications with the state of Minnesota."
Brodkorb has been preparing to sue the Senate for gender discrimination. He was fired in December after Amy Koch stepped down as Senate Majority Leader. Brodkorb later revealed that he and Koch had an affair. He alleges that he was dismissed because of the affair and maintains female staffers who had affairs with male lawmakers kept their jobs. He is seeking at least $500,000 in damages. Taxpayers could end up paying that bill and legal fees. Ludeman said he followed the law when he fired Brodkorb.
No one is explaining why Brodkorb's unemployment application was rejected. Several employment law attorneys say most claims are denied because an employee either quit or committed misconduct. Andrea Rubenstein, an employment law attorney based in Minneapolis, said the person who processed Brodkorb's claim may have red-flagged it because of his actions.
"If the reason given was he was fired because he had an affair with his boss, they would consider that misconduct, so they would initially reject it," Rubenstein said.
Another attorney, Bill O'Brien, said Brodkorb may find it difficult to convince an unemployment judge that he is entitled to unemployment. He said Brodkorb was a spokesperson for the Minnesota Senate Republicans — a high profile job that requires high standards.
"It's going to be very difficult for him to make the case that the kind of conduct that he engaged in did not present some sort of misconduct, in my view," O'Brien said.
Brodkorb has a hearing scheduled on his unemployment claim on Thursday.
Those hearings typically involve witnesses, evidence and direct questioning, said Marshall Tanick, an employment law attorney in Minneapolis. He said the hearing could provide a glimpse into Brodkorb's upcoming legal strategy.
"This happens time and time again. The unemployment hearings, although they are relatively brief and relatively restrictive, they become previews of what's in store for when they get into a real trial," Tanick said.
Attorney Stephen Cooper agrees, saying the hearing could also provide greater detail into Brodkorb's affair with Koch, and how it was handled internally.
"In two hours you may get 40-times more information than has been revealed by either side up until now," he said.
But Cooper said that a decision on whether to award Brodkorb unemployment compensation should not be seen as a bellwether for any future legal challenges. He said the testimony and the decision itself are not admissible in court.
Gallery
1 of 1