Teachers hope to boost test scores with fresh air, food, mints
Do you feel smarter when you pop a piece of peppermint candy or gum in your mouth?
How about after a quick walk? Or a snack?
Kids statewide are taking the Minnesota Comprehensive Assessment tests again, and many teachers hope those are all things that boost student performance today as they begin their second day of high stakes testing.
Teachers at Avalon School hope they've found a new way to increase student test scores.
Grow the Future of Public Media
MPR News is supported by Members. Gifts from individuals power everything you find here. Make a gift of any amount today to become a Member!
Kevin Ward and his fellow teachers and advisors at the St. Paul charter school are walking all of their students — nearly 200 of them, grades 7 through 12 — to a nearby park.
"This is the first time," Ward said. "We'll see how it goes."
Ward hopes students are more relaxed after getting some fresh air and a snack of fresh fruit on the morning their MCA tests begin.
"Here's my advice: this is only a test," he said. "Go back and have some fun."
Ward says it's important to show students that their teachers are not stressed about testing, and that they have confidence in their students.
Joe Palumbo, 16, isn't worried about the tests, but understands how this morning walk might help students do better.
"You get a little charged. You get some vitamins in your system, clear your head a bit," Palumbo said. "It probably helps a lot of people."
Exercise, food, and pep talks are all things Minnesota teachers hope will boost student performance on the MCAs.
The key to good test performance, of course, is quality teaching throughout the year. This is just that last little nudge from teachers.
Schools are ultimately judged on MCA scores. Low scores can brand a school as failing under state and federal guidelines. Older students must pass the math section to get their diplomas.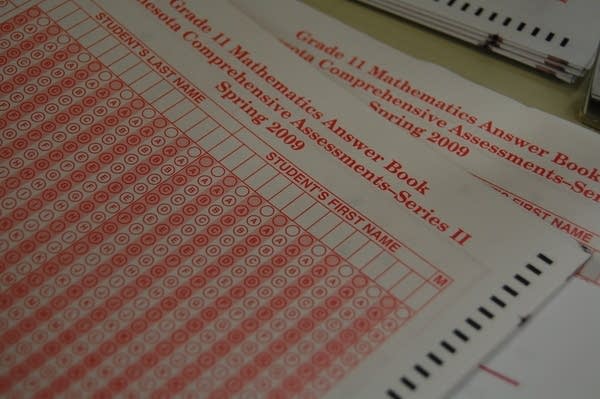 Anita Britton, a third grade teacher at Scenic Heights Elementary School in Minnetonka, hopes a little fun will help her students relax and do their best.
She's told students to bring a hat — a favorite one, or just a silly one.
"When we're doing the test I'll say 'Put on your thinking cap,' " Britton said. "That's when we'll take the test and they can wear the funny and silly hats when we're doing that."
Students need a good night of sleep and a good breakfast if they're going to test well, say Minnesota education officials.
To fight hunger, Mary Verbick, a reading specialist for sixth, seventh and eighth graders at Pioneer Ridge Middle School in Chaska, gives her students a package of string cheese before the test.
And Verbick offers something a bit unusual that she says helps them focus.
"I give each of them a small pet rock, the shiny polished ones that people put in vases to hold flowers. It's smooth and they can rub it with their fingers if they're getting restless," Verbick said. "It's just a silly thing that I do, but they like it."
Verbick also gives her students peppermint candy.
It turns out the little red-and-white-striped mints have become standard testing equipment in classrooms, right up there with a line of sharpened No. 2 pencils.
Research in the 1990s at the University of Cincinnati showed students who sniffed peppermint before a test were more alert, and therefore did better.
Laura Hanson, a science teacher for eighth, ninth and 10th graders in Norwood-Young America, is not convinced. But that hasn't stopped Hanson and her fellow teachers from passing out mints before and during MCA tests.
"We have to have them pass the test, so anything that'll help I guess we'll try it," Hanson said.
Helping students relax and concentrate on test day has become more important for teachers, according to Steve Hoover, a St. Cloud State University professor who teaches future school counselors in the School of Health and Human Services.
Hoover said testing has become a critical component in monitoring school performance, and that makes everyone a bit nervous on testing day.
"It's going to increase the anxiety across the board. The teachers, the administrators, the parents ... of course then all of that gets funneled right at the students as they're getting ready to take these tests," Hoover said.
He suggests that teachers use breathing exercises to help their students conquer anxiety, not just at test time but all year long.
As for the power of peppermint, that's something Hoover has not studied. But if teachers find it works, he said they should continue handing mints out on test day.
Gallery
1 of 1