Fixing a ride, fixing a life on the Iron Range
Celia Copeland was broke and virtually homeless, living on her mother's houseboat in Grand Rapids with her two small daughters, when she decided to make a change. She'd lost her car and driver's license, thanks to too many tickets. The relationship with her kids' father hadn't worked out. The pits came when her brother took the houseboat out without telling her and the clothes she needed were onboard.
She found a job at a local grocery store, but wasn't sure how she'd get to work. That's when she found Rural Rides, a program in the Arrowhead that helps people get to jobs or search for jobs, whether by bus, taxi, carpool or volunteer driver. Her "transportation advocate," Diane Gilmore, helped Copeland, who is 27 and trained as a nursing assistant, with bus tickets. And after about a month of working, she was able to rent a house in Bovey, seven miles from Grand Rapids. "It was the only affordable place," she said. "I took what I could get to move forward."
That was late 2009, and at the time, Copeland said, the local bus only ran between the cities in the morning.
"It was the only way to get to town even if I worked in the afternoon. I would walk eight blocks with a car seat over my shoulder, one daughter on my hip and the other by the hand. We walked in the snow to catch the bus into town."
Grow the Future of Public Media
MPR's budget year comes to a close on June 30. Help us close the gap by becoming a Sustainer today. When you make a recurring monthly gift, your gift will be matched by the MPR Member Fund for a whole year!
The bus wasn't convenient for getting home either, and sometimes she relied on volunteer drivers, also provided by Rural Rides.
"Celia amazed me," said Gilmore of Copeland. "Every case is different. People come to us like Celia, homeless and without a vehicle. Some don't even have a job. Some just can't afford to put gas in their vehicle."
Transportation is fundamental when it comes to keeping a job. And in rural Minnesota, most people drive to work and anywhere else they're going. Rural workers are more likely than their urban counterparts to drive alone to work and fewer than 1 percent use public transportation to get to their jobs, compared to 6 percent of urban residents, according to a recent report from the Fargo-based Small Urban & Rural Transit Center.
Outstate systems, with their limited funding and far flung clientele, can't always meet the needs of the regular commuter
That's partly due to a bias against transit, the perception that it's mainly for the elderly or the handicapped. But it's also because outstate systems, with their limited funding and far flung clientele, can't always meet the needs of the regular commuter, who may travel 50 miles one way for a job. Maybe the hours of service are short, ending at 4 or 5 p.m. on weekdays. Or maybe the bus only comes through a particular town a couple of times per week or month.
So sometimes a Celia Copeland needs a Diane Gilmore, someone whose job is to stitch together reliable transportation for a limited time by any means necessary. That's what Rural Rides, associated with the Arrowhead Economic Opportunity Agency, does. Founded in 2008, the program started in St. Louis and Lake counties and has spread to Itasca and Cook counties, all in the Arrowhead, a region that tends to have higher than state-average unemployment and poverty rates. Each of four transportation advocates works with clients in a given geographic area to come up with transit plans, even sometimes life plans, and eventually reach "transportation self-sufficiency."
When exploring transit options for clients, advocates start with the cheapest mode first: the bus.
"Quite often the bus will not meet the need," said Marcia Mehle, who manages and helped found Rural Rides. "In a rural area, it's not that we don't have good bus service. But often when you're starting a job, you're working odd hours and not always on the day shift."
Next, they'll try to help arrange a carpool, reimbursing drivers at 35 cents per mile, up to $200 per month. "I get clients' work schedules," said Anna Palo, the advocate in Virginia. "Everyone working the same shift is on there. Their pride gets in the way sometimes. They don't want to ask other people for help. I understand that, but I just go about it a different way. I say, 'Can so and so get a ride for you?' I mention the reimbursement. Gas is so expensive. I encourage them, talk to your coworker and see if they are willing to help you out. Have them call me and they can get on the work buddy program and can get reimbursed mileage."
If a carpool isn't the answer, then they try to match a client with a volunteer driver. Rural Rides has a pool of about 30 drivers who use their own cars and are reimbursed at the federal rate of 55½ cents per mile. It's income for some, but rising gas prices can make recruiting drivers tough.
"Here, we are having a harder time finding drivers," said Palo. "It's because of the price of gas. Some people can't afford to cover things until they get their first reimbursement check."
Usually, volunteers work well, but sometimes the match between driver and client isn't right, said Mehle. "A lot of our volunteers are seniors. They are dealing with a different social and economic group then they are used to. It has been an issue." She tells them, "You are not here to judge. You are just giving a ride."
The next option would be a taxi, low on the list because it's an expensive way to go. And the very last resort is for the staff to go out and drive clients themselves. "There is always an option," said Palo. "They will get there."
Last year, Rural Rides supported nearly 50,000 work-related rides for 561 people, mainly in their 20s and 30s and all with incomes of 150 percent or less of the poverty level. That was up from 464 clients in 2010. With an annual budget of close to $500,000, that amounts to about $10 per ride. Funding comes mainly from federal Job Access Reverse Commute dollars funneled through the Minnesota Department of Transportation, but the program sometimes receives supplemental funding from private foundations and some of the counties where it operates.
In a rural area, it's not that we don't have good bus service. But often when you're starting a job, you're working odd hours and not always on the day shift
MnDOT's Greater Minnesota Transit Program Director, Tom Gottfried, said Rural Rides is important because of its multi-county approach. "People may work in one county but live in another," he said. "We have some trips going 30 to 50 miles." While $10 per ride might sound expensive--the average cost to provide a rural transit ride in Minnesota was just over $5 in 2010--Gottfried thinks the price is fair given the distances traveled, the variety of modes utilized and the personalized nature of the assistance. "The program has been very successful," he said.
Mehle endeavors to spend her budget wisely by picking and choosing clients. "We want to say, 'If we can help you out for a short period of time, what is your plan? Can you sustain this?' If there is no plan, we might not want to invest." Palo said 21 percent of Rural Rides clients last year became employed while on the program. Sixteen percent "improved their employment" and 62 percent maintained their employment.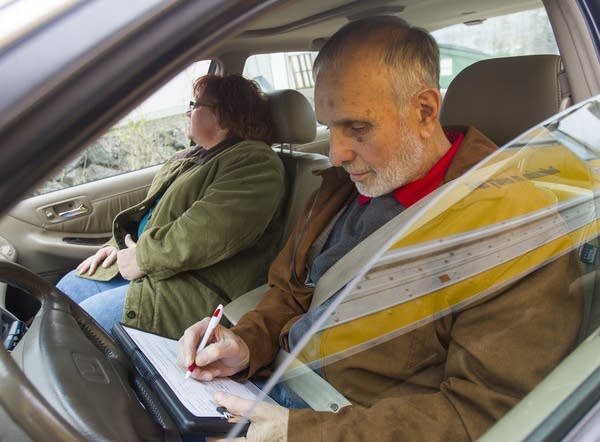 The key is the individualized approach. That's what helped Copeland. "It takes a couple of meetings to know the client," said Gilmore. "A few months down the road, we wrote out a plan. First was, take care of the fees and fines. Then it was, get a license. Then, get your own vehicle." During their meetings, Copeland would hand in pay stubs and the two would talk about budgeting.
"It was helpful to see it broken down into baby steps," said Copeland. "I would get so overwhelmed. Everything works when you do it that way. That's what got me through it. Without Diane, I wouldn't be where I am today."
After about six months of traveling from Bovey to work, Copeland found a HUD-subsidized townhouse in Grand Rapids, which meant she could use the bus more and volunteer drivers less. "There were so many resources Diane pushed me into," said Copeland. "I listened to anything she said." Finally, in February 2011, Copeland was able to reinstate her drivers' license and she bought back her Chevy Impala from her mother, who had taken over the payments and the car.
"She's been transportation self-sufficient for over a year," said Gilmore.
"I'm excited to be back on the road," said Copeland, who had to leave her job recently when her youngest daughter developed cancer. Public assistance has kept her on her feet since. She plans to start at Itasca Community College in the fall, to study power generation and perhaps one day work in a power plant. "I don't feel invincible," she said. "But I do feel a lot of woman power. I walked through the freezing cold. No man will scare me." She notes that she's stayed single while pushing her life forward. "That helps. I always choose the wrong man."
Palo's approach with clients is similar to Gilmore's. She goes step by step. "What are the barriers right now?" she'll ask. "'What are the positive and negatives right now?' We look at their plan, the hurdles they have to overcome and the strengths they have to overcome those transportation hurdles."
Until recently, Kirbie Glowaski was one of Palo's clients. She came to Rural Rides the day before she started a job on a cell phone repair assembly line. But she had no way to get from Virginia to the job 10 miles away.
"I talked to Anna and she set up everything for me," said 27-year-old Glowaski, who has four children. "She's a great person. If not for this program I probably wouldn't have gotten there. I didn't have the money to get on the bus. I was on a very fixed income at the time, making choices between diapers and should I buy a pair of shoes."
She worked at the cell phone repair company for more than two years, often arriving on the bus at 6 a.m., though her job didn't start until 7. "During that time, I paid off my fines and tickets. I'd made bad decisions when I was younger. It was all a building process." She said she didn't mind the bus. "I did what I had to do. I am not too picky of a person."
Now, she works for a contractor in Grand Rapids, an hour from home, and hopes to get into house or highway construction, where the money is good. She's completed some training and plans to pursue additional classes. Just this spring, she got her driver's license back and used her most recent tax return to buy a Buick Park Avenue, which she admits isn't exactly fuel efficient. "I wanted to do some shopping, but I was in crunch time on that." The person she was carpooling with to Grand Rapids was sacked and she needed a car right away.
"I'm feeling good about myself and my family," Glowaski said. "Things are falling into place. I'm working hard to achieve everything. If people say their life stinks, it's probably because they're not trying hard enough."
Gallery
1 of 2
2 of 2