Storm plans are in place, but can't protect everyone
On May 6, 1965, five tornadoes ripped through the northwest suburbs of the Twin Cities. With wind speeds topping 200 miles per hour in some cases, they leveled buildings, killed 13 people and injured hundreds.
The metro area has grown by more than a million people since then. If the same storm happened today, the devastation would be much greater.
"You would have dozens of strip malls affected, probably at least one major regional shopping mall," University of Minnesota tornado researcher Kenneth Blumenfeld said. The storm would cross several major interstate highways. "The kinds of things that get affected by that are almost too numerous to name."
Blumenfeld says, historically, storms of that magnitude hit this area every 40-50 years. Forty-seven years later, is the Twin Cities metro area prepared?
Grow the Future of Public Media
MPR News is supported by Members. Gifts from individuals power everything you find here. Make a gift of any amount today to become a Member!
In collaboration with KARE 11 News, MPR News chief meteorologist Paul Huttner designed a scenario in which a tornado touches down in Shakopee as a relatively weak EF-1. But as it moves northeast, it gains strength, striking Eden Prairie and Edina.
By the time it reaches Minneapolis, it briefly turns into an EF-4, with wind speeds approaching 200 miles per hour, before lifting over the city of St. Anthony.
The tornado's path is only a simulation. But its strength, scope and trajectory are based on science.
"It fits with the climatology of tornados in Minnesota," Huttner said. "It's the most likely scenario for a tornado touchdown in the Twin Cities, moving from the southwest to the northeast."
MPR News and KARE 11 used the simulated storm to test the Twin Cities' tornado preparedness. Along the path of our hypothetical storm, we checked in with businesses and institutions of varying sizes and circumstances to gauge their tornado preparedness. Most agreed to interviews and some even shared their written policies.
All but the small retail stores had weather radios on site. But in spite of all the preparation, our research shows people will likely be hurt or even killed the next time a major tornado hits the metro.
To explain why, we'll take you to three locations -- not because the plans there were lacking, but because even the best plans can't necessarily protect everyone.
VALLEYFAIR -- A WIDE OPEN PLACE
It's 6:30 p.m. on a weeknight in May. Our simulated tornado makes its first touchdown at Valleyfair amusement park in Shakopee. About 5,000 people would be riding roller coasters and wandering its 90-acre grounds at that time of day.
Valleyfair's customers are more spread out and more exposed to the elements than people at any other site on our hypothetical storm track. But it also does more than other businesses to keep visitors posted on weather conditions, broadcasting announcements over the park public address system as soon as the National Weather Service issues a severe weather watch -- indicating powerful storms could develop.
"It's the responsible thing to do," security director Harold Armstrong said.
Once the watch becomes a warning, parts of the park will be shut down. That concentrates patrons into a smaller area and frees up staff in case severe storms look like they'll hit the park directly. At that point security instructs staff and patrons to seek shelter immediately.
Staff members are trained to put as many guests as possible into what Armstrong calls "level 1 buildings," larger structures with concrete walls.
There aren't enough level 1 buildings to accommodate 5,000 visitors. But using other, less wind-resistant buildings, Armstrong said Valleyfair can provide everyone with some type of shelter.
Luckily, our hypothetical tornado would be pretty weak -- let's call it an EF-1 -- when it first touches down at Valleyfair. So just getting indoors would probably suffice.
History, though, shows us not everyone would necessarily stay inside.
The last time the warning sirens went off in Shakopee when Valleyfair was open was July 10, 2008. Brittney Gabrielson was working there at the time.
She said it took only 10 minutes to round up the guests in her area and herd them into a nearby bathroom. That's fast enough to escape most dangerous storms. But Gabrielson recalls that keeping the visitors there -- especially the school kids visiting the park that day -- was another matter.
"There were some that had a bus to catch, because it was a field trip day. And they asked, 'Is it okay if we leave? We need to get back to our bus,'" she recalled.
"Then there were other guests that were separated from their group. Their group was in another shelter area," said Gabrielson. "They found that through calling them on their cell phones. So they had to venture out into the storm."
Gabrielson advised the students to stay with her. But she had no authority to hold them against their will. Luckily no tornado hit Valleyfair that day.
This is the first reason some people could be hurt or killed by our simulated storm. Even when the plans are executed perfectly, the public isn't required to comply with them.
AN EDINA NURSING HOME -- IMMOBILE RESIDENTS ARE VULNERABLE
After Shakopee, our hypothetical tornado passes near the Edina Care and Rehabilitation Center. It's a nursing home located just off Minnesota Highway 62.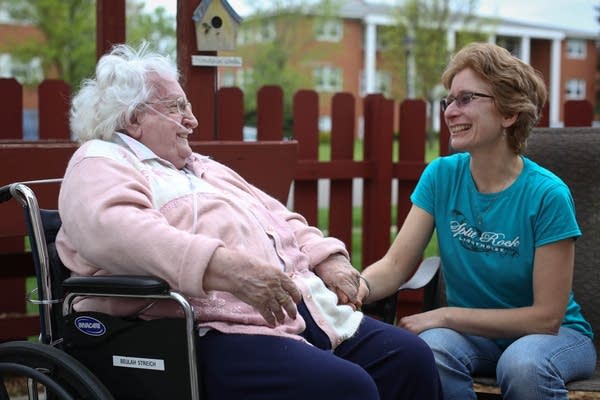 The 130 beds in the facility are spread out over three floors. There's also a basement, but there's no way to get all the residents down there fast enough to protect them from a tornado, said Kenneth Monpas, the center's director of environmental services.
"You've got residents in wheelchairs and in beds, and it wouldn't be possible at all," Monpas said. "You want to move as quick as possible, and you'd be looking at quite a bit of time."
This is the second reason some people could be injured or killed under our hypothetical tornado scenario: It's much harder to protect people who are elderly and unable to get themselves to shelter.
When a tornado warning comes over the weather radio, Edina Care staff members are trained to move residents to the northeast hallway of each floor. That keeps them away from windows, with as many walls as possible between the people and the storm.
But that's not always enough protection from a powerful tornado. For example, 16 people died at a nursing home in Joplin, Missouri, last year when an extremely powerful EF-5 tornado reduced it to rubble. Just like the plan at Edina Care, the Joplin nursing home's procedures also called for sheltering residents in a hallway.
A report from the federal Department of Health and Human Services released last month found deficiencies in emergency preparedness at many nursing homes around the country and recommended more stringent requirements.
Volunteers of America, the nonprofit that owns Edina Care and Rehabilitation Center, said it will use the report to "refine and expand" its emergency planning.
Moving away from Edina, our hypothetical tornado continues its path northeast. It tears through a busy shopping district in the Uptown area of Minneapolis. And at 7 p.m., it bears down on Target Field, an open-air ballpark in downtown Minneapolis with nearly 40,000 seats.
TARGET FIELD -- WHEN SHOULD PLAN BE IMPLEMENTED?
On May 10 2011, it was raining heavily in the fourth inning of a Minnesota Twins game when the National Weather Service issued a tornado warning for southeast Hennepin County.
At 8:10 p.m., radar indicated the storm was gaining strength as it moved northeast from Eden Prairie. The weather service believed it could produce a tornado in Minneapolis.
About seven minutes later, umpires called a rain delay. Golf-ball size hail fell on the field and most fans fled to the concourses. A few stayed outside and were captured on YouTube videos. The Twins decided not to tell fans about the tornado warning.
"The sirens were going off, but our information was -- from our meteorologist, from [private forecasting company] DTN, from the weather service -- that actually, the tornadic activity or possibility was actually decreasing," said Twins spokesman Kevin Smith.
Based on that analysis, the team determined it wasn't necessary to activate its tornado plan. Smith says the team worried that announcing the warning would just cause confusion.
"This is a situation that I think we're working through, quite frankly, which is -- how much information do you want to put out there that might cause people to panic," he said.
The Twins are one of only three private businesses in Minnesota with the StormReady seal of approval from the National Weather Service for their emergency preparations, storm monitoring and communications. The team also has an on-site meteorologist advising them during every home game.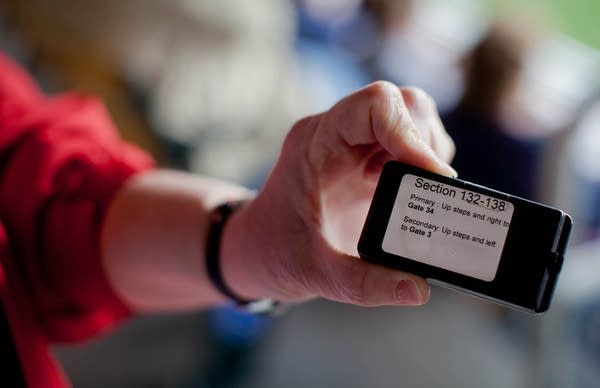 If the Twins determine a tornado is likely to hit Target Field, the team's plan is to move fans into the concourses, down ramps and into the bowels of the ballpark. An 18-foot-wide service tunnel runs beneath much of the stadium.
Smith estimates thousands of people could fit there, but probably not a 40,000-person capacity crowd.
"Does the IDS Tower have enough spaces to put all the tenants in a safe spot if there's a tornado that goes through downtown Minneapolis? Does Valleyfair? Does any golf course in the United States have enough places to put people into safe places? Absolutely not," said Smith. "But what you do is you use the space that you have wisely to get the most people out of harm's way as you can."
This is the third reason that some people might get injured or killed under our hypothetical tornado scenario. Most buildings aren't designed to be tornado shelters. There are spaces in them that offer protection, but as with Valleyfair, some people at Target Field might find themselves hunkered down in less secure places than others.
Of course under our scenario, the simulated tornado doesn't hit Target Field in the middle of a game. It comes at 7 p.m., just before the scheduled first pitch. And that means lots of fans could be driving to the ballpark. Those people are among the most vulnerable in our scenario.
People stuck in their cars have few good options, said Todd Krause, a meteorologist with the National Weather Service in Chanhassen. Every year tornados kill people in their cars. And that's the fourth reason there would likely be casualties as a result of our hypothetical storm.
Blumenfeld, the tornado researcher, says it's important for the Twin Cities to prepare for a major tornado, because sooner or later another one will hit, just like it did in 1965.
"A plausible best-case scenario would be people are really amazed at how well everything worked. You want to come out of it going, 'Wow, that was tough, but you know, everything was working."
Gallery
1 of 1