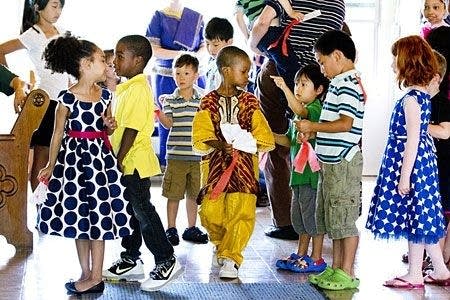 Editor's Note: This piece by Nikki Tundel is part of a series called Minnesota Mix. Minnesota Mix is a project of Minnesota Public Radio News that examines the way youth and ethnic diversity are influencing Minnesota arts and culture. Enjoy!
[image]
Young Christians wait in the hallway of Church of All Nations until they're called in for the children's sermon.
MPR Photo/Nikki Tundel
COLUMBIA HEIGHTS, Minn. -- Studies show that Christian churches are among the most segregated gathering places in the United States -- by one account over 90 percent of congregations are comprised of just one racial or ethnic group.
Church of All Nations in Columbia Heights sees itself as a national leader in challenging that spiritual status quo. It's a place where Native American quilts hang just outside the sanctuary, a toddler in traditional Vietnamese dress can be seen crawling beneath a wooden pew and Swahili echoes from the pulpit. More than 25 different countries are represented in the congregation.
Before you keep reading ...
MPR News is made by Members. Gifts from individuals fuel the programs that you and your neighbors rely on. Donate today to power news, analysis, and community conversations for all.
The Twin Cities ministry was founded in 2004 by Pastor Jin Kim.
"We're really a whole bunch of misfits," said Kim, who says the church was founded in 2004. "We basically draw people who are uncomfortable in mainstream homogeneity."
[image]
Services at Church of All Nations in Columba Heights, Minn., include time for testimony. Churchgoers share both their blessings and their struggles with the rest of the congregation.
MPR Photo/Nikki Tundel
"I'm Japanese American," Hikari Nakane said. "I'm a third-culture person. I don't belong fully in being Japanese. I don't belong fully in being white. So I relate to people who kind of belong nowhere. Being at this church, I've been allowed to be myself freely."
Being a multicultural church requires more than just demographic diversity. For example, Kim says, a Norwegian-American congregation may happily welcome Mexican-American members. But it's unlikely the church's Scandinavian traditions will grow to include Our Lady of Guadalupe, Mexico's patron saint, on the front altar.
What makes Church of All Nations unique is that no group is dominant, the pastor says. Worship is a blend of everyone's religious customs.
"We want people to really know that their culture not only welcome here but will impact the church," he said. "The church will change because of them. That's a bigger claim than I find many churches willing to make."
[image]
David Nguyen and his 15-month-old son Khoa talk with fellow congregants Claude and Kate Betene in the hallway of Church of All Nations in Columba Heights, Minn., on May 27, 2012.
MPR Photo/Nikki Tundel
Church of All Nations attracts many recent immigrants. But the numbers of Minnesota-born Caucasians are really on the rise. Ten years ago, white members were five percent of the congregation. Today they're almost half.
The way white congregant Steve Wrangham sees it, offices and schools and movie theaters can bring diverse communities together. Why shouldn't his place of worship?
"It just didn't feel right for us personally to be attending churches that didn't reflect the greater community in the Minneapolis-St. Paul area," Wrangham said.
On this day, Pastor Jin Kim dons traditional Korean dress in honor of his family's heritage. Next week he'll wear a robe from Dubai or maybe South Africa to celebrate his congregants' cultures.
[image]
Pastor Jin Kim (left) presents Adam Kong to the congregation after baptizing him at Church of All Nations in Columba Heights, Minn., on May 27, 2012.
MPR Photo/Nikki Tundel
Churchgoer Claude Betene rocks his baby daughter in his arms. Both are wearing bright purple outfits from Senegal. The African immigrant says Church of All Nations was the first place in America that he felt welcome.
"When you move to the U.S., you basically start from zero, from scratch," said Betene. "All the experience, all the degrees or whatever you have, forget it."
In Africa, Betene was both a teacher and a preacher. People sought his insight. But that never happened in the United States -- at least not until he came here.
"This church is the first place and I think only place where I have felt like my background was important," he said. "I felt respected and that was the first time I felt like I was somebody, like a human being with a value."
Claude Betene wraps his daughter in a blanket. When the service is over, they'll head downstairs for the Sunday afternoon potluck, which, at this church, is more like an international buffet.
[image]
At Church of All Nations in Columbia Heights, Minn., the weekly, after-service potluck offers Korean entrees, African specialties and everything in between.
MPR Photo/Nikki Tundel