Duluth, NE Minn. reeling after torrential rains, flooding
By MPR News staff
DULUTH, Minn. — People evacuated their homes, cars fell into sinkholes and emergency officials helped round up loose zoo animals Wednesday as Duluth struggled with flooding unseen in decades.
No serious injuries were reported, though emergency crews rescued an 8-year-old boy caught in a culvert in Proctor. Some 14 highways, including Interstate 35 through Duluth, are closed. At the Lake Superior Zoo in Duluth, at least 11 zoo animals died because of the flooding.
State transportation officials say they have no timetable to re-open roads that have become unstable because of rain in the Duluth area and that it is still too soon to know the extent of the damage. Officials begged people to stay off the roads.
Grow the Future of Public Media
MPR News is supported by Members. Gifts from individuals power everything you find here. Make a gift of any amount today to become a Member!
"It is very severe," Duluth Mayor Don Ness told MPR News. Officials, he said, were dealing with the destruction caused by water rushing down the city's hills as well as riverbank flooding.
Stephen Lipinski, manager for utility operations for Duluth, said sewage is getting into Lake Superior.
"We've got a number of wash-outs. We've got overflows happening in sanitary sewers. Our storage tanks are all full. We've had some significant rain," Lipinski said. "In my 33 years here, I haven't seen anything like this."
Lipinski says the Minnesota Pollution Control Agency is aware of the situation.
The Minnesota Health Department warned that well water should not be used for drinking or cooking until the well systems are flushed out, disinfected and tested. People should assume their private well is contaminated if the well casing was underwater, the department added. Officials in Thomson Township said that residents should avoid drinking, cooking or bathing in the tap water.
Dozens of people displaced by the flooding took refuge during the day in several evacuation centers. Many homes in the Fond du Lac area of Duluth were evacuated. About 200 people were also evacuated from the city of Carlton and Thomson Township, officials said. Duluth Police Chief Gordon Ramsay says as many as 250 people have been evacuated in the Fond du Lac area. The Red Cross reports that about 200 people are spending the night in shelters in Duluth and Scanlon.
Northeast Minnesota Floods
• Map: Duluth, North Shore flooding
• Photos: Major flooding hits Duluth, NE Minn.
• Story: Duluth reels from devastating rains, flooding
• Story: Some zoo animals escape, others perish
• Updraft live blog: Duluth flood emergency
• News Cut blog: Street flash floods caught on video
• Statewide blog: Dramatic reader photos
Southwest of Duluth, the St. Louis River at Scanlon hit 16.14 feet, a record height, with water running more than 40,000 feet per second. It runs about 3,100 feet per second on average.
The 24-hour preliminary rain total at the National Weather Service's Duluth office was 7.43 inches from 5 p.m. Tuesday to 5 p.m. Wednesday.
One weather service employee reported 10.10 inches of rain fell at a location four miles northeast of Duluth.
Zoo keepers at the Duluth Zoo were continuing to search for animals who may have been injured or escaped due to heavy rainfall and flooding.
Susan Wolniakowski, director of the zoo's guest services, said the zoo first realized that animals had escaped when someone reported finding a seal in the middle of Grand Avenue in Duluth.
Another seal also escaped. Wolniakowski said both seals are now safe and secure in their holding areas.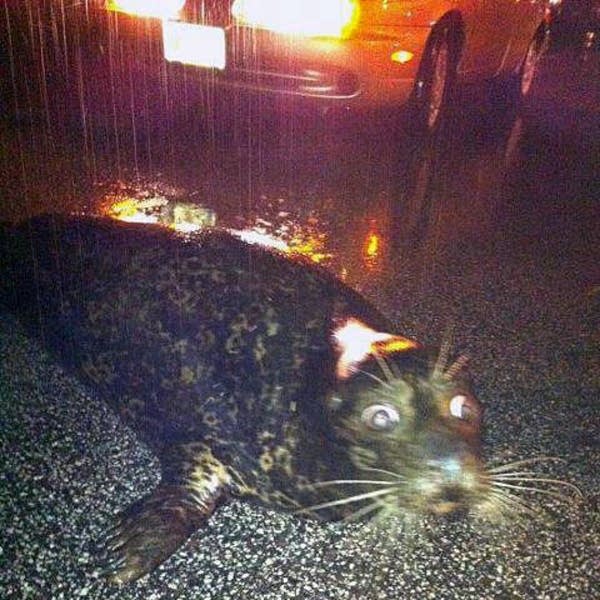 She said all of the zoo's carnivores have been found. All but one of the zoo's barnyard animals died, and a turkey vulture and raven exhibit area remains inaccessible because of floodwater.
Emergency officials report no deaths or serious injuries from the flooding, although they say there have been several close calls.
Duluth firefighters rescued several people from rushing water early this morning in the Fond du Lac area along the St. Louis River in far southwest Duluth.
First responders also helped rescue the 8-year-old boy in Proctor, who had been swept into a large underground drainage pipe by the fast-moving water.
"Duluth fire and some of our rescue squad and sheriff's personnel responded," said Scott Camps, emergency services manager for the St. Louis County sheriff's office.
"Miraculously, he popped out about six blocks later, out of the culvert, and a little banged up but I think he'll be OK."
Closed roads have largely isolated some small towns around the Duluth area
In Cloquet, about 20 miles west of Duluth, nearly all roads in and out of town are impassable, Mayor Bruce Ahlgren said.
"The river's probably the highest I've ever seen in my entire life. And we have an island in Cloquet that has never flooded to my recollection and it's in danger of flooding this time," Ahlgren said.
"Right now, he said, "I'm actually looking at the river and it's as brown as I've ever seen it. It looks like a sea of mud."
St. Louis County Sheriff Ross Litman says roads cannot be repaired until water recedes.
"Unfortunately, folks might be stranded for a couple days" he said. "But we're pulling in additional resources, both with our rescue squad and with the sheriff's office, so that if folks are stranded, if we have a medical emergency, we'll find a way to get them the care and treatment that they need."
Litman says the majority of roadways and state highways in St. Louis County are currently closed.
Carlton County Sheriff Kelly Lake said it is too early to know the extent of the damage to roads and houses. She said people should not travel because roads may give way to sinkholes.
Gov. Mark Dayton said he has offered Duluth "all possible state assistance now and during the recovery." The governor plans to travel to Duluth on Thursday.
For some parts of the region, though, cleanup will not be easy. The Federal Emergency Management Agency reported only 111 active flood insurance policies in Duluth in April, which Mark Kulda of the Insurance Federation of Minnesota said could be accurate.
Map Legend
Heavily affected areas are outlined in RED
Closures are marked in RED
Hazards and other warnings in YELLOW
Services and assistance marked in GREEN
Video and Images marked in BLUE
Gallery
10 of 10
1 of 10
2 of 10