Get out there: A day in Winona, Minnesota
The streets of downtown Winona felt a little sleepy on a recent Wednesday morning, but Adventure Cycle and Ski was hopping with both local gearheads and casual bike riders.
"The bluffs up there? Some of the best mountain biking in the state," says Jim Trouten, an employee at the shop who knows Winona's nooks and crannies. He helps organize one of the city's many arts festivals, Boats and Bluegrass. Trouten, a source in our Public Insight Network, listed some of the features that he thinks make Winona unique:
• Latsch Island, home to Winona's quirky boathouse community
• Lake Lodge on Lake Winona, where you can borrow canoes and kayaks -- for free - and the nearby Lake Park Bandshell, which hosts many free shows, including weekly concerts by the Winona Municipal Band
Grow the Future of Public Media
MPR News is Member supported public media. Show your support today, donate, and ensure access to local news and in-depth conversations for everyone.
• Trouten says a lot of his favorite things about Winona are more hidden - like the mountain biking trails in the bluffs, or Ed's No Name Bar - even to people who live there. "If you get out of the house and actually take part in all that Winona has to offer," he says, "it's the best place to be in Minnesota."
Winona has become known in recent years for its arts festivals, like the Great River Shakespeare Festival and the Minnesota Beethoven Festival, and for frac sand mining, which has caused a divide between residents who are worried about the environmental impact and those who think it provides economic stimulus to this port town. Winona's history as a booming, wealthy river town in the late 19th century has left a legacy of notable buildings, striking architecture and an industrial vibe.
With the help of Trouten and other Winonans in the Public Insight Network, we've planned a full day for the out-of-towner who wants to pay a visit.
9 a.m.: DOUGHNUTS FOR BREAKFAST
Begin your day at Bloedow Bakery, tucked away in a residential pocket of downtown Winona. Bloedow (rhymes with "Play-Doh"), open since 1924, is a beloved institution. Winonans proudly say the shop ran Krispy Kreme out of town, and there is a Facebook fan page with 3,500 members dedicated to "I Love Bloedow's Bakery - Donut of the Gods!" Stepping inside the cozy shop, you get the sense that not much has changed in the nearly 90 years the store has been open: Elaborately detailed woodwork on the back wall is painted a pale yellow, and old wooden display cases hold a variety of doughnuts and pastries. While you can't call them healthy, the baked goods taste wholesome: a chocolate-frosted long john, glazed raised doughnut, a sugared cake doughnut and a paczki, which is billed as a "Polish doughnut" but seems to just be a glazed doughnut with raspberry filling in the hole.
10 a.m.:HISTORIC DOWNTOWN
Assuage any doughnut guilt by walking through the commercial historic district, which is listed on the National Register of Historic Places. Most of the shops are along Third Street, where businesses like Yarnology, Tatu Royale and Jimmy Jam's Comics occupy old brick storefronts.
But the real delight of downtown Winona lies in two banks and a library. First stop: Merchant's National Bank, designed by Prairie School architects Purcell & Elmslie and built in 1912. The interior of the bank features a large green and gold mural depicting the Mississippi River and surrounding bluffs (painted by Chicago artist Albert Fleury) as well as large stained glass windows (not surprising given that Winona is known as the stained glass capital of the United States).
Where Merchant's National Bank is all earthy brick and terra cotta, Winona National and Savings Bank is a contrast in marble and bronze. The Egyptian Revival building was designed by another Prairie School architect, George Maher, and built in 1916. This bank also has striking stained glass windows throughout (designed by Tiffany), but the most surprising feature is the taxidermy. If you take the marble staircase up to the third floor, you will see a display of the many trophies from the original owners' African safaris, including a hippo, ostrich and hyena, as well as a gun collection. The guns are displayed in the boardroom, appointed with dark wood and leather chairs. The air of masculinity is strong in the lobby, where a stuffed lion watches over the tellers and large photos recall Winona's first boxing match, which took place in 1919 in the street outside the bank.
Built in 1899 by Winona lumber baron William H. Laird, the Winona Free Public Library is a Neo-Classic structure that uses very little wood, considering it was built by a lumber man, and consists mostly of stone, marble, brick and copper. The main reading room has a wide copper dome inlaid with stained glass windows (of course), and next to it is a large Kenyon Cox mural called "Light of Learning." Perhaps most striking, though, are the book stacks. Ornate copper shelves are set into floors and ceilings made of frosted glass panels. Sunlight filters through these panels, and small gaps between the glass and the shelves afford a peek down into the other floors of the stacks, giving the illusion that the stacks of books go on forever.
12 p.m.: TIME FOR LUNCH
The Blue Heron Coffeehouse is a popular lunch stop. It serves simple, fresh food in a relaxed, sunny setting. Try the Asian cabbage salad, which features dressing that is not just Minnesota spicy, but actually hot. The coffeehouse is attached to the independent bookseller The Book Shelf.
1 p.m.: IMPRESSIONISTS AND INDUSTRIALISTS
The Minnesota Marine Art Museum has an impressive permanent collection that includes water-themed art from the likes of Picasso, Monet and Seurat. Displayed on unconventional blue and green walls, the collection is lit in such a way that the art is illuminated while the rest of the room remains dim. Walking through the display feels a little like being underwater. The museum also hosts exhibits from regional contemporary artists (Craig Blacklock's Lake Superior photography is up now) as well as touring exhibits, like the show of John James Audubon's prints currently on view.
One of the oldest businesses in the state, Watkins, was founded in 1868. The company started by producing liniments but then moved into spices, cleaning products and all kinds of household goods. The Watkins Heritage Museum offers a look at how Watkins products have evolved over time, which is actually interesting to see when a company has been in business as long as this one has. The Watkins factory and administrative buildings were built in 1912 by the same architect who designed the Winona National and Savings Bank.
4 p.m.: COCA-COLA TIME WARP
Winona can't really be described as quaint. Home to Watkins, Fastenal and other manufacturers, many parts of Winona feel industrial. On one of the more industrial-feeling blocks downtown sits the Coca-Cola Bottling Plant. Only two bottlers in the country still put Coke products in returnable bottles, and this is the only one that fills small 6.5-ounce bottles. Several businesses around town carry Coke in these returnable bottles, and buying one will make you feel like you've stepped into a time warp - which is a fairly common feeling during a day in Winona. You can stop by the plant to buy your own reusable bottles and maybe even get a tour if the owner is around.
5 p.m.: WINONA FROM ABOVE
Heading up to Garvin Heights Park will help you quickly understand why Winona is called "The Island City." This lookout point sits atop one of the many bluffs that make the city feel like it's nestled in the foothills of an invisible mountain. From the lookout you can see the entire city. With Lake Winona on one side and the Mississippi on the other, the town does indeed appear to be an island.
6 p.m.: DRIVE-IN DINNER
End your day in Winona at the Lakeview Drive Inn, which true to its name offers a view of Lake Winona. Operating since 1938, the diner sends car hops with homemade root beer and other diner staples to your car or nearby picnic tables. Among the usual fare, you'll find more interesting options on the menu like buffalo, elk or vegetarian walnut burgers. Every Wednesday in the summer is "Cruise Night," when classic car owners show off their babies and enjoy a burger while they're at it.
Reported with help from MPR News intern Sarah Harper
Gallery
11 of 11
1 of 11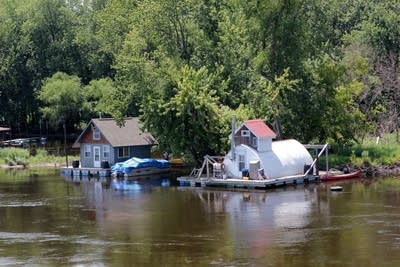 2 of 11