In Mpls., Biden tries to kick-start Minn. Democrats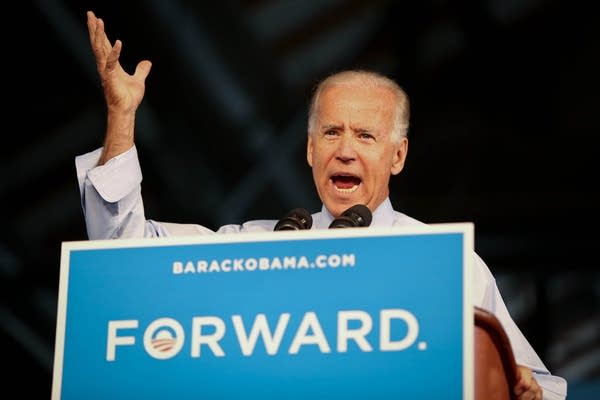 Vice President Joe Biden spoke to a crowd of about 1,500 people in Minneapolis this afternoon, defending President Barack Obama's health care reform package and saying the middle class has started making a comeback from the recession.
He also attacked Republican presidential candidate Mitt Romney for backing policies that he said are out of touch with the country.
During his 40 minute speech at the Minneapolis Depot, Biden criticized Romney for not releasing a full slate of tax returns, for owning a private investment firm that Biden alleges invested in companies that shifted jobs from the U.S. to foreign countries and for backing tax cuts for America's top earners.
"They call their new plan for the economy: new, bold and gutsy," Biden said. "But I ask the rhetorical question, 'What's gutsy about giving millionaires another tax break? What's bold about gutting Medicare and education and research and development in order to pay for that tax cut?' "
Biden also defended the White House from Republican accusations that they are out of touch with working class America. He said Obama has been focused on improving the nation's education system, strengthening the federal aid for college and by focusing on ways to improve the nation's economy.
Polls show that jobs and the economy are the number one issue on the minds of Americans; Romney's campaign has been working to use the nation's high unemployment rate to its advantage.
Before you keep reading ...
MPR News is made by Members. Gifts from individuals fuel the programs that you and your neighbors rely on. Donate today to power news, analysis, and community conversations for all.
Biden said the nation has continued to gain jobs since the recession ended in June of 2009. He highlighted the manufacturing sector, which has garnered 500,000 new jobs since Obama took office.
"The fastest growth since the 1980s and remember when Romney criticized the president for telling young people to look at manufacturing?" Biden said. "He said the president is out of touch. Swiss bank accounts? Cayman Islands? Out of touch? I mean, whoa."
Biden is referring to Romney's personal investments. He also called on Romney to release additional tax returns.
Biden touted the federal health care overhaul that was enacted into law in 2010. Biden was introduced by Justin Ihle, a Brooklyn Park resident who has a four-year-old son with a genetic disorder. Ihle praised the Affordable Care Act for ensuring that his son is never denied health insurance because of his medical history.
"My wife and I worried about a number of things leading up to his surgeries but one thing we did not have to worry about was William being dropped from his insurance because of a pre-existing condition," Ihle said.
Biden didn't make any major gaffes during his speech, as has happened at other campaign events.
DEMOCRATS MOTIVATED?
The Obama campaign is hoping that the event motivates key Democratic voters to volunteer and vote this year. After the event, several supporters say they're confident Obama will carry Minnesota, as he did four years ago.
And while Republicans say Democrats are not as enthusiastic about voting this year as they were in 2008, several Obama backers say the president will receive significant support. Susan Estill of Burnsville said she's seen more support early on.
"As a volunteer this time who has worked on campaigns in the past, I actually feel that there is a much stronger grassroots organization this time around than any previous campaign that I have worked on," she said.
Republicans said very little about Biden's visit to Minnesota. There were no statewide conference calls or press events to criticize the president's policies.
Romney will have a chance to defend himself and tout his campaign to Minnesota voters later this week. He's scheduled to attend a private fundraiser in Minnetonka Beach on Thursday evening. The campaign has not said whether the former Massachusetts governor will hold any public events during his visit.
Before continuing on to an event in Rochester, Biden stopped in south Minneapolis for a brief visit with the South High School football team. The vice president spoke briefly with the players about his own experience as a high school football player, and encouraged them to continue their education into college.
Gallery
20 of 20
1 of 20
2 of 20