Senate's Brodkorb legal bill hits six figures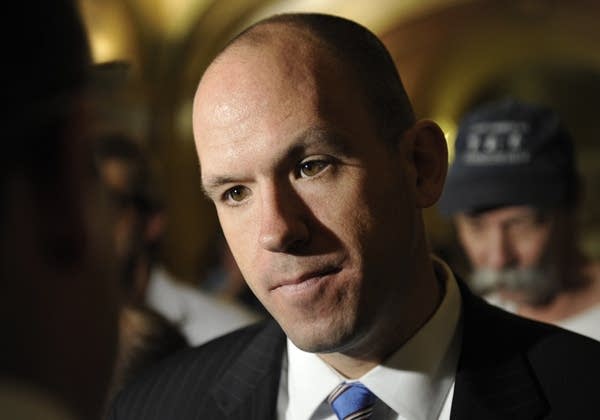 The bills keep piling up for the Minnesota Senate for legal costs related to last year's firing of former Republican staffer Michael Brodkorb.
Brodkorb filed an employment discrimination suit against the Senate in July, and the Senate's legal bills for the year have now topped $100,000.
Senate leaders hired an outside attorney not long after firing Brodkorb late last year. Later it was revealed that Brodkorb had an affair with then-Senate Majority Leader Amy Koch.
Previous bills from the Larkin, Hoffman, Daly & Lindgren firm, which were paid in June, totaled $85,000. The new invoices for work in June and July are nearly $18,000.
Brodkorb's lawsuit alleges gender discrimination. He contends that female employees involved in similar affairs didn't lose their jobs. But the Senate counters that Brodkorb was an at-will employee that his dismissal was legal.
Senate Republican Majority Leader Dave Senjem said he intends to continue defending that position. Senjem said he believes the lawsuit is without merit.
MPR News is Reader Funded
Before you keep reading, take a moment to donate to MPR News. Your financial support ensures that factual and trusted news and context remain accessible to all.
"I think we reached the point of believing that there is a right and there is a wrong, and we're going to stand on what we believe the side of right is," Senjem said.
Members of the Senate Committee on Rules and Administration are scheduled to take up the latest legal bills following Friday's special session on disaster relief for northern Minnesota. Senjem said he expects an uneventful discussion.
"It's going to be hopefully a short rules committee meeting, and we'll execute the bill from the standpoint of payment and move on," Senjem said.
The top Democrat in the Senate agrees with Senjem's legal stand, but not his use of taxpayer dollars to pay for the defense. Senate Minority Leader Tom Bakk said he plans to renew his call for Republican leaders to set up a legal defense fund and start raising money from private donors.
"This is all happening because of an inner-office sex scandal between two Republicans, a Republican staffer and a Republican senator," Bakk said. "I don't think the taxpayer should have to bear the burden for that kind of mischievous behavior in the workplace."
Bakk said former DFL Senate Majority leader Roger Moe set up an outside fund in the late 1990s to defend himself against charges of using state resources for campaigning. Bakk said he's concerned that the Brodkorb lawsuit could drag on for a year or two, with the legal bills eventually topping $1 million.
Gallery
1 of 1