Brodkorb sues over firing; alleges wrongful dismissal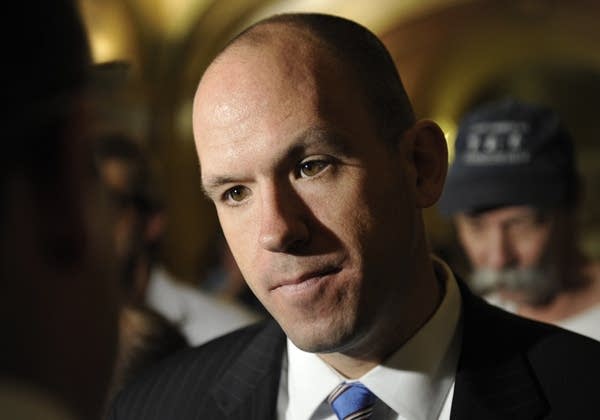 The Minnesota Senate is being forced to answer a lawsuit that claims a former staffer was wrongfully dismissed.
Michael Brodkorb, who was a top aide to former Senate Majority Leader Amy Koch, filed suit in Ramsey County District Court Monday claiming he was fired because he was having an affair with Koch. Brodkorb is suing for wrongful termination, invasion of privacy and defamation of character. With roughly 100 days to Election Day, the lawsuit brings up a controversial issue that Senate Republicans had hoped to avoid.
Brodkorb is suing the Senate, the state of Minnesota and the Senate's top administrator. The suit revolves around his dismissal last December. He was fired the day after Koch resigned her leadership position and announced she would not run for re-election. For months, Brodkorb has threatened a lawsuit after filing a discrimination complaint with the federal Equal Employment Opportunity Commission.
"We're optimistic that we have a very strong case and that we will fare well in their proceedings," said Brodkorb's attorney, Phillip Villaume.
Grow the Future of Public Media
MPR News is supported by Members. Gifts from individuals power everything you find here. Make a gift of any amount today to become a Member!
Villaume said Brodkorb believes he was fired for having affair with Koch. He said Brodkorb is a victim of gender discrimination because he was dismissed while in the past, female staffers who had affairs with male lawmakers and supervisors kept their jobs. Villaume said Brodkorb filed the lawsuit after Senate leaders declined to settle.
"We had made overtures on numerous occasions to get the state and the Senate to come to the table and to mediate with us and those efforts were rebuffed," Villaume said. "We had no choice once we obtained the right to sue letter to commence the litigation."
Villaume said the lawsuit seeks $50,000 but they are hoping a jury will award more than that.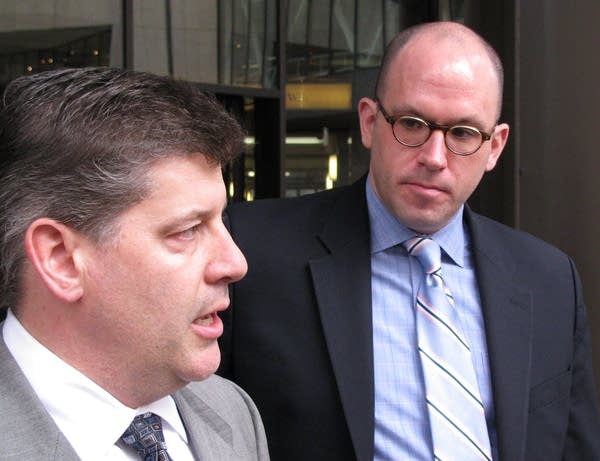 GOP Senate Majority Leader Dave Senjem declined interview requests but issued a statement saying the lawsuit is "without merit" and that the Senate did nothing wrong. Senjem also said he will do everything in his power to protect the interests of their taxpayers. The Senate has already paid at least $85,000 in taxpayer money to an outside lawyer to prepare for the lawsuit.
Senjem is one of four Republicans who approached Koch in December when they learned of the affair. Koch abruptly stepped down as majority leader and announced she would not run for re-election. Koch's attorney, Ron Rosenbaum, said she will testify in support of Brodkorb's claim.
"She will support the contention that Michael Brodkorb was terminated as a result of his affair with Amy and she will absolutely confirm that," Rosenbaum said. "She will have quite a bit more to say if called upon in legal proceedings to do that."
Rosenbaum declined to address what else Koch may say if called on to testify.
Brodkorb's suit also accuses the Senate's top administrator, Cal Ludeman, of defamation of character and slander for issuing a press release accusing Brodkorb of trying to blackmail the Senate into a settlement. The lawsuit also contends Ludeman violated Brodkorb's privacy by improperly telling reporters he applied for and was denied unemployment benefits. Ludeman, whose official title is secretary of the Senate, did not return calls for this report.
Minneapolis-based employment law attorney Bill O'Brien expects the Senate could argue that Brodkorb's ability to perform his job as Senate Republican spokesman would be undermined because of the affair. But he says Brodkorb's attorneys will counter that women kept their jobs in similar circumstances. O'Brien was surprised that Brodkorb's attorneys are suing for more than just gender discrimination.
"I felt a change in focus in the manner in which the complaint was put together. The focus shifted from a gender case and moved to a privacy and defamation case," O'Brien said. "Perhaps that was a plaintiff's counsel assessment of their chances."
It's also very likely that current and former lawmakers will be called on to testify, O'Brien said. Some may be forced to answer whether they had affairs with legislative staffers. Senate Republicans will have to manage the lawsuit while voters are being asked to gauge their job performance. Every member of the Minnesota Senate is up for re-election this year. Senate Democrats may use the lawsuit and the legal fees around it as a campaign issue.
MPR News reporter Catharine Richert contributed to this story.
Gallery
1 of 1