Best Buy pays up to lure new CEO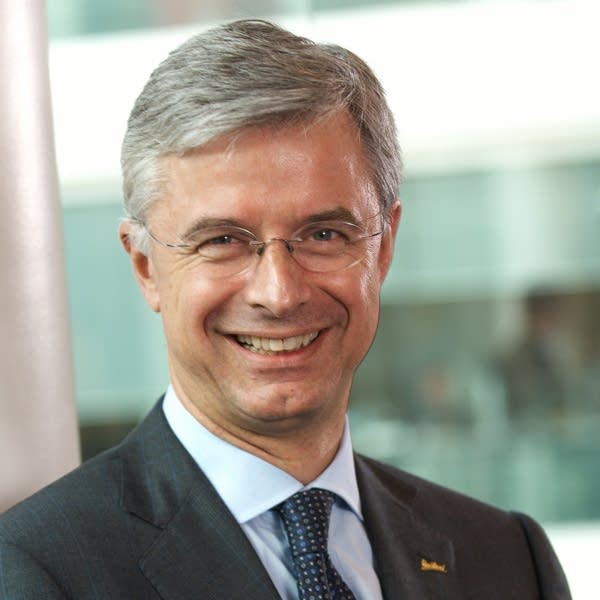 Best Buy is paying up for a turnaround. Incoming President and CEO Hubert Joly will take home more than $15 million next year and stands to earn another $16.5 million in stock grants over the next three years on top of salary and bonuses.
The nation's largest consumer electronics chain lured the turnaround expert with $20 million in total "buyout awards" meant to compensate him for leaving benefits at his current job as CEO of Carlson, the global hospitality company which owns Radisson hotels and the T.G.I. Friday's restaurant chain. Aside from $3.5 million in cash that he will receive upon joining the retailer, most of Joly's buyout package is made up of stock grants, options and units that vest over three years, according to a securities filing made this week. Only $3.75 million of that total is linked to performance.
Joly, who is expected to begin work in early September, also will earn an annual salary of $1.175 million. And starting with the company's fiscal year that begins in February, the 53-year-old will receive an annual short-term performance bonus with a target value of $2.35 million a year and an annual long-term performance bonus worth at least $8.75 million next year.
That compares with the $7 million in total compensation that former CEO Brian Dunn earned in 2012 before he stepped down amid a company investigation into an "improper relationship" with a 29-year-old female employee.
Joly's pay package is on the high end, but not uncommon for a new chief executive expected to lift a company out of the doldrums, according to Harry Schum, a senior consultant with Compensation Resources Inc. Best Buy has struggled against growing competition and customers' shift away from big computers and TVs and toward tablets and mobile phones.
"He's a turnaround artist. And those gunslingers, usually if they're worth their weight, they command a very high premium," Schum said.
MPR News is Reader Funded
Before you keep reading, take a moment to donate to MPR News. Your financial support ensures that factual and trusted news and context remain accessible to all.
Yahoo Inc. awarded its new CEO, Marissa Mayer, a pay package worth more than $59 million over several years after it lured her away from search giant Google Inc. And J.C. Penney Co. Inc. last year awarded new CEO Ron Johnson a pay package valued at $53 million, mostly in stock, after he spent more than a decade overseeing Apple Inc.'s retail stores.
Best Buy said in a statement that the $20 million package was "intended solely to make Mr. Joly whole for the outstanding compensation he left behind in departing Carlson." It noted that 90 percent of his other compensation is tied to incentives based on the company meeting its financial goals.
It also said the package is "squarely in the mid-range for a CEO of a company the size of Best Buy," and was developed in consultation with search and compensation firms.
Joly joining Best Buy is contingent on his visa paperwork being completed. If for some reason he is not permitted to work in the U.S., Best Buy will have to pay $6.25 million to make up for Joly leaving his job and compensation package at Carlson. Consultant Schum said that scenario is unlikely since the French-born executive was already working for U.S.-based Carlson, which is headquartered in Minneapolis.
However, Best Buy is still in talks with founder Richard Schulze to take the Minnesota company private and Schulze has criticized the choice of Joly, who has spearheaded numerous corporate transformations but has no retailing experience. If such a change of control ended up costing Joly his new post, Joly would be entitled to $2.35 million in severance plus twice his target bonus for the year, and a pro-rated amount of his buyout awards.
Joly, a knight in the French National Order of Merit, served as CEO of Carlson since 2008 and led Carlson Wagonlit in prior years. He was a senior executive at Vivendi SA from 1999 to 2004 and worked for Electronic Data Systems from 1996 to 1999. Prior to that he worked at business consulting firm McKinsey & Co. for 13 years.
Best Buy Co. withdrew its full-year earnings guidance Tuesday after reporting a 90 percent drop in net income during the second quarter, due to restructuring costs and weak sales. Analysts polled by FactSet expect the electronics retailer to post annual net income of $1.09 billion on revenue of $48.9 billion in the fiscal year through January 2014.
Gallery
1 of 1