Legislators take up flood aid in special session today
When Bill and Bette Eknes retired here 22 years ago, they bought a little house a block away from where she grew up.
"We loved the house," Bette Eknes said. "It was just a small, plain old house, but everyday I'd say something to him, 'oh, I love this house.' It meant that much to me."
Now, the house is destroyed. Water that rose 15 feet over the banks of Moosehead Lake on June 22 inundated the entire first level. Assessors told them it would cost $120,000 to rebuild, money they didn't have.
"They came over the first day, even, and put the red note on it that says 'uninhabitable,' " she said tearfully. "We lost everything, everything in the house. I loved the house."
This afternoon the state legislature will consider a $167.5 million relief package for Duluth and other towns ravaged by summer floods and storms.
The bulk of the funding would go to northeast Minnesota, where massive June flooding tore apart roads and submerged basements — and where two months later some homeowners are still stuck in limbo.
MPR News is Reader Funded
Before you keep reading, take a moment to donate to MPR News. Your financial support ensures that factual and trusted news and context remain accessible to all.
The Eknes are renting a house in Moose Lake until the spring.
Their daughter, Beth Wilson, is visiting and trying to help them figure out their next steps.
"It's funny how the tears come, because, we talk about it sometimes and we're fine," Wilson said. "So, they sneak up on you for sure."
The Eknes' still owe $10,000 on their mortgage for a home they'll never live in again. They'd like to tear it down and build on the same lot. But they've been told that will cost another $10,000 in demolition costs.
They're both 79, and Bill Eknes is wary of taking on additional debt. His wife said she's not sure what they're going to do.
"We want people to know about our town, that we're still out here, and that we still need help," Bette Eknes said. "We don't know what we're doing; we're still up in the air."
The agreement legislators will take up today in the special session includes $12.7 million for no-interest, forgivable state loans called Quick Start loans, for home repair. It also contains a very limited amount of money to buy out condemned homes.
The vast majority of the package will help repair roads, bridges, parks and other public structures.
Still, the special session is a critical step in getting relief to individuals, said Drew Digby, who is helping Carlton County and the Greater United Way of Duluth set up long-term recovery committees in the region.
Digby said the United Way and area foundations have raised nearly $1 million in flood-relief funds. But he said that funding is reserved for people who have first exhausted all their other options.
"If someone can get a forgivable loan that covers their furnace and hot water heater, then we can use the donated money to pay for something that's not paid for by the state," he said.
The funding would also pay for case managers to help homeowners navigate the disaster relief bureaucracy. For example, homeowners must first apply for a Small Business Administration loan — and be denied — before they can be eligible for a state Quick Start loan.
Digby said some people may have to piece together funding from dozens of different sources.
"People have to go in and be denied repeatedly before they figure out that combination of resources that's going to help them rebuild," he said. "And it's a really hard, emotional journey that people are going through."
For many people, that journey needs to end soon, before winter sets in. In Moose Lake, 30 percent of the town's 640 homes were flooded. Many of those homeowners still need to replace furnaces, water heaters, and electrical systems, said Tom Paull, the administrative flood manager for the city.
"There are people still living in campers outside their homes, because they still don't have power," he said. "So, when it gets cold, what are we going to do with them? It's going to be a great concern, and how are we going to pay for it."
Paull hopes that at least part of that equation will be filled in later today at the capitol.
Gallery
4 of 4
1 of 4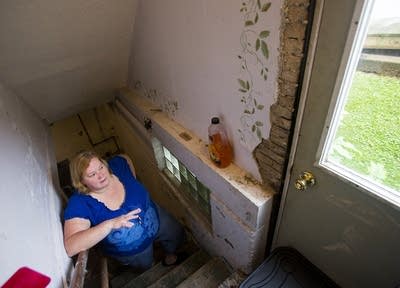 2 of 4