Nienstedt: Marriage amendment 'not intended to be hurtful'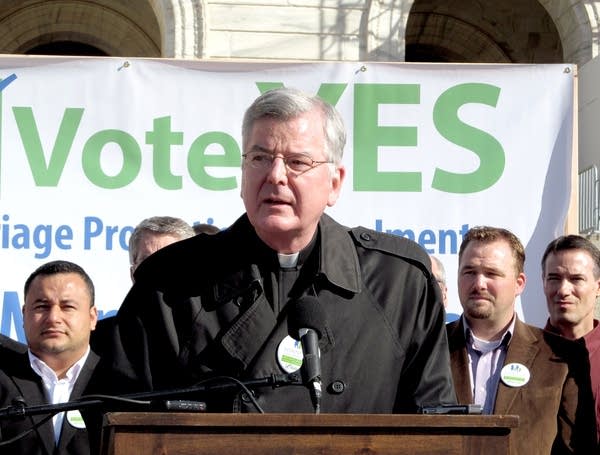 Clergy from a variety of Christian denominations gathered at the State Capitol Tuesday to voice their support for a constitutional amendment that would ban same-sex marriage.
The Catholic Archbishop of St. Paul and Minneapolis, John Nienstedt, said the proposed amendment isn't about forcing religious teachings on non-believers.
"This is a positive affirmation, not intended to be hurtful or discriminatory to anyone," Nienstedt said. "Our understanding of marriage between a man and a woman predates any government, or in fact, any religious denomination."
The Archdiocese of St. Paul and Minneapolis is the single largest contributor to the vote yes campaign, but Nienstedt has rarely spoken publicly on the subject.
Opponents of the amendment were also on hand at the State Capitol. Grant Stevensen, pastor of St. Matthew's Lutheran Church in St. Paul, said many Christians support same-sex marriage.
"We believe that marriage is about love and commitment and being able to take responsibility for another person," Stevensen said. "That's a deeply religious point of view. We also think that it should be open to everyone who wants it."
Stevensen serves as faith director at Minnesotans United for All Families, the main group opposing the amendment. The group released its first television ad today.
It features a couple, identified as Catholic Republicans, explaining why they intend to vote against the amendment.
Gallery
1 of 1
Gain a Better Understanding of Today
MPR News is not just a listener supported source of information, it's a resource where listeners are supported. We take you beyond the headlines to the world we share in Minnesota. Become a sustainer today to fuel MPR News all year long.