Mahamud Said Omar guilty in first trial of sweeping federal investigation
Defense attorneys described Mahamud Said Omar as "a frightened little man" who was "not capable of running anything."
But a federal jury in Minneapolis didn't buy it.
After more than two weeks of courtroom testimony, the jurors needed just a day of deliberations before convicting the 46-year-old former janitor of sending both money and fighters from the Twin Cities to a terror group in his native Somalia.
Omar's case was the first to go to trial in the government's sweeping federal investigation of al-Shabab recruitment in the United States.
The trial did not explain everything, but it did provide insight as to how about 20 young Minnesota men answered the call of a holy war in Somalia.
U.S. Attorney B. Todd Jones said it was a relief to finally share with the public what the government knew.
Before you keep reading ...
MPR News is made by Members. Gifts from individuals fuel the programs that you and your neighbors rely on. Donate today to power news, analysis, and community conversations for all.
"For years — literally years — our community here in the Twin Cities has been curious and waiting for an opportunity to hear about the underlying facts of 'Operation Rhino.' "
Operation Rhino was the FBI nickname for the investigation into the pipeline from Minnesota to the Horn of Africa. Mahamud Omar was found guilty Thursday on all five terror-related counts.
To be clear, Omar was never accused of planning attacks against the U.S. But prosecutor John Docherty stressed that steering men to al-Shabab is a crime against Americans. He said Omar helped move American men who were used as "cannon fodder" to al-Shabab. He said Omar ramped up his efforts after one Minneapolis recruit, a U.S. citizen, blew himself up in a suicide bombing in Somalia.
"What was done here [was] the recruiting of young men, funneling them from here to the Horn of Africa... where some of them lost their lives, and some of them took other people's lives," Docherty said. "We'll be very pleased if today's verdict plays any part in bringing that kind of behavior to a stop, because that's the kind of thing that cannot go on in this community."
The other concern fueling the government's interest in the case is a matter of protecting the homeland, said E.K. Wilson, supervisory special agent for the FBI. Authorities have long been concerned with the idea that men with U.S. passports who train at overseas terrorist camps could return to the country and wage attacks here. Nothing presented at trial indicated the al-Shabab fighters from Minnesota were planning such a thing.
"We still do not have any specific, credible intelligence that that is in the works," Wilson said. "But since the formal alignment of al-Shabab and al-Qaida, and their obvious interest in waging external attacks outside of Somalia, it's our utmost and highest priority to consider that possibility."
Omar faces up to 15 years in prison for each of the first four counts. The fifth count carries a maximum penalty of life in prison.
Federal attorney Jones said for as much as the U.S. values religious freedom and political engagement, there is a limit to those freedoms.
"You cannot cross certain lines, and one of those lines is, you cannot provide material support to a foreign terrorist organization such as al-Shabab," Jones said.
Eighteen people in all have been charged in the U.S. government's operation. Aside from Omar, the rest have pleaded guilty, or are now dead, or are still at large, probably in Somalia. Some of those fugitives were the true recruiters of the conspiracy, acccording to testimony from former al-Shabab recruits from Twin Cities. The cooperating witnesses said those men appealed to their faith and nationalism, and rallied them to fight Ethiopian troops in their homeland.
But authorities say in this kind of conspiracy, there was no real hierarchy and Omar had a special role to play with logistics and finances. At one point Omar admitted to the FBI that he was an al-Shabab "team leader" who helped them secure their plane tickets. Prosecutors also said he provided about $2,000 for guns and other expenses. Evidence presented at trial included wiretapped phone calls, as well as money-transfer records to Somalia.
Omar's attorneys said they plan to appeal.
Omar's family was shocked by the verdict, according to a family spokesman. Another acquaintance of the family, aspiring politician Sadik Warfa of Minneapolis, said Omar's brothers were not expecting that he would be found guilty on every charge.
"Obviously the family is disappointed. But as a Somali-American who is here today, I just want to tell that we have faith in the American justice system and in our country," Warfa said. "We just want our country to be safe."
When the verdict was read, Omar appeared subdued, nodding intently as his translator interpreted every pronouncement of "guilty." When it was time to leave, he grinned, threw his arms up and waved to his family members as a federal marshal escorted him out of the room.
A sentencing date has not yet been set.
• Follow Laura Yuen on Twitter: http://www.twitter.com/laura_yuen
Gallery
1 of 2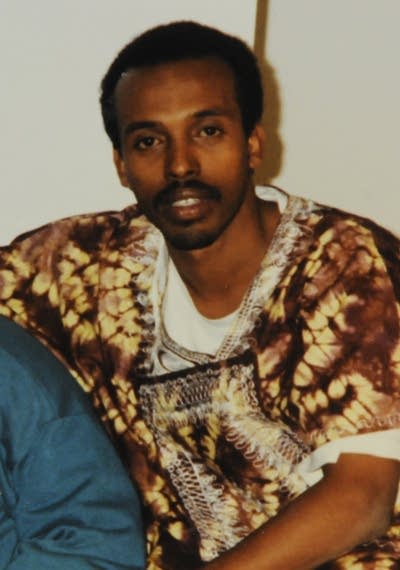 2 of 2