SPCO management locks out musicians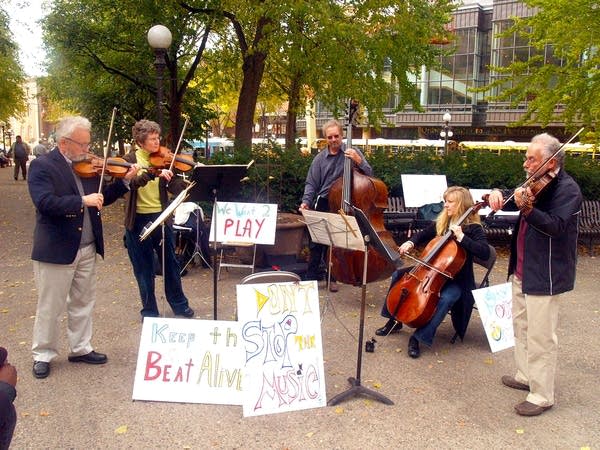 After months of negotiations failed to lead to a contract agreement, the management of the St. Paul Chamber Orchestra locked out its musicians as of 6 p.m. Sunday.
The musicians' negotiating committee chairwoman, Carole Mason Smith, said the musicians want to keep playing and talking, but she said management refused offers of temporary pay cuts to keep the orchestra functioning.
"We believe our latest contract proposal would provide a long- term solution to the management by giving them the time needed to run an effective endowment drive," she said in a statement. "Instead, they want to buy out the most experienced musicians, cut the size of the ensemble and decrease base salaries by 33% across the board. It will be impossible to retain and recruit talented musicians under this model. In addition they want complete artistic control, including putting the power to re-configure the ensemble in the hands of a task force containing a majority of non musicians."
Smith said she hopes the lockout will put pressure on the orchestra board, the public and city leaders to push for an agreement. "With the future of this orchestra at stake, the musicians continue to want to work together to find solutions but with this lockout, management has made it much more difficult," she said.
Grow the Future of Public Media
MPR News is supported by Members. Gifts from individuals power everything you find here. Make a gift of any amount today to become a Member!
The musicians said they could not arrange a meeting before the 6 p.m. deadline because they had the week off, so players were spread all over the country.
However, SPCO interim president Dobson West said that should not have been an obstacle.
"In today's world of communication, to say that because people are out of town, you can't have a discussion about it, is just not credible," West said.
SPCO management says it can no longer afford to pay the musicians at the rates set under the old contract, which lapsed on Sept. 30. "It is with great sorrow that we arrive at this juncture," Dobson said in a statement.
"With no sign of a settlement in the near future, we cannot continue operating this way and exacerbating what is already a very serious deficit," he said. "A work stoppage is not something anyone wanted, but it is our responsibility as financial stewards of this organization to ensure there will be an artistically excellent and financially sustainable SPCO in this community for years to come."
The musicians say they will vote on a contract proposal on Oct. 31 if they get requested financial information from management. No negotiations are currently scheduled.
In Minneapolis. the Minnesota Orchestra has been locked out since Oct. 1.
Gallery
1 of 1