Attorneys in the child pornography case involving a Minnesota football coach have a couple of more weeks to submit further arguments to a judge.
Todd Hoffner, the Minnesota State University - Mankato football coach accused of making pornographic videos of his children, made his first public comments in a Blue Earth County Court Wednesday afternoon.
In his testimony, Hoffner said his three children asked him to record a skit they had rehearsed for him while taking a bath at their home in the Mankato suburb of Eagle Lake.
Hoffner testified, "The children came down into the living room with towels on and asked me to videotape them."
He said the children, all under the age of 9 years, were "singing, dancing, and laughing" in the videos. He said he didn't think there was anything inappropriate with recording them, and he didn't view the videos again. Hoffner made the videos using his university-issued cell phone on June 26, 2012.
"There's nothing inappropriate in any of those videos," Hoffner said.
Prosecutors offer a different interpretation of the three recordings.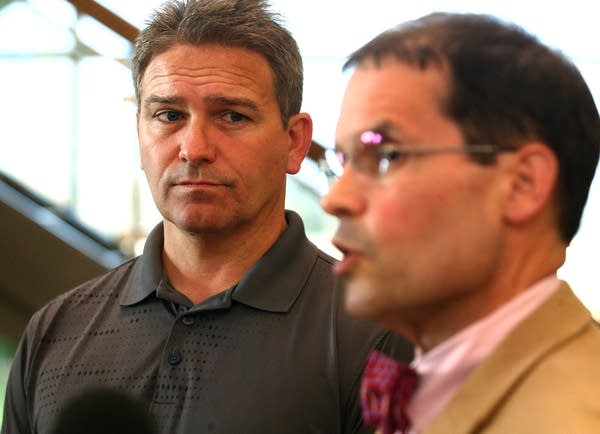 Assistant Blue Earth County Attorney Mike Hanson argued to Judge Krista Jass that "adults should not make movies of children in lewd poses. Period."
Hanson has declined numerous requests for interviews since filing charges against Hoffner.
Jim Fleming, Hoffner's attorney, reiterated that the videos are not child pornography, but innocent family moments.
"In this hearing, we contend that there was no evidence to go forward, because the videos in question are not child pornography, as statutorily defined," Fleming said.
During the hearing, Fleming called several witnesses, including a Mankato police officer and two detectives of the Blue Earth County Sheriff's department, who reviewed the videos after university officials found them and notified authorities.
The investigators said they found the videos of the nude children to be "disturbing" but said they were unclear if they fit the legal definition of child pornography, so they went to the county attorney's office for clarification.
A Blue Earth County child protection investigator, Holly Barkeim, also testified that based on the children's actions in the recordings, the videos did not meet the definition of using a minor in a sexual performance.
After the hearing, Fleming made a brief statement but took no questions from reporters.
"When the officers and other persons initially observed the videos, they did not know what they were looking at, whether it was child pornography," Fleming said. "The only person in this case who said that this was child pornography is the prosecutor, Michael Hanson, and he of course, is not a witness."
For outside observers, the case raises questions about appropriate boundaries for children and parents.
Former Ramsey County Attorney Susan Gaertner would not comment on how strong the video evidence is in the Hoffner case, but she said prosecutors generally do not struggle with determining whether an image is pornographic.
"What I've seen in my career in child pornography cases is pretty hardcore stuff and you know it when you see it," Gaertner said. "And so usually the evidentiary issues revolve around other things such as, 'Is it a real child as opposed to some kind of image that's made to look like a child? Is there strong evidence that the perpetrator actually possessed the child pornography?' Those kinds of things.
"It's typically not an argument over whether or not something is pornographic when you're looking at child pornography."
Hoffner and his wife, Melodee, released a statement Tuesday thanking friends, community leaders, school administrators and former MSU athletes who have reached out to them in the last few months.
"The family is overwhelmed by these compassionate and thoughtful expressions," the statement read. "This outreach by the greater Mankato and Eagle Lake communities has been a source of strength and encouragement in these trying times both personally and professionally."
Last month, investigators said they found no potential evidence of child pornography in a search of materials taken from Hoffner's home.
Earlier this week, the Hoffner children's pediatrician since 2008 came to Hoffner's defense in an affidavit filed with Blue Earth County court. Pediatrician Lon Knudson said, "I have not found or suspected physical or psychological damage to these children in any respect."
Therapist William Seabloom viewed the three videos that resulted in charges against Hoffner, and said, "The children were happy and laughing. They did not appear to be in any distress or discomfort."
Seabloom holds a PhD in human sexuality from the Institute of Advanced Study of Human Sexuality in San Francisco and a master's degree in social work from the University of Minnesota.
According to the affidavit, Seabloom said the children in the videos do not appear to be engaged in any physical contact in an act of apparent sexual stimulation or gratification.
"The children are engaged in healthy play," Seabloom said.
In another affidavit, Knudson said the children are in good health.
"I have not found or suspected physical or psychological damage to these children in any respect," Knudson said.
Attorneys have until Nov. 14 to file additional briefs before the court makes a final decision on Fleming's motion to dismiss the charges.