Voter ID amendment defeated
The latest update:
1:46 a.m.
The voter ID amendment has gone down to defeat in Minnesota. The Associated Press has called the election.
11:55 p.m.
Stopping just short of a formal concession, Dan McGrath of the pro-voter ID campaign Protect My Vote said a constitutional amendment victory appeared out of reach. "There aren't enough votes there to turn it around," McGrath said.
He said the proponents of the proposed requirement will now turn their attention to passing a voter ID bill in the 2013 session. "Now we press on and keep doing what we've been doing."
MPR News is Reader Funded
Before you keep reading, take a moment to donate to MPR News. Your financial support ensures that factual and trusted news and context remain accessible to all.
----------
11:30 p.m.
Voter ID supporters are taking down the signs and cleaning up at O'Gara's in St. Paul. With the results still showing support stuck at about 46 percent, Protect My Vote Campaign Manager Dan McGrath sounded pessimistic. "It's not looking good for us," he said.
----------
11 p.m.
The vote count against the Voter ID amendment is edging ahead of the "yes" vote at 54 to 45 percent.
Dan McGrath, director of TakeAction Minnesota, one of the key groups behind the campaign to defeat the amendment, said, "If it's defeated, this is the biggest upset that Minnesota has ever seen. Not since Jesse Ventura was elected governor have we seen a come-from-behind victory like this. I think it's definitely possible."
----------
9:15 p.m.
As the party ramped up at headquarters for the Our Vote Our Future party at St. Paul's Rivercentre, Gov. Mark Dayton, Minneapolis Mayor R.T. Rybak and U.S. Rep. Keith Ellison thanked volunteers and the campaign for their efforts.
Dayton told the crowd it was on the right side of the amendment, saying he is optimistic the amendment to require a photo ID at the polls will be defeated. He said the poll numbers on the amendment had shown "phenomenal" progress in recent weeks.
7:55 p.m.
The party hasn't quite started yet at the St. Paul Rivercentre, where Our Vote Our Future, a group opposed to the voter ID amendment, is throwing its election night celebration.
Organizers are expecting a flood of supporters and volunteers after the polls close. Volunteers were working until the last minute to try and get out the vote. Organizers say more than 1,000 volunteers have reached more than 200,000 likely voters with their "no" message over the last three days.
----------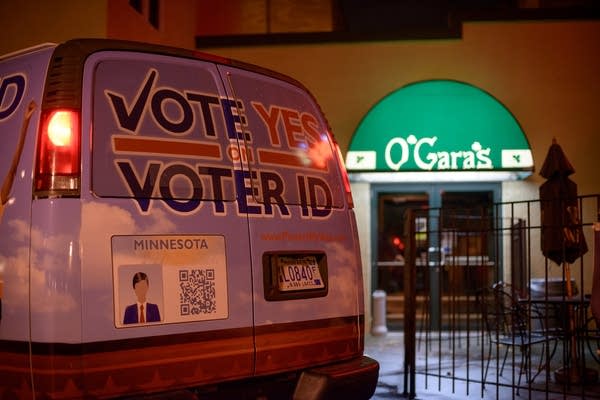 7:45 p.m.
Are election judges helping turn some "no" votes into "yes" votes on the voter ID and marriage amendment ballot questions? That's the question raised by reports from voters throughout the state about the behavior of some election judges.
Voters say some judges have told them that leaving the voter ID or marriage amendment questions blank is the same as voting "no." Judges, however, are advised not to explain or otherwise point out that a non-vote equals a no vote. If voters raise questions, judges are supposed to refer them to the instructions printed on the ballot. Those instructions state: "Failure to vote on a constitutional amendment will have the same effect as voting no on the amendment."
The judges' advice to voters doesn't seem to taint the voting process, said Peter Nelson, a voter ID supporter and the director of public policy at the Center of the American Experiment, a Minneapolis-based conservative think tank.
"If all the judges are doing is simply reciting what is on the ballot and pointing out language that is on the ballot, it's just educational," he said. "If they're just doing it to educate voters, it doesn't sound like a problem. However, if it's clear they're doing it to influence voters, then that is a problem."
----------
6:12 p.m.
Voter ID supporters are gathering at O'Gara's Bar and Grill in St.Paul for an event hosted by the pro-amendment campaign Protect My Vote. The latest polls indicate a statistical dead heat on the ballot question. But voter ID supporter John Rouleau said he doesn't put a lot of stock in those poll numbers. "There's only one poll that matters," Roleau said, referring to the final election tally.
----------
Minnesotans going to the polls Tuesday will decide some critical rules for future elections, giving a thumbs up or down on a constitutional amendment requiring voters to show a valid government-issued photo ID before casting a ballot.
Proponents of the amendment say it would combat voter fraud and improve the integrity of elections. But opponents complain the change is unnecessary, and would block many honest citizens from voting because they won't be able to obtain or produce photo IDs that comply with the law.
State Rep. Mary Kiffmeyer, R-Big Lake, has been a leading advocate for voter ID, arguing that it's too easy for people to cast fraudulent ballots.
"It's so important that you protect the honest voters from the dishonest," she said during an MPR debate last week. "This amendment will add integrity an election system that is currently wide open for fraud and yet preserve the flexibility to keep it easy to vote."
State Rep. Steve Simon, DFL-St. Louis Park, said voter ID seems like common sense but really isn't. He maintains voter fraud is not a significant problem in Minnesota. And he complains the amendment would generate many lawsuits as the Legislature tries to sort out what he says is inconsistent and unclear language.
"It's costly, way too complicated and would lead to unintended consequences," Simon said during the debate. "There is not one, not a single case of voter impersonation in Minnesota since the year 2000. This is a solution in search of a problem."
Simon said the amendment leaves too many issues unresolved, from what constitutes a valid ID to how all voters would be subject to "substantially equivalent" identification and voting eligibility requirements.
If approved, the amendment would apply to elections held on or after Nov. 5 2013. DFLers have said the measure could keep some 215,000 Minnesotans — primarily the elderly, disabled people, students and military personnel — from exercising their right to vote.
That's roughly 7 percent of the nearly 3.1 million registered voters in Minnesota. But Kiffmeyer said only about 2 percent of voters lack a valid ID, and they could readily get one for free.
FAITH AND FACTS
Doug Chapin, a neutral voter ID expert at the University of Minnesota's Humphrey School, said both sides' arguments rely more on faith than on facts.
"Opponents of ID can point out that proponents have little evidence of fraud, and proponents of ID can point out opponents have little evidence of disfranchisement," he said during the MPR-sponsored debate. "So we've really got what's equivalent to a faith-based argument between people on one side who believe fraud is rampant, and people on the other side who believe disenfranchisement is inevitable. And given that, it's not surprising we get more heat than light on this issue."
Both sides have aired TV ads that the other side dismiss as misleading, if not simply false.
As of Oct. 22, ProtectMyVote, which supports the amendment, had raised about $1.5 million and spent about $500,000. Our Vote Our Future, which opposes the amendment, had raised $2.6 million and spent about $2.1 million of that.
PROSPECTS
A Star Tribune poll of likely voters late last month estimated 53 percent of Minnesotans supported the amendment, 41 percent opposed it, and 6 percent were undecided. The poll had a margin of error of 3.5 percentage points.
But a KSTP/SurveyUSA Poll of likely voters, taken late last week, found a virtual tie, with 48 percent supporting it and another 48 percent opposing it, with 5 percent were undecided. The poll had a margin of error of 4.2 percentage points.
To become part of the state constitution, the measure must win a majority of all voters casting a ballot, not just those voting on the amendment itself. A voter who doesn't vote either way is effectively voting "no."
Support for the amendment has been eroding. But Peter Nelson, a voter ID supporter and the director of public policy at the Center of the American Experiment, a Minneapolis-based conservative think tank, still thinks it will pass.
"There's still a majority of people who say they'll vote 'yes,'" he said. "For most people, it's just common sense. You have to show your ID when you go to the doctor, when you open a bank account, when you travel. It's going to be an equally simple process when you go to vote."
But opponents believe support for the amendment is slipping so much that it will be defeated.
"This is a really poorly written amendment, and the Legislature really messed it up when they put this together," said Eric Fought, communications director for Our Vote Our Future. "They're presenting to voters a document that doesn't have a lot of details. Hardly any, actually. I think overwhelmingly folks will vote 'no.'"
University of Minnesota political science professor Larry Jacobs expects the amendment will pass, because most voters will think it seems like a good idea.
"There's a kind of surface-level validity to the idea that if you need an ID to board a plane or cash a check, you should have an ID to vote," he said. "There are enough voters not terribly clued in to the details of the issue who'll find that surface validity to be pretty compelling."
THE TALLY ON TAINTED VOTES
Nationally, Minnesota has long been viewed as squeaky clean when it comes to elections. But the state's reputation took a hit in the race for the 2008 U.S. Senate race between Democrat Al Franken and Republican Norm Coleman.
Franken won the close contest after a hard-fought recount in which some Republicans, including former Gov. Tim Pawlenty, said they felt voter fraud played a role.
Last October, Minnesota Majority, a group pressing for a Minnesota voter ID law, claimed that "upwards of 2,800 ineligible felons are believed to have unlawfully voted in Minnesota's 2008 general election" and that 113 had been convicted of voting illegally in that election.
MPR News reporter Catharine Richert dug into the convictions data and concluded Minnesota Majority's estimate that 113 people had been convicted of voter fraud might be in the ballpark, but represented "far less than 1 percent of the roughly 2.9 million Minnesotans who voted in the 2008 election."
The Carnegie-Knight Initiative on the Future of Journalism Education released an analysis of more than 2,000 alleged election-fraud cases nationwide over the past 12 years. It concluded that, while fraud has occurred, the rate is "infinitesimal" and in-person voter impersonation is "virtually nonexistent."
But it's hard to determine how big a role fraud might play, argues Nelson of the Center of the American Experiment. "There's no way to know how much fraud is out there because we don't have system in place to detect fraud," he said.
POLITICS
The push for a voter ID requirement has been a deeply partisan battle.
"Not a single Democrat voted for this," said Simon. "This was a straight party-line vote. There are Democrats who would support something milder, more common sense. Instead, we got this, which is a total overkill approach."
Kiffmeyer says Democrats oppose voter ID because they figure it will cost them votes. "They don't look at it as something that would benefit them," she said.
Democrats agree.
As their smoking gun, voter ID foes point to a widely circulated video of Pennsylvania state House Republican Leader Mike Turzai touting a voter ID measure in his state as a boost to the Romney campaign.
"Voter ID, which is going to allow Gov. Romney to win the state of Pennsylvania — done," said Turzai, as he listed GOP accomplishments for a roomful of supporters earlier this year.
A Pennsylvania judge postponed the controversial requirement, ordering the state not to enforce it in this year's presidential election but allowing the law to take effect next year.
WHAT'S AHEAD
If the amendment passes, Minnesota would become the 34th state to enact a voter identification requirement. But it would be only the second to put a voter ID requirement in the state constitution.
State lawmakers would have to address many unresolved issues, including which IDs will be considered valid, how the state will distribute free IDs and how much it'll cost to put voter ID in place.
But with all legislative seats up for grabs, it's uncertain which party will get to shape the bill needed to implement voter ID.
One certain change is that the state would allow voters who show up without the proper identification to cast provisional ballots and then verify their identity later. But Edward Foley, a law professor at Ohio State University, said many provisional voters in other states never return, and their ballots are never counted.
"For many voters, you know, what's the point?" he asked. "I mean, they read in the newspaper the next day that the elections are decided, and so on and so forth. They live busy lives and don't bother to rectify their ID."
In Minnesota, lawsuits appear certain if the amendment passes, and if the provision prevents anyone from voting in the next election.
Many African-American voters fear they could be among the disenfranchised. During a recent event in Minneapolis, civil rights veteran Josie Johnson described working as a young girl in Texas against that state's poll tax. Johnson said she's troubled by the voter ID amendment.
"Here we are in 2012, after the 1965 Voter Rights Act, having to fight for it all over again," she said.
A 2006 study from the Brennan Center for Justice at New York University School of Law found that 25 percent of voting-age African-Americans in the United States had no government-issued photo identification, compared to 8 percent of whites. Another survey, conducted by a Massachusetts Institute of Technology professor in 2008, found that 19 percent of black respondents nationwide and 3 percent of whites did not have a driver's license.
Voter ID supporters disagree with those who say the amendment will keep many people from voting.
Dan McGrath, manager of the pro-amendment campaign organization Protect My Vote, said he's confident that all eligible Minnesotans would still get to vote under the new requirements.
"Veterans for some reason won't be able to vote, elderly people, students. Yeah, I've heard it all," he said. "It's all nonsense. They're excuses to maintain the status quo."
Jacobs, of the Humphrey School, says online voter registration and increasingly thorough and sophisticated online databases will likely make voter ID laws moot before long.
"You won't need to have a voter ID in your hand," he said. "You can go to the voting booth or go online and have your identity confirmed."
Gallery
1 of 1