Senators ask Obama to protect river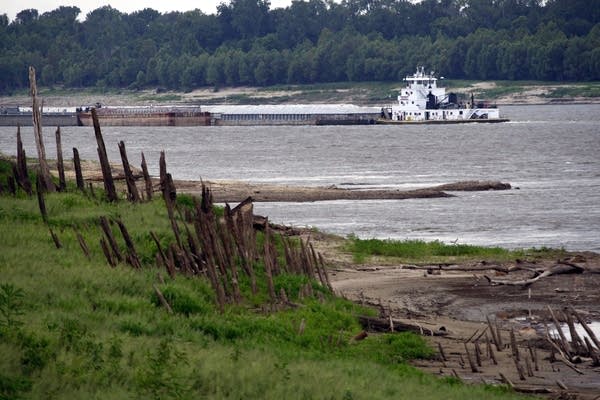 By JIM SALTER
Associated Press
ST. LOUIS (AP) — A group of U.S. senators will ask President Barack Obama for an emergency declaration in an effort to keep barges moving on the drought-riddled Mississippi River, a spokesman for Sen. Claire McCaskill told The Associated Press Tuesday.
Senators from Mississippi River states are seeking an emergency directive that would increase the flow of water from an upper Missouri River dam and expedite removal of rock formations in the middle Mississippi River that impede barge traffic during periods of low water. McCaskill spokesman Drew Pusateri did not yet have a complete list of senators involved in the request.
Pusateri said McCaskill also will write to Missouri Gov. Jay Nixon asking him to formally request a disaster designation. He said a gubernatorial request could move through bureaucratic channels more quickly than the request from senators.
The Army Corps of Engineers on Friday began reducing the outflow from the Gavins Point Dam in South Dakota. The flow, originally 37,500 cubic feet per second, will gradually be cut to 12,000 cubic feet per second by Dec. 11.
That means less water coming down the Missouri and into the Mississippi River. The already-low Mississippi River level is dropping as a result and could get so low that barge traffic will be severely restricted or even halted by mid-December.
Corps officials in Omaha, Neb., have said the reduction is necessary because low water in the upper Missouri River basin is affecting recreation, exposing Native American artifacts that are normally covered by water, and may eventually impact hydropower. They say they are bound by the Missouri River Master Manual to act in the best interest of the Missouri River, and what happens on the Mississippi is incidental.
In a teleconference with reporters on Tuesday, Republican Sen. Roy Blunt, R-Mo., said the corps move was another example of "friction" between the upper basin of the Missouri River and the lower Missouri and Mississippi rivers.
Three trade groups and 15 other national organizations also on Tuesday submitted a letter to Obama and to the Federal Emergency Management Agency requesting a presidential emergency.
"This is an economic disaster in the making and the Administration needs to act now to stop it," said Mike Toohey, president and CEO of Waterways Council Inc.
Nearly 80 members of Congress and governors of Missouri, Illinois and Iowa all wrote letters to Army Assistant Secretary Jo-Ellen Darcy in the weeks leading up to the flow reduction, urging that the move be averted or at least delayed. Christina Mulka, a spokeswoman for Sen. Dick Durbin, D-Ill., said her boss and other federal lawmakers are working to arrange a meeting with Darcy, perhaps as early as this week.
But McCaskill said in a statement that action is needed immediately.
"This issue is impacting jobs and businesses in Missouri as we speak, so we don't have weeks to wait for a response from the Army Corps," McCaskill said. "It's time for the president to take action to protect our jobs and businesses."
At issue is the area of the Mississippi River between where the Missouri and Ohio rivers merge into it — roughly the 180 miles between St. Louis and Cairo, Ill. Barge navigation on the middle Mississippi becomes particularly tricky if the channel dips to around 9 feet of depth. Currently it is about 13 feet deep and National Weather Service hydrologists predict it will drop to around the 9-foot mark by around Dec. 10.
The corps has spent months dredging the river to try and keep the channel open. It plans to use explosives to remove rock formations near Thebes, Ill., and Grand Tower, Ill., that can endanger barges in low-water periods. But the bidding process is complicated and the work isn't expected to begin until early February.
The disaster declaration sought by the senators seeks to cut through red tape to expedite that removal. It would also seek to restore the Missouri River flow to around the normal level.
Goods such as grain, corn, coal, petroleum and chemicals are typically shipped along the Mississippi River, in part because the volume is so high that using trucks or trains would be far more costly. Waterway trade groups say that if the river was shut down starting next month and through January, the impact would reach into the billions of dollars.
AP reporter Jim Suhr in St. Louis contributed to this report.
Gallery
1 of 1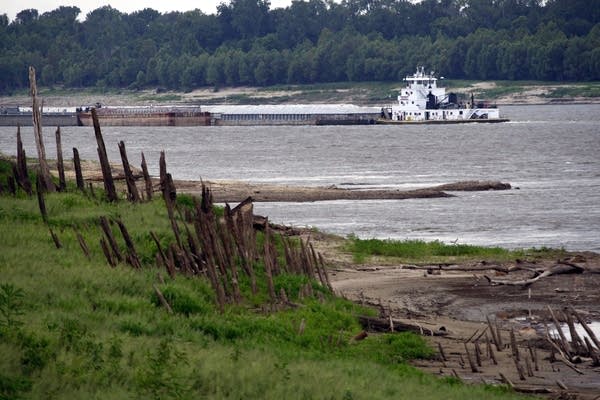 Your support matters.
You make MPR News possible. Individual donations are behind the clarity in coverage from our reporters across the state, stories that connect us, and conversations that provide perspectives. Help ensure MPR remains a resource that brings Minnesotans together.