Professor builds Latino - white bridge in Morris, Minn.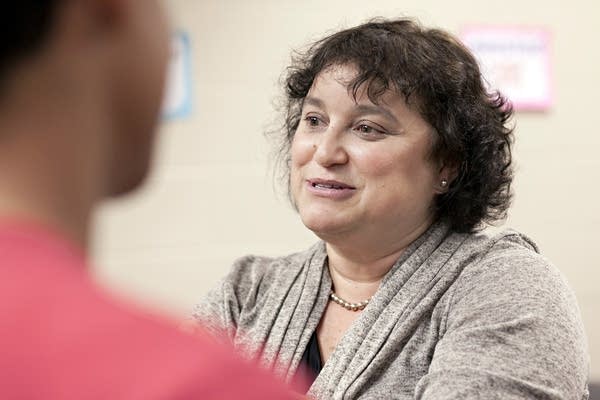 The room was full of whispers. About 30 people from Morris--an even mix of students from the University of Minnesota and Latinos from the community--occupied a string of chairs in a fluorescent-lit room on the university campus.
They were engaged in a game of telephone and the words "pumpkin pancakes" were being passed from English speaker to Spanish speaker and vice versa to much puzzlement by all parties.
By the end, after a lot of smirks and stifled guffaws, the last person in the chain offered, somewhat sheepishly, "I like bonsai?" It wasn't even close, tripping another round of laughter. The game, part of a weekly get-together called Jane Addams, named after an activist and a program at Augsburg College in Minneapolis, was designed to break down language and cultural barriers and get people to take themselves a little less seriously.
"The (meetings) help a lot," said Citlali Ibanez, a veterinarian from Mexico, whose husband works at Riverview dairy, the main employer of Latinos in the area. She said the interactions make her feel more comfortable in Morris and make everyday conversations easier. "My mom visited us this summer," she said. "We brought her to Jane Addams. She loved it. She speaks no English. It's important to spend the time and space with the other people, getting to know them."
Morris has a relatively small Latino population, making up less than 5 percent of its total 5,300 residents. But that's double what it was 10 years ago, largely thanks to Riverview, a 7,500-head dairy just outside the city. Unlike some newcomers working in the food industry in small Minnesota cities, the Latino employees at Riverview tend to have advanced degrees and work as veterinarians and mechanical engineers. That means they come to the United States on professional visas that allow them to bring their families.
Yet, even given their high level of education and at times advanced English skills, Latinos in Morris have experienced some of the same difficulties as those in other Minnesota cities when it comes to fitting into a largely white community. Many cities have had sizeable Latino populations for decades, yet they and whites tend to live parallel lives without much significant interaction.
"There is discombobulation, a disconnection between the Morris people, the Latino, the non-Latino and the University community," said U of M Spanish instructor Windy Roberts, who is originally from Venezuela and helped launch Jane Addams and other cross-cultural efforts in Morris. "We need to find ways to mix people and make people more comfortable with each other," she said. "It's happening. But we're still in diapers."
"It's such a complicated world," she said. "But we are talking about simple things, like how do you get people in Morris to say, 'Hello, how are you?' when they walk into a store. We have to continue evolving but it's hard."
"Latino women are starving for something more than diapers and the weather."
After moving to Morris 13 years ago, Roberts began teaching at the high school and then moved on to the U, where she's been able to recruit an army of students to help in her efforts. She co-founded a program called Lazos, which means "ties" in Spanish, that coordinates and promotes English as a second language classes and community events. After a bilingual student, Katie Jacobson, suggested Jane Addams, Roberts helped launch that as well.
Bringing two worlds together can be delicate work and Roberts is aware of how easily resentments can surface, especially after a negative incident. She was told by an activist in a nearby community that Morris is in its "honeymoon" period, because the Latino population is still fairly new and small. Theoretically, bad feelings can build up over time. "We decided we needed to find a way to integrate the Latino community better, so if something happens it's not just a brown face, but 'Pedro' or 'Juan,'" she said.
In some ways, having a U of M campus is making the transition easier for Morris. While the city is overwhelmingly white, the campus draws students and professors from all over the world. People are used to seeing new faces. Not only that, but the U has resources to offer, whether staff, money or classrooms.
Two of Roberts' students recently received funding from the U's Center for Small Towns to study the local Latino population. They've conducted focus groups with dairy workers to chronicle their lives and determine whether they are receiving the services they need. "The dairy has created interesting dynamics," said student Jordan Wente, who is bi-lingual and working on the project. "A lot of them are educated individuals. People come here thinking they'll stay temporarily, but then their kids get into school."
Roberts has had a harder time engaging the broader Morris community, in part due to a subtle divide between the university campus and the rest of the city. "We have to battle the fact that not everybody in the community feels comfortable walking through the University," said Roberts.
Morris does seem to stand apart from other outstate communities in the number of white residents trying to learn Spanish, instead of expecting only Latinos to learn a new language. Another U of M Morris student, Amanda House, teaches Spanish to a small class, including a doctor and a man with Latino friends who wants to communicate better.
Clearly, people are trying. But a gulf remains and some Latinos struggle to make connections outside their immediate circles. One effort to organize shines a light both on feelings of isolation and on what seems like untapped potential.
On a recent rainy afternoon, a group of about 10 Latina women gathered at the city library with Roberts to talk about the new support group they were forming. Like Ibanez, the women at the table were mostly the wives of Riverview dairy employees. They are doctors and accountants and journalists in their own right. But for various reasons, mostly related to their visas, they can't work here in their chosen professions. They stay home while their husbands work 12-hour days. And they feel isolated.
"Latino women are starving for something more than diapers and the weather," said Roberts, who has received a grant to start a multicultural reading club.
The women discussed common themes. They said they like living in Morris and find it friendly and safe. But they have trouble fitting in and newcomers have difficulty navigating the practical aspects of life, like knowing which grocery store is best.
"To come here and find a lot of educated women, there is such power when women get together."
"For me this is hard," said Maria Concepcion Naranjo, an accountant from Mexico whose husband works at Riverview as an engineer. "I miss my family and food. Winter is hard. I have been learning to spend time outside. I've been learning to wear clothes." She said sometimes people in Morris assume she's embarrassed by her heritage and recounted a conversation with a clinic intake person who apologized for asking about her ethnicity. "We may not know English, but we have brains," she said, in clear English. "We think. Sometimes it's hard to express ideas, but it doesn't mean we don't have them. We can't work. But it's not because we aren't able to. It's because of the law of work."
Experiences like these drove the women to form the support group, which has met twice. Part of the goal is to make people feel more comfortable so they can approach the community at large from a position of strength.
"We want to integrate women and make them feel friendship," said Maria de los Angeles Lopez de Baldelomar, a family therapist who recently moved from Los Angeles, and is helping spearhead the effort. "To come here and find a lot of educated women, there is such power when women get together. It can be such a beautiful thing. We want to create a warm and welcoming place for newcomers, where they can be received and listened to, where people can bring their struggles and their successes."
Ibanez has been in Morris for two years, speaks English well and has made friends. She remembers that when she first moved to town, "it was scary and sad. I had lost my world. All my family lives in Mexico." Now, she said, she's glad she came. "I love and enjoy the community. We are lucky."
Some of the families who come for work at Riverview won't spend more than a few years in Morris before moving back home. They have to decide just how involved to get in community life, said Roberts, and what they will come away with. "That's why this group is so important," she said. "They don't want to live in a parenthesis."
Gallery
5 of 5
1 of 5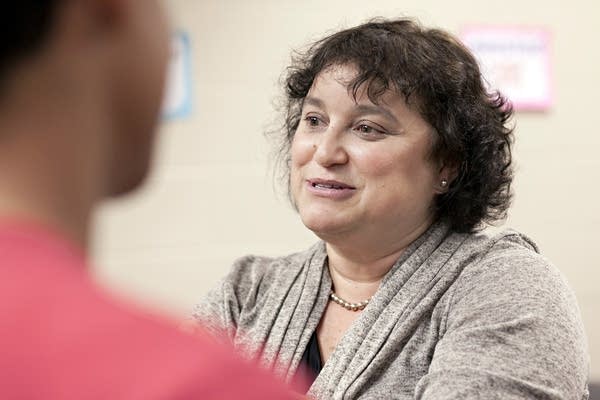 2 of 5
Your support matters.
You make MPR News possible. Individual donations are behind the clarity in coverage from our reporters across the state, stories that connect us, and conversations that provide perspectives. Help ensure MPR remains a resource that brings Minnesotans together.