'La Natividad' tells the nativity story as an immigrant's tale
Tonight, some streets in south Minneapolis will resound with music from a new version of the nativity story.
The Spanish/English production by In the Heart of the Beast Puppet and Mask Theater blends the "no room at the inn" Bible story with current events. Maria and Jose — Mary and Joseph — along with other actors, puppets, musicians and theatergoers, tell and witness the familiar Bible story of the birth of Jesus as part of a procession through neighborhood streets.
• Click on the slideshow to see more photos, and on the audio link to hear the story.
"The way we're telling it is bilingually from the point of view of an immigrant family in our neighborhood which is what people go through today, the disruption of family life, the persecution and so forth," said St. Paul's Lutheran Church co-pastor Patrick Cabello Hansel, who helped organize "La Natividad."
During her day job as a translator and interpreter for Ramsey County Human Services, music director Laurie Witzkowski says she often encounters families — including those living here without legal status — navigating a fragile and frightening existence similar to the nativity story.
"A woman might be left with her children and her husband gone and no way to support themselves," she said. "It is a very real and current story."
MPR News is Reader Funded
Before you keep reading, take a moment to donate to MPR News. Your financial support ensures that factual and trusted news and context remain accessible to all.
La Natividad's plot and music are borrowed from several Spanish speaking cultures and traditions, includes elements of Mexico's "La Posadas," where residents refuse to give Mary and Joseph shelter. The theater's huge puppets depict the Magi, larger-than-life-sized Maria and Jose' and a zoo of animals.
In one heart-stopping moment, King Herod appears, depicted as a violent and vengeful ruler in a suit and tie, and demands to know the whereabouts of the baby Jesus and how he got here. In tones that echo the words of American immigration hardliners, he shouts, "They're coming in from everywhere, from land, from sky, from woman. Secure the borders!"
The audience follows Mary and Joseph as they make their way through a neighborhood and come to a barrier — a border — where people on the other side carry lanterns and hold up signs of friendship.
Not to spoil the ending but, as in the biblical version, it is a happy one: The procession makes its way to safety, warmth and food for everyone at nearby St. Paul's Lutheran Church.
"We call across the border to each other," Witzkowski said. "Those relationships — the very fact of our true, real relationships that are human, spiritual and social — melt the border, they melt the barricade."
---
If you go: "La Natividad" is being performed Dec. 13-16 and 20-22 by In the Heart of the Beast Puppet and Mask Theater in conjunction with St. Paul's Evangelical Lutheran Church and Mercado Central. It's performed in English and Spanish, and audiences must be mobile and dressed appropriately for the 2.5-block outdoor procession from the theater to the "border." Click here for more information, or call 612-721-2535.
Gallery
4 of 4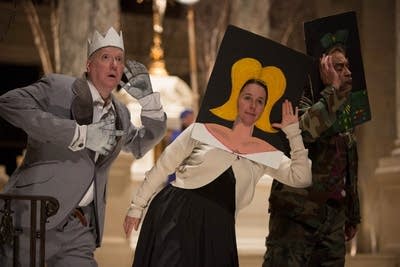 1 of 4
2 of 4