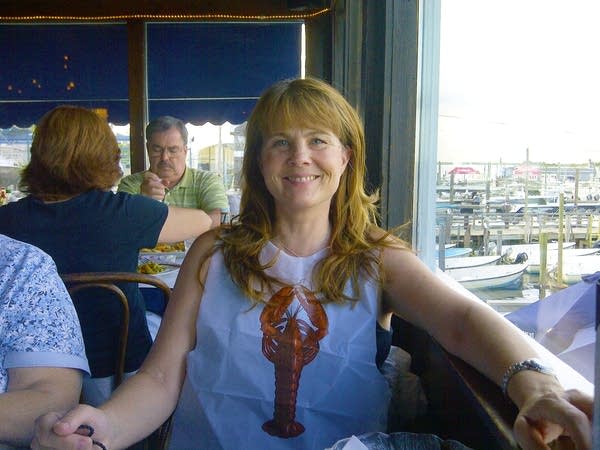 Carrie Daklin is a Twin Cities-based freelance writer and a source in MPR's Public Insight Network.
Though it's long ago, I still have distinct memories of it. I remember making apple and marshmallow Santas, "no-bake" Christmas cookies that we dropped on pieces of waxed paper, and watching a very young Natalie Wood in "Miracle on 34th Street." I was 5 — just barely, as I had started school in September at the age of 4 — and in kindergarten.
Gimbels and Wanamaker's had their decorations up the day after Thanksgiving. Oh, the anticipation — singing "Jingle Bells" and following along with Mitch Miller! When I look at pictures from back then, they seem ridiculous in their simplicity, in the naivete of the early '60s. That was the Christmas I got my Easy-Bake oven.
Somewhere along the way, the luster wore off. The inevitabilities of life came along: shattered romances, lost jobs, a failed marriage, friends gone too soon.
I don't like to admit that I am a holiday curmudgeon. I didn't even think it was particularly apparent until last year, when a friend gleefully cast me in a video as Ebenezer Scrooge.
I didn't know my attitude had hurt people. I didn't realize how lucky I was. Mired in my skepticism, I pronounced it vocally: I hate Christmas. If it weren't for my kids I wouldn't even put up a tree.
And this year I almost didn't.
My son said he didn't care, and it seemed like a lot of work, and, I thought, I would be just as happy to forget the holidays entirely — such a pain, such a nuisance, such a contrivance.
But then something took me back to being in kindergarten. Something made me remember the joy and delight I had lost.
A few weeks ago, watching a small Connecticut town grieve, I realized just how thankless I had been. I have been given 51 Christmases. In the past two decades, I have squandered many. So I made a decision — I determined not to let another year slip by, not to let my indifference continue to affect my family.
That afternoon, my son and I went out and bought a tree. At 17, he seemed as excited as a 5-year-old.
The tree stayed lighted every day, and I made a point each evening to tune in Christmas carols. I even bought an old copy of "Christmas Sing-Along with Mitch" — the exact same one I had had as a little girl.
Much to my son's chagrin, I played it daily. I did not, however, tear out the sing-along sheets and require him to follow along.
As the New Year begins, and the holidays fade, my commitment is to find a daily delight — maybe lobbing a snowball at my unsuspecting son, maybe sliding down the hill by my house, maybe going out of my way to wish upon a star.
As I enjoy a full moon on a glistening cold winter night, I will dedicate my joy to 20 kindergarteners: 20 children whose names I don't have the courage to read, but whose faces and infectious smiles I have seen; 20 children who were anticipating Santa's arrival; 20 children who were much too young to experience life's inevitabilities.