Barrier of bubbles, light and sound recommended to deter Asian carp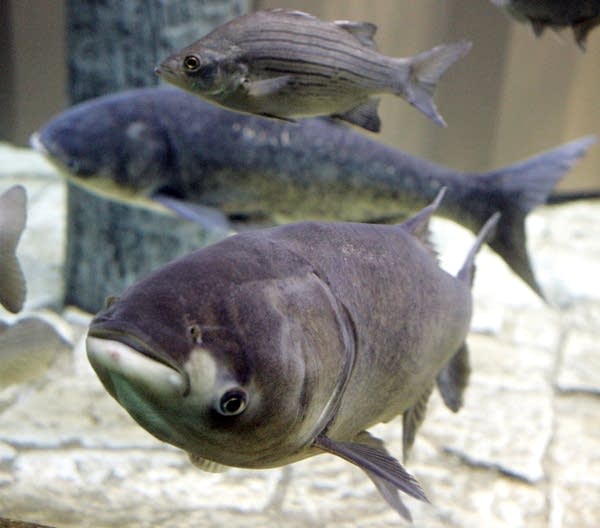 The voracious Asian carp may be the biggest threat to the health of the Mississippi River and to northern Minnesota fishing. But the most effective way to keep carp from moving upstream has too many drawbacks for state officials.
The DNR's ecological and waters resources director, Steve Hirsch explained the problem to reporters in a conference call.
"In general, electricity or electric barriers are considered to be the most effective deterrent barrier technology, but they also have significant public safety risks," Hirsch said.
The urgency to mount defenses against invasive Asian carp escalated when, in October, the National Park Service said it had discovered silver carp DNA near Lock and Dam No. 1, which is just south of Ford Parkway, between Highland Park in St. Paul and the Minnehaha neighborhood in Minneapolis.
The DNR commissioned a report to study the best way of keeping Asian carp out of the upper Mississippi River. The consulting firm, Barr Engineering, ruled out closing Lock and Dam No. 1, because it is used by recreational and commercial boats and barges, and would require an act of Congress to close.
The best remaining option, Hirsch said, is technology that combines bubbles, lights and noise to deflect Asian carp. But it is difficult to say how effective it will be.
"The long and short of it is, is that any type of technology, any type of deterrent barrier at lock and dam 1 would have to be considered experimental because it's just so different from the other areas where this type of strategy has been used," Hirsch said.
He said that, compared to other fish, Asian carp are very sensitive to sound. The technology would create noise tuned to a frequency that carp hear best. Bubbles would appear like a barrier to fish, and bright, flashing lights would add annoyance. Faced with that assault, the DNR hopes Asian carp will swim in the opposite direction, toward the main river channel.
The wall of bubbles, light and sound wouldn't have to span the entire river because the dam itself is an effective barrier, Hirsch said.
"The fact that you only need to deflect and not block passage across the entire river channel is an advantage to using this type of strategy," Hirsch said. "And then we have the Coon Rapids dam upstream, which is a physical barrier that in and of itself is not 100 percent, is a fairly effective fish barrier that we hope in combination with the deterrent barrier will be effective."
Hirsch said construction of the bubble barrier could cost from $12 million to $19 million, with annual maintenance costs up to $250,000. If the funds come through, he said construction could start in mid- to-late November and be completed March 2014.
The plan first needs approval from the Army Corps of Engineers, which operates the dam. The corps' Col. Michael Price said they will try to make the process as fast as possible.
"This one in particular has got senior leader interest, so that'll help it move through the process better," Price said. "But it is unique, hasn't been done at any other structure in the corps, so that will tweak some interest along the process."
Paul Labovitz, superintendent of Mississippi National River and Recreation area, said he is glad the DNR has an aggressive timeline, but that it may be too optimistic.
"I remember back to some of the meetings in the governor's office where the Army Corps said it would take potentially up to four years to conduct their environmental reviews," Labovitz said. "To have those reviews under way and even done by this fall — apparently they can act a little quicker."
As long as the DNR is taking action, Whitney Clark of the conservation group, Friends of the Mississippi River, says he is happy. But Clark said no one should think of the bubble barrier as a complete solution to the Asian carp problem.
"People will think that this solves the problem," Clark said. "And we don't really need to do anything — 'look, we spent $15 million or $18 million or whatever it's going to be on this, and isn't that problem taken care of already?' I don't think we can afford to take that approach to this."
Clark says it will take more research to understand how to control the invasive Asian carp.
— Follow Rupa Shenoy on Twitter: http://twitter.com/rupashenoy
Gallery
1 of 1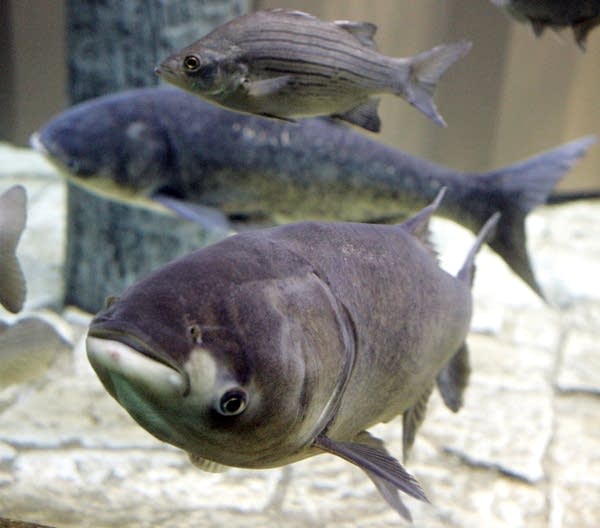 Your support matters.
You make MPR News possible. Individual donations are behind the clarity in coverage from our reporters across the state, stories that connect us, and conversations that provide perspectives. Help ensure MPR remains a resource that brings Minnesotans together.