TCF Bank notifies Iranian students of account closures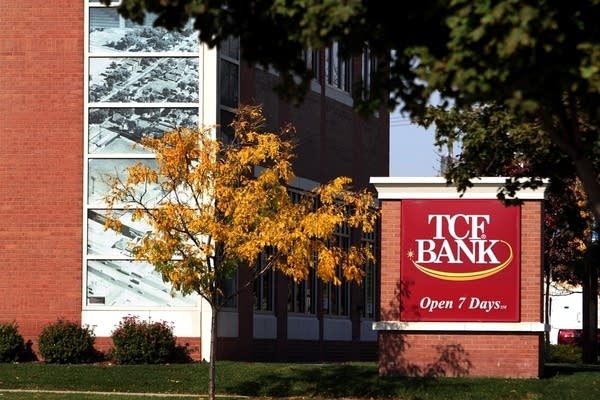 A group of Iranian students at the University of Minnesota suspects TCF Bank was discriminating against them when it told them it would close their accounts without explanation at the end of this month.
The move comes amid tightened U.S. sanctions against Iran. But the students say they have not violated any financial restrictions.
Law school student Kamyar Ghorbanebrahimi did not know what to make of TCF's Dec. 26 letter, which simply told him the bank was exercising its right to terminate his account, effective late this month.
"When I received that, I was walking around confused for two days," Ghorbanebrahimi said.
Grow the Future of Public Media
MPR News is supported by Members. Gifts from individuals power everything you find here. Make a gift of any amount today to become a Member!
Alone in the U.S. and using money he brought from home, Ghorbanebrahimi said he has never made a foreign transaction.
Now he's looking for an explanation.
"To have just an answer, why such a thing is happening," Ghorbanebrahimi said. "Not just that they are exercising their right, but why they are exercising their right."
More than 20 of 67 Iranian students at the university say they have received such a letter.
TCF spokesman Jason Korstange said the form letters did not just go to Iranians, and that not all Iranians at the university were sent the letter.
Despite the wording of the notice, which Korstange said the bank may change, TCF will review each student's account. TCF told students in the letter they could close the accounts sooner if they wished, but would need to end any automatic transactions tied to the account.
"If we can get answers to some of these concerns, we will keep the account open. We have not closed these accounts," he said.
Korstange would not describe why TCF sent the notices, merely that bank officials were concerned about account activity. But the letter does not mention such concerns, nor does it ask the recipient to answer questions about account activity.
University officials said bank officials told them the closures are related to U.S. sanctions over the exchange of funds, goods or services with Iran.
They say they are concerned in part because TCF has had a special agreement with the university. It gives the bank the exclusive right to offer checking accounts accessible with the university's photo ID card. The university makes a million dollars a year in royalties from the deal.
"We do understand that TCF Bank must follow regulations and take appropriate actions when indicated. However, given our relationship with TCF Bank, we would have expected that TCF Bank representatives would communicate with us about the situation prior to students receiving letters," said university spokeswoman Patricia Mattern.
A spokesman from the U.S. Treasury Department said U.S. banks are not allowed to do business directly with Iran. A family is generally allowed to send money to student children, for example, but payments must go through a third bank in another country. And the transaction must not involve any Iranian bank designated as a supporter of terrorism or the proliferation of weapons of mass destruction. Neither can transactions involve entities on a 554-page government list of restricted individuals, companies and other organizations, a number of which are Iranian.
A Treasury report on the sanctions says that before U.S. banks can process transactions involving Iran, they must first make sure those transactions are legal.
Jamal Abdi, policy director for the National Iranian American Council in Washington, D.C., says businesspeople tell him it is becoming tough to find banks willing to engage in such transactions.
However, Abdi said, "A bank, under the Civil Rights Act, under these laws — they're not supposed to be discriminating against people based on their national origin."
Iranian students who spoke to MPR News insist they have made no illegal foreign transaction, or no foreign transaction at all.
It's unclear how widespread such account closures are. A University of Illinois student in Chicago said the same thing is happening to him and at least a handful of other students there. Last summer a Canadian bank made a similar move when it closed accounts of customers of Iranian descent.
Abdi said it is the first time he has heard of an American bank systematically closing so many Iranian accounts at once.
The National Iranian American Council in Washington, D.C., is asking TCF Bank to explain its decision. An official from U.S. Rep. Keith Ellison's office is scheduled to meet with the students on Wednesday.
Gallery
1 of 1