Lulu's Playground, a new jazz sound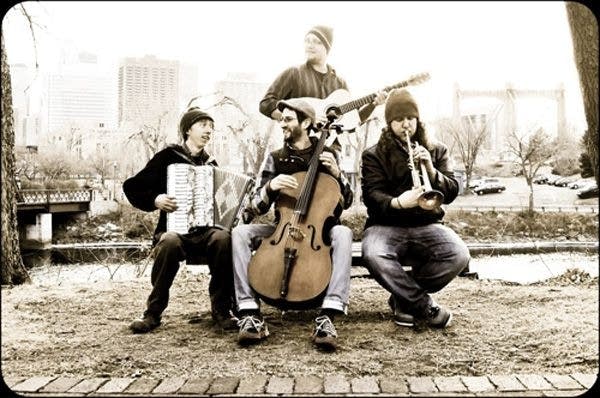 [image]
Lulu's Playground photo courtesy of Adam Meckler
It's mail time, and in my inbox is a new tune from Lulu's Playground, the innovative Twin Cities quartet that features guitarist Evan Montgomery, cellist Cory Grossman, accordionist Steven Hobert and trumpeter Adam Meckler.
Grow the Future of Public Media
MPR News is Member supported public media. Show your support today, donate, and ensure access to local news and in-depth conversations for everyone.
When the group debuts its new CD, "Shadow Voices," tonight and Saturday at St. Paul's Artists Quarter, the performance should make for an intriguing jazz show.
I asked Meckler to explain the group and its approach. Here he is, in his own words:
How did this project come about?
Well, there are two sides to this story. Cory and I met at one of my earliest shows at the Dakota [where] I was playing with my quintet, and it had been since undergrad that we had seen each other. I knew he played the cello and immediately leaned over before the first tune and said "Dude, let's get together soon and do something weird."
Meanwhile Evan and Cory were already talking about getting together and playing some. It just all kind of came together on its own. I had already written some music in my undergrad that was written for a unique kind of instrumentation, so when Lulu's happened, it all fit very nicely. The other dudes had tunes and ideas for music and bam, we had enough to fill a couple sets pretty quick. By no means in this my band any more than it is Evan's, Cory's, or Steven's. It's always been a totally collective effort.
How would you describe the group's approach and sound?
In Lulu's, anything goes. If one of us hears some music we think might fit the band, we write it, or transcribe it and then arrange it for our instrumentation. For me, it's very obvious when I hear something that would be great in this band precisely because the instrumentation and skill-sets of each player are so unique. I mean, in what other band can you hear a cellist playing bass as good as any jazz player?
Often times the instrumentation dictates the sound of the band as well. For instance, because we have an accordion, we tend to hang out in that tango/waltz world a little, almost like a French Café sound with a little more of a jazz edge when it comes to harmony and improvisation. Of course, we don't just play that kind of music. We've done everything from playing old spirituals to singing four-part harmony to doing an entire show of the music of Thelonious Monk and everything in between. It's a pretty wild ride, musically speaking.
And the tunes on the CD?
We've been playing together for a while now. Coming up on four years, I think. So the tunes we picked were ones we've been dreaming about recording and just never got the chance. When our original accordion player moved to Boston, it took us a while to find the right guy, but when we did, we knew it was only a matter of time before we hit the studio.
How did such a unique combination of players come together and what do each of you bring to the project?
For me, that all started with the cello. I've always loved the cello and when Cory seemed to be in to the idea, it just kind of flowed from there. Cory's ability to also play the bass along with his lifetime of studying classical music made him the perfect fit for our collective vision. At one moment you'll hear Cory bowing sweet melodies, and the other you'll hear him playing a great bass line groove plucking the strings like an upright bass player would in any jazz group.
Accordion was a very natural decision as well, since it fits so well in to the sound of the band. Steven will often play the role of another horn player, but he can also be somewhat of a "one man band" playing chords in his left hand and melodies in his right. Steven is also a great pianist and plays piano in my big band. He's a clarinet player, too. We're still waiting to add those skills to the band's sound.
I use a lot of mutes and really change my sound on the trumpet a lot throughout the course of a show. The trumpet can be over-powering, so I try to change my sound to fit each different style we play. You might hear me growling and in plunger on one tune, open and pretty on another, or in mute. I also occasionally play the melodica in the band, the likes of which you can hear on the track "Collide" on the new album.
Evan and I had already been playing together for years. The original four members all went to Lawrence University together (Steven Hobert replaced Greg Woodsbie on accordion), hence the name LULU's Playground. So it made sense to have Evan and his beautiful guitar playing in the band. Evan plays many different roles. He can be the bass player, the chordal player, or another horn player, and with his effects pedals, he can conjure up just about anything.
I'm in a lot of bands. That's no secret. The difference between Lulu's Playground and the others is that this band has always been about getting together and having fun. We book shows when we feel like playing shows. We write music when we feel like writing music. It's just always been so much fun to make music in this setting that it never really got old or boring.