Minnesota Orchestra lockout continues into fifth month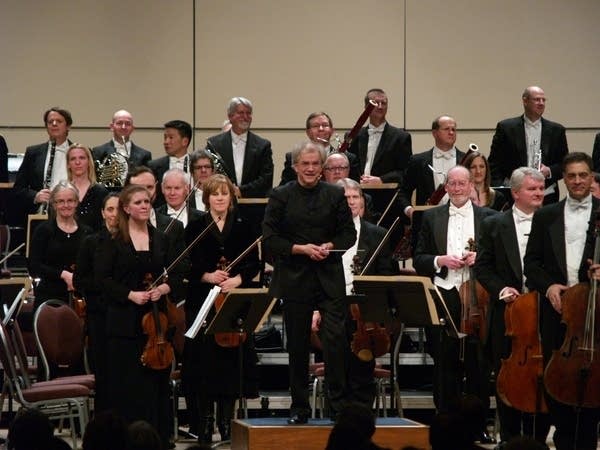 Minnesota Orchestra musicians have been locked out for five months, with few signs that it will be ending anytime soon. Orchestra President Michael Henson joined The Daily Circuit Friday, Feb. 15 to talk about the state of the negotiations, and what the major hurdles are to an agreement.
Management never meant for the lockout to last this long, he said.
"We wanted to get a resolution as speedily as possible, which is why we put our offer on the table in April," Henson said. "We knew it was going to be complicated and we knew it was going to take some time to resolve. Unfortunately we are still waiting for a counter-proposal from the musicians."
Henson said they tried to "break that log jam" by inviting everyone back to the table Jan. 2 to have a conversation and see how we could actually move this forward.
"We agreed to the financial analysis and we showed our forward projections going forward," he said.
Principal cellist Tony Ross also joined the discussion. He said the current proposal from Henson isn't good enough.
Your support makes a difference.
MPR News is made by Members. Gifts from individuals fuel the programs that you and your neighbors rely on. Donate today to power news, analysis, and community conversations for all.
"We believe that the Twin Cities is a major league city," he said. We believe the Minnesota Orchestra is a major league orchestra. The Henson proposal is contrary to everything this community stands for and deserves. It would take us to a minor league level."
Ross said they have made four offers.
"It is true we could have put more detailed offers," he said. "The most recent one, the week before our Grammy celebration concert hosted by Mayor Rybak and Judy Dayton, hopefully to try to bring us together. We made an offer that was flatly turned down to try to do some joint funding and go forward and restart the season. They have no interest in that it seems at the moment."
Henson said the Minnesota Orchestra management is working to be as transparent as possible.
"Our labor attorney has actually said, and he's practiced for 28 years, he has never seen a process of such transparency with the information we've provided," he said. "We've provided audited accounts, detailed records of our meetings. We're just trying to help remove those barriers so there's a common understanding about the challenges we face."
Ross said there are still budget lines musicians haven't seen.
"All we see are top-line reports from budgets," he said. "We haven't seen the feasibility study they did for this whole fundraising campaign. They're asking us to make a giant investment in the Minnesota Orchestra, per player over $60,000 per year. We need to know what we're investing in if we're going to entertain any offer like that or come back with any further offer."
READ MORE ABOUT THE DISPUTE:
A crack in the ice between musicians and management (New York Times)
Minnesota Orchestra cancels more concerts (Star Tribune)
Gallery
1 of 1