Kaler plans overhaul of U grad programs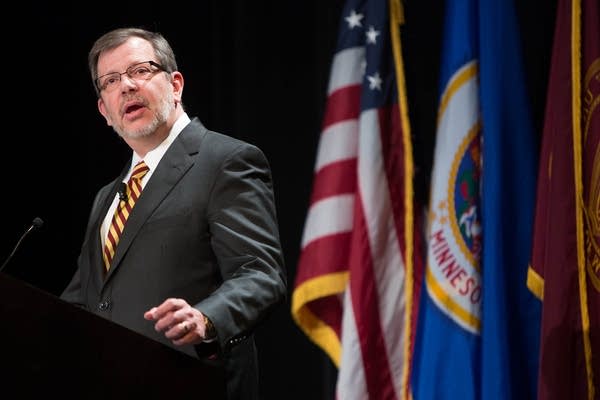 The University of Minnesota wants to revamp its graduate school programs.
President Eric Kaler said after his State of the University address last week that the U needs to shift money toward its strongest programs in a reorganization he calls "Graduate School 2.0."
The university should invest more in its strongest grad programs, start new ones in promising fields -- and possibly close down others, he said. Changes could come within five years.
"At some point, I'm afraid, there will have to be a discussion -- probably sooner than later -- about which graduate programs are we going to invest in, and make sure that we are competitive for, and which of those are we going to have to walk away from," Kaler said.
Kaler also said he also wants to boost recruitment of the country's top grad students.
"Some schools, particularly private institutions, are able to offer stipends -- financial aid -- that outstrips what we can offer," he said. "And so we lose people based on that disparity. And we need to be more competitive in that space."
To that end, Kaler said he is increasing funding for Ph.D. fellowships by $750,000 this year.
Gallery
1 of 1
Gain a Better Understanding of Today
MPR News is not just a listener supported source of information, it's a resource where listeners are supported. We take you beyond the headlines to the world we share in Minnesota. Become a sustainer today to fuel MPR News all year long.