Pres. Kaler: U of M needs 'bold ideas' that fit 'Minnesota way'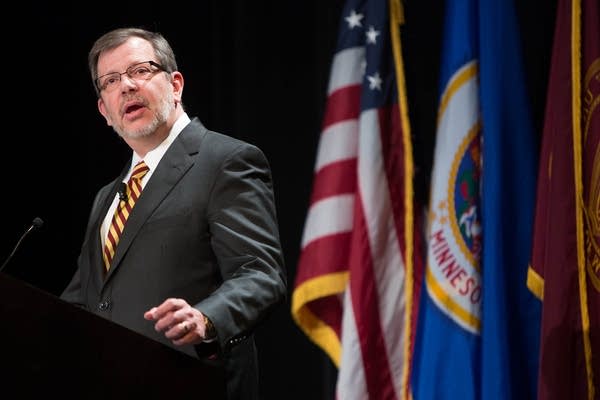 University of Minnesota President Eric Kaler said he is continuing to streamline the institution and that the university is in the "midst of a perfect storm around higher education."
Speaking in his annual State of the University address Thursday, Kaler said, the state needs bold ideas but that it should not chase "willy-nilly" every idea it sees. He said it should look for ones that fit the "Minnesota way."
There are "all sorts of ideas flying around to allegedly improve higher education," Kaler said. High tuition and student debt, budget cuts and a weak job market have "driven heightened public angst and demagoguery about the value of a college education."
Although he acknowledged the gravity of those problems, Kaler said much of the public conversation of the issue felt like a "knee-jerk reaction, or worse."
Kaler said the university will have to make some tough choices soon about graduate school programs -- which to invest in and "which of those we're going to have to walk away from"-- suggesting some programs might be cut in upcoming years.
Gain a Better Understanding of Today
MPR News is not just a listener supported source of information, it's a resource where listeners are supported. We take you beyond the headlines to the world we share in Minnesota. Become a sustainer today to fuel MPR News all year long.
Kaler said he is transforming or improving other areas. As part of a move to revamp graduate school programs, Kaler said he will increase funding for Ph.D. fellowships by more than $750,000. He also said hiring in the College of Liberal Arts is at its highest point since 2007.
He mentioned Florida Gov. Rick Scott, who in December suggested that students pay more to earn a degree in the humanities than to earn one in science and technology.
"His state aims to encourage more students to study engineering, for example, because humanities and liberal arts graduates simply won't bring as much 'strategic' value to employers."
A federal lawmaker's proposal to cut federal funding for one or more of the social sciences was also mentioned.
"To me," Kaler responded, "these proposals are nonsense."
He said Minnesota CEOs often tell him they're looking for college graduates "who are critical thinkers, clear writers and multilingual." Although a supporter of massive open online courses, Kaler cautioned against placing too much faith in online education. He said the MOOCs are not a "silver bullet" for saving money or improving access. Online courses are a growing trend in higher education. Top universities such as Stanford University and Massachusetts Institute of Technology are offering college-level courses that anyone can take.
"This spring the U. will offer several massive open online courses that can teach tens of thousands of students at the same time," Kaler said.
Citing Carlson School of Management Dean Sri Zaheer, who calls such trendy ideas the fast food of higher education, Kaler said, "She asks, and I quote: 'What nourishment are you missing out on when you get a Big Mac instead of the three-course meal?'"
Kaler suggested the three-course meal of education takes place on campus and uses technology, but retains the face-to-face relationship between professor and student.
Kaler spoke of the university's attempt to freeze tuition for the next two years. He has previously said that depends on the university's ability to obtain an additional $92 million over the next biennium from the Legislature.
"We are fighting hard for that zero tuition increase right now," he said.
Last year U of M had the smallest percentage tuition increase in a dozen years, he said.
Kaler did not specifically mention lawmakers' criticism or a December Wall Street Journal article that suggested the university has too many well-paid administrators. But he did say the university is studying how its management structure compares with similar institutions.
The university's libraries have already reduced the number of supervisors by more than 20 percent.
"If the libraries can achieve such a positive impact with 272 employees, I think the opportunity system-wide with 19,000 employees is pretty substantial," Kaler said.
He also said he wants to hold "office hours" for students once a month on the Twin Cities campus as well as on visits to the Crookston, Duluth and Morris campuses.
Kaler said the university is working to strengthen interdisciplinary research and teaching. He said he is trying to change the U of M's risk-averse culture, and wants to cut through needless internal regulations.
Gallery
1 of 1