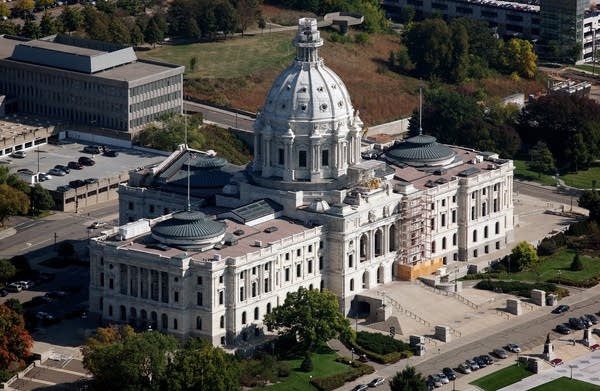 The revenue forecast released last week showed a better than 40 percent reduction in Minnesota's projected budget deficit. All sides welcomed the revised outlook as good news, but it complicated the task of selling Gov. Mark Dayton's budget, which calls for a package of new and increased taxes.
Dayton and fellow Democrats in leadership positions at the Legislature had been seeking broad changes that they said were necessary to arrest the cycle of budget crises and short-term solutions of recent years. Some of those changes — for example, the inclusion of business-to-business services under the state sales tax — were unpopular among business leaders. The improved budget outlook means less need for new revenue and heightened resistance to new taxes.
Appearing Monday on The Daily Circuit, Dayton expressed a willingness to respond to the criticism:
"Turns out that most business people who were advocating broadening the base and who support the additional expenditures that I'm proposing in education, they want to tax consumers, but they don't want to pay taxes themselves ... I just think that's unfair. But that's the reality, that's how they perceive it and you know I take the business climate issues in Minnesota very seriously so we're taking a look at it on that basis."
Not all of his allies sound so flexible. House Speaker Paul Thissen, DFL-Minneapolis, has suggested that the improved revenue forecast provides Minnesota's leaders a chance to "restore some structural stability" to the state's finances. But one of his Republican counterparts, Minority Leader Kurt Daudt, R-Crown, maintains that the new numbers strengthen his party's argument against any tax increases. He has said the revised revenue forecast was good news to everyone except "the people who want to raise taxes."
UPDATE:
Minnesota House Speaker Paul Thissen and House GOP Leader Kurt Daudt talked politics and took questions this morning on The Daily Circuit.
Gun laws:
Questions about Minnesota's gun laws and whether to change them took up a big chunk of the time and questions in this morning's conversation. Thissen acknowledged divisions among DFL lawmakers, based largely on the location of their districts. A compromise is under discussion.
"If it was up to me, we'd do universal background checks," Thissen said.
The GOP caucus is also divided. "We can all agree we should do everything we can to get the guns out of the hands of violent criminals," Daudt said.
Taxes and budget:
Callers pressed on the issue of taxing business services. Thissen said no one likes raising taxes, and added that the mix of taxes will be important.
"Are there less bad taxes to raise than others? Are there types of business-to-business taxes that would be less damaging to the competitiveness of the state than others? We're going to be looking very hard at those issues," Thissen said.
Daudt argued that new tax increases were not needed.
"Taxes are going to cost jobs, ultimately," he said. "I think the answer is let the economy grow, create jobs and ultimately the state will get more revenue."
Same-sex marriage:
Neither lawmaker wanted to talk about the efforts to legalize same-sex marriage in Minnesota.
While a constitutional amendment to prohibit same-sex marriage failed last fall, a new Star Tribune poll shows most Minnesotans oppose changing state law to allow same-sex marriage now.
"It's undoubtedly true that the trend is for support of marriage equality," Thissen said.
Comparing it to gun control, he said same-sex marriage was an issue that needs to be discussed but added, "Our focus right now more than anything else is on getting a structurally balanced budget."
On that, Daudt agreed. "What would unite Minnesotans right now is to talk about something that everyone cares about ... the budget."
LEARN MORE ABOUT THE BUDGET DEBATE
Thissen, Daudt and others discuss the revised revenue forecast.
Gov. Dayton describes his response to the budget controversy on The Daily Circuit.
Senate Majority Leader Tom Bakk and Minority Leader David Hann offer their perspectives in their appearance Tuesday on The Daily Circuit.