Mixed record for Mayor Coleman as he weighs a third term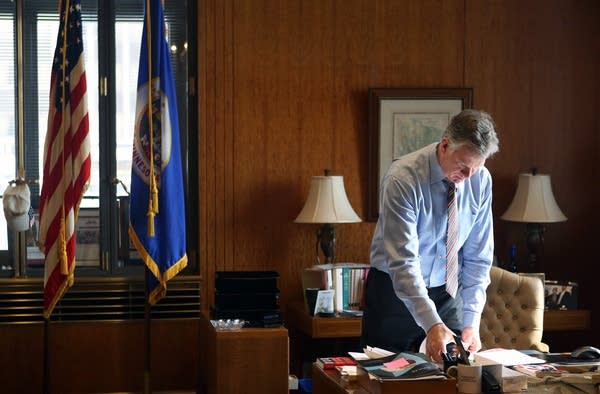 St. Paul Mayor Chris Coleman has not officially announced whether he will run for re-election this year, but he is widely expected to seek a third term.
At the moment, the DFL incumbent appears to be a shoo-in in this one-party town, in spite of a record that includes substantial tax increases and weak job growth.
Numbers help to tell the story of the Coleman years in St. Paul.
Coleman inherited a $16.5 million projected budget deficit when he took office in 2006. His solution included a nearly 9 percent hike in the city property tax levy, and subsequent years brought more increases. When Coleman came into office, the city's total tax levy was about $66 million and now stands at about $100 million.
City Council President Kathy Lantry, who supports the mayor, said he had no other choice.
"Things cost money. You have to pay for them," Lantry said. "Chris has tried really, really hard to make sure that the financing sources for what it costs and the revenue to pay for them match up."
MPR News is Reader Funded
Before you keep reading, take a moment to donate to MPR News. Your financial support ensures that factual and trusted news and context remain accessible to all.
Keeping a financial balance has been a challenge. He faced repeated cuts in state aid, compounded by the Great Recession.
Coleman has been a strong mayor, Lantry said, but he's not omnipotent.
"If I thought the mayor of the city of St. Paul could control the nation's economy, we'd be in a very different place, I think," Lantry said. "Is Chris a better mayor? Is the city better for having him as mayor during this difficult time? Absolutely."
As the U.S. economy has slowly recovered, St. Paul's has, too. But state data show St. Paul's job growth has been weaker than that in neighboring areas.
As of last summer -- the most recent data available -- Minneapolis had returned to pre-recession levels of private sector employment. St. Paul was still down 4,800 jobs.
But it is unfair to compare the two cities, said Matt Kramer, president of St. Paul Area Chamber of Commerce.
"As much as I would like to say that Minneapolis is a wonderful western suburb of St. Paul, the reality is: Minneapolis is a much larger city," Kramer said. "And larger cities have their own inherent growth capacity than a smaller city does."
In spite of those challenges, Coleman is optimistic about the city's economic future. At a recent chamber event, he described the wide array of new amenities coming to the city's long-struggling downtown.
"In just a year or so, a light rail line will be bringing 40,000-plus people into downtown St. Paul," Coleman said. "In just a year or so, people will be buying groceries at the Lund's grocery store in downtown St. Paul. In just a couple of years, people will be going out and buying a beer and watching a baseball game at the new regional ballpark. They'll go to the refurbished Union Depot and hop on a train and be able to go to Chicago and points beyond."
"If the public dollars were truly leveraged, you would see developers beating a path to the boundaries of St. Paul ... but I don't see that."
But some residents were not impressed with Coleman's list of downtown accomplishments.
"It's basically financed with public tax dollars," said Paul Olson, a former president of the Grand Rapids, Minn.-based Blandin Foundation who has lived in St. Paul for the last decade.
Olson said the city needs more businesses, not government subsidies.
"If the public dollars were truly leveraged, you would see developers beating a path to the boundaries of St. Paul to make the kind of investments that would sustain us, but I don't see that," Olson said.
Coleman, on the other hand, sees it happening all over the city, and he expects that to continue.
"Five years from now, what we will see is that every part of St. Paul will be vibrant," Coleman said. "Every part of St. Paul will be great places to live."
The mayor describes the last seven years as "fun, challenging and productive."
His No. 1 goal has been to make the city safer, he said, and the data show that it is. Violent crime is down -- following a national trend. And there are almost 50 more police officers on the street than when Coleman took office.
Taxes may be higher, but Coleman said residents are getting their money's worth.
"If we're going to have a great city that's a safe city, a literate city, a fun city, a great place to live, you have to invest," Coleman said. "And I think our citizens have continually said, 'Yes, we're prepared to pay for those things."
Coleman was not prepared to announce a re-election bid yet, and the only other candidate, Green Party member Roger Meyer, ended his campaign earlier this month. So far, no one else has stepped forward to challenge Coleman.
Gallery
4 of 4
1 of 4
2 of 4