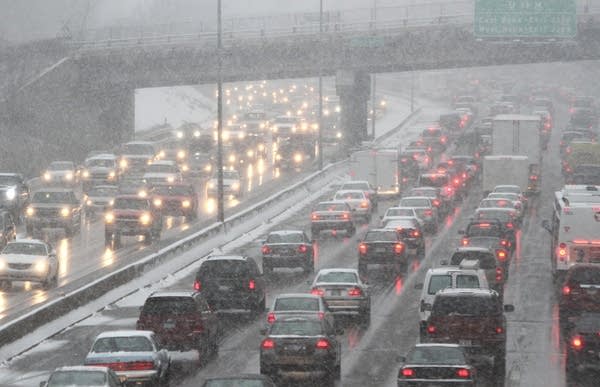 Is the state of America's infrastructure really as bad as all this? The American Society of Civil Engineers rated 16 different sectors of U.S. infrastructure, and the highest grade it could award was a B-minus for wastewater facilities. The lowest grade was a D-minus, awarded for both inland waterways and levees.
Kerri's guests, Rick Geddes and Michael A. Pagano, talked about the dwindling resources available for infrastructure maintenance and the possible alternatives. The price tag for getting the country's infrastructure up to a B rating by 2020 is $3.6 trillion.
If that seems excessive, so is the list of areas that need work. Here's the full slate of areas covered by the ASCE report card, and the grades awarded:
• Aviation D
• Bridges C+
• Dams D
• Drinking Water D
• Energy D+
• Hazardous Waste D
• Inland Waterways D-
• Levees D-
• Ports C
• Public Parks and Recreation C-
• Rail C+
• Roads D
• Schools D
• Solid Waste B-
• Transit D
• Wastewater D

---
America's infrastructure gets a grade of D+
America's infrastructure received a D+ in a report card released Tuesday by the American Society of Civil Engineers.
From CBS News:
The latest report card, which is issued every four years, is actually a slight improvement on the "D" grade issued in 2009. But it found that the nation had significant work to shore up its infrastructure. ASCE estimates that the U.S. needs to spend $3.6 trillion on infrastructure by 2020 — $1.6 trillion more than current funding levels allow.
The Washington Post took a more critical view of the report's authors, citing the country's improvements:
Indeed, it's worth noting that the ASCE always gives U.S. infrastructure poor grades. From reading past reports, you'd get the impression that it's a miracle the United States is even a functioning country. And it's hardly surprising that an engineering group is in favor of trillions in additional spending on civil-engineering projects.

So perhaps the most notable part of this year's report is that ASCE thinks our infrastructure is actually getting better in some areas. For the first time in 15 years, the grade for U.S. infrastructure rose, from a D to a D+.
Rick Geddes, associate professor in Cornell University's Department of Policy Analysis and Management, said the report shows the need for more public-private investment.
"A modest amount of basic maintenance, such as resurfacing a road, can greatly extend the road's life, and reduce the need for much more costly repairs and renovation when maintenance can no longer be delayed," he said in a statement. "But given the strains on state, local, and federal budgets, it is unlikely that regular maintenance will be improving any time soon."
In the meantime, he said, public-private partnerships, or PPPs, could help. Such arrangements require a private contractor to perform maintenance on an agreed-upon schedule.