Improving gun background checks could be costly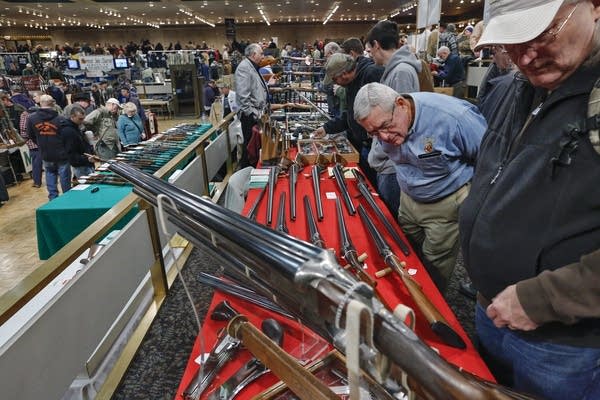 By KYLE POTTER
Associated Press
ST. PAUL, Minn. (AP) -- Lawmakers" plans to improve Minnesota"s background check system for gun sales will come at a cost.
The Senate Judiciary Committee is trying to determine how much it will cost to dig through old court records for mental health commitment information to send to the national database of people who can"t own a gun. That's just a small -- and uncontroversial -- part of a lead Democrat"s move to tighten the state"s gun laws. Sen. Ron Latz, DFL-St. Louis Park, said Thursday it will "fill in the gaps in the current background check information databases."
Janet Marshall with the State Court Administrator"s office said many of those records, dating to 1994, aren't computerized. That could mean extra manpower and significant costs.
Grow the Future of Public Media
MPR News is supported by Members. Gifts from individuals power everything you find here. Make a gift of any amount today to become a Member!
The state will also incur some costs to prepare the data and send it faster. An overall estimate is expected next Tuesday.
But Latz said he is still committed to passing a tougher measure that would impose universal background checks for gun sales in Minnesota. His bill passed out of committee last month, but Senate Majority Leader Tom Bakk has said he doubts that it has enough votes to pass the full Senate floor.
Despite a nationwide push to tighten gun laws after the December school shooting in Connecticut, few states have passed changes. Connecticut Gov. Dannel P. Malloy signed into law Thursday sweeping new restrictions on weapons and large capacity ammunition magazines. Colorado also enacted universal background checks for gun sales and large ammunition bans.
Such restrictions have been a tough sell in Minnesota. Lawmakers quickly abandoned assault weapon and magazine bans, focusing instead on expanding background checks for gun sales.
The House Public Safety Committee passed a bill last month that would extend background checks just to sales at gun shows, after Rep. Michael Paymar, DFL-St. Paul, ditched his effort to impose universal background checks. But even that watered-down measure may not have enough support in the House to become law -- Republicans and rural Democrats have generally opposed any expansion of background checks.
Latz said he is confident he can get enough support to expand background checks to nearly all gun sales in Minnesota. He acknowledged that lawmakers who oppose that measure may try on the Senate floor to swap in an alternate plan that would improve -- but not expand -- background checks. That bill is backed by the National Rifle Association and has the support of almost 100 Republican and Democrat lawmakers from both chambers.
Gallery
1 of 1