What happened to the poached walleye?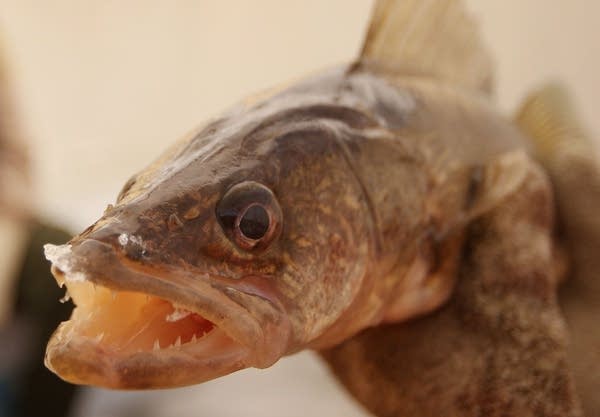 The Minnesota Department of Natural Resources said tens of thousands of fish were involved in a poaching operation, but so far authorities haven't found any evidence that they ended up on dinner plates at Minnesota restaurants.
Instead, those who netted the fish sold them to other individuals, said Col. Jim Konrad, director of the DNR's Enforcement Division. In some cases, they were sold a second time.
Although businesses were sometimes involved, Konrad said it was more a situation of "selling fish out the back door." Konrad said buying and selling fish has been an "accepted cultural norm" in areas of northern Minnesota, and a black market was able to thrive because there was demand for the fish.
"It was very informal and word-of-mouth rather than anything organized," Konrad said. "We don't have any indication that these were being offered as meals in restaurants."
MPR News is Member Supported
What does that mean? The news, analysis and community conversation found here is funded by donations from individuals. Make a gift of any amount today to support this resource for everyone.
Consumers who order walleye from the menu at Minnesota restaurants are usually being served fish from Canada. Selling Minnesota walleye, considered a state game fish, is illegal, although the Red Lake Band of Chippewa does have a legal commercial walleye fishery.
That's where the walleye sold at the Sparkling Waters restaurant in Bemidji comes from. Owner Reva Howe said every delivery is made by the same person in boxes labeled "Red Lake Fisheries."
Howe said she'd never consider buying fish from someone else offering walleye for sale, especially given the possible health and legal consequences.
"We wouldn't take the chance," she said.
At the Tavern on Grand, famous for its walleye dishes, the fish come from Freshwater Fish, a company based in Winnepeg, Canada. Most of the fish come from Lake Manitoba, said Michael Flodquist, general manager of the St. Paul restaurant.
Flodquist said Tavern on Grand doesn't need to shop around for better walleye prices, because they buy so much volume that they get a good price for it. He said it's possible a smaller restaurant might do that, but any restaurant buying fish from a larger supplier is probably safe, he said.
"I don't see them being complicit with a poacher, because the poacher isn't going to be able to keep up with the volume needed," Flodquist said.
Hospitality Minnesota, the trade group representing restaurants and caterers, hasn't fielded many questions about poached walleye, said executive director Dan McElroy. He agreed that most suppliers wouldn't think of working with poachers.
"They are very careful about where fish is sourced because of contamination of any sort," he said, adding that contamination and misidentification of fish have raised concerns in the past, including when some restaurants selling walleye were actually selling a fish called zander from Eastern Europe.
"If someone showed up with a trunk full of fish on ice, our members are going to call the police," McElroy said.
Konrad also said restaurants can watch prices — the investigation revealed walleye were being sold for $1.50 to $3 a pound, compared to the $11 to $17 per pound for legal walleye sold in grocery stores.
"Anytime you have someone offering a product way below the market price, you should be asking questions," he said.
Gallery
1 of 1