Gay men, pro sports: Who will be the first active player to come out?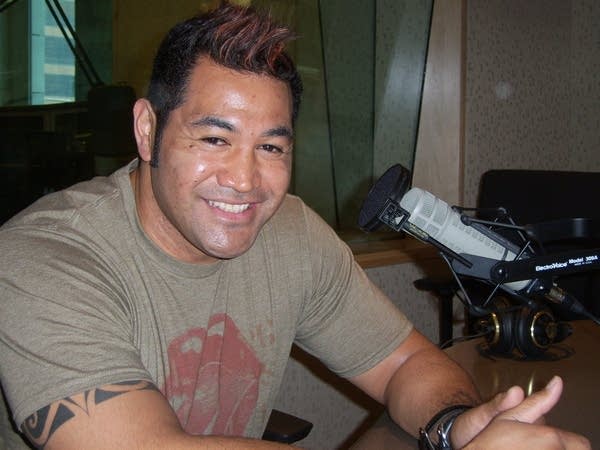 Are the big leagues ready for gay rights?
So far, there has been no openly gay athlete in any of the four major U.S. professional sports: football, baseball, basketball and hockey.
(UPDATE: First openly gay major-sport athlete turns out to be from the NBA, not the NFL.)
But a recent CBS article says that a closeted current NFL player may come out as gay in the next few months and plans to continue to play professional football.
Grow the Future of Public Media
MPR News is supported by Members. Gifts from individuals power everything you find here. Make a gift of any amount today to become a Member!
Some activists are trying to help smooth the way for that athlete to go public.
"We want to let this NFL player — or any closeted gay player — know that you have backup. Your community, whether it is your teammates or your fan base, is here to support you," Hudson Taylor, founder and executive director of Athlete Ally, told the Huffington Post. Athlete Ally is a 11,000-member group that describes itself as "a resource to encourage athletes, coaches, parents, fans and other members of the sports community to respect all individuals involved in sports."
One former athlete believes the news should not come as a shock among the pro leagues.
"Times have changed. The NFL is ready for a gay player," said Esera Tuaolo, a former Vikings and Packers player who revealed he was gay after leaving football.
Tuaolo said he regretted not coming out sooner. "I wish I had come out while I was playing. [But] it's hard to imagine any NFL player coming out while guys like [former Packer] Sterling Sharpe are saying his teammates would take out a gay man in practice," Tuaolo told People magazine after his memoir, "Alone in the Trenches," was published in 2006.
Of course, some gay athletes can reveal their status without causing an uproar — as long as they are women.
That's what happened when former Baylor star Brittney Griner, the No. 1 pick in last week's WNBA draft, casually mentioned her lesbian orientation in an interview. An article in The New York Times noted the yawns: "Brittney Griner Comes Out as Gay, and Sports World Shrugs."
"Because it was a woman," Jim Buzinski, a founder of Outsports.com, a website about homosexuality and sports, said in the Times article. "Can you imagine if it was a man who did the exact same thing? Everyone's head would have exploded."
Even so, one top official says it's a matter of when, not whether, an athlete will come out publicly.
"It will happen. I have no doubt about it," NBA Commissioner David Stern told the Los Angeles Times.
MORE ON GAY ATHLETES AND GAY RIGHTS
• 12 Minnesota United Players Sign on as Athlete Ally Ambassadors
Athlete Ally, an organization working to raise awareness and end homophobia in sports, announced that 12 team members of Minnesota United Football Club as well as the head coach and assistant coach have joined the Athlete Ally Ambassador Program. (Athlete Ally)
• Being gay in the NFL
For EsEra Tuaolo, it was a long road from a banana farm in Hawaii to Super Bowl XXXIII. (MPR)
CNN: ISSUES FACING GAY ATHLETES, COACHES AND REPORTERS
A MESSAGE FROM ESERA TUAOLO:
Gallery
1 of 1