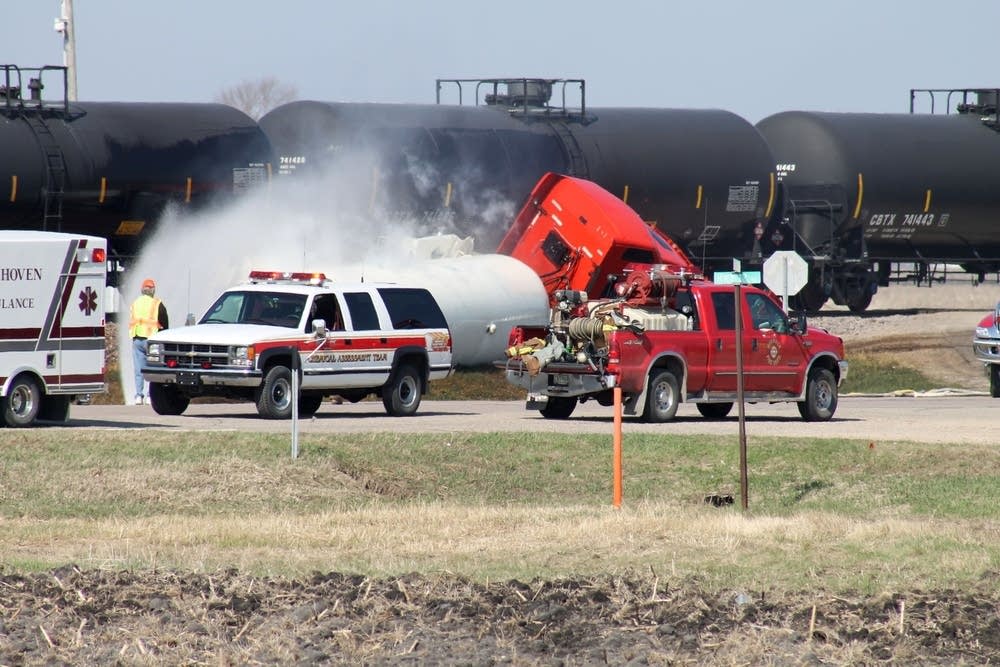 A train collided with a semi truck carrying anhydrous ammonia around 8:30 a.m. Tuesday in west-central Minnesota.
The Swift County Sheriff's Office said the truck owned by Jensen Transport Inc. was leaving the Koch Industries Terminal on Highway 12 when it was struck by the engine of a Burlington Northern Santa Fe train. The accident happened near Murdock, an hour and 40 minutes southwest of St. Cloud.
The sheriff's office said late Tuesday the driver of the truck was in critical, but stable condition at St. Cloud Hospital. Three train engineers were taken to Rice Hospital. Another person at the scene was treated at Swift County Benson Hospital and released.
Paul Baltzer, a spokesperson for Koch, said in a statement that "the collision caused an atmospheric release" of anhydrous ammonia and that the facility was evacuated.
Swift County Emergency Management Director Bill McGeary said a cleanup crew is expected to work through the night to remove the semi and pump out the remaining chemical. Firefighters are spraying the trailer with water to neutralize the anhydrous ammonia gas.
"It attaches itself to the water stream that the fire department is spraying on there and falls to the ground as aqua ammonia, which is safe," McGeary said.
Around 300 elementary students and staff evacuated Murdock Elementary School, three miles from the scene of the accident, and were moved to the high school about 30 minutes away from the accident, said Martin Heidelberger, the superintendent of KMS public schools.
The Swift County Sheriff's Office's website said the leak caused a cloud of anhydrous ammonia to drift north and northwest across Highway 12. Residents within two miles of the accident were warned to stay away.
A section of Highway 12 is closed between Murdock and DeGraff while a haz mat crew evaluates the cleanup.
The train was carrying crude oil from North Dakota to Missouri, said Amy McBeth, a spokesperson for BNSF Railway.
The incident remains under investigation.
View Larger Map