DNR collaring moose calves to study, protect species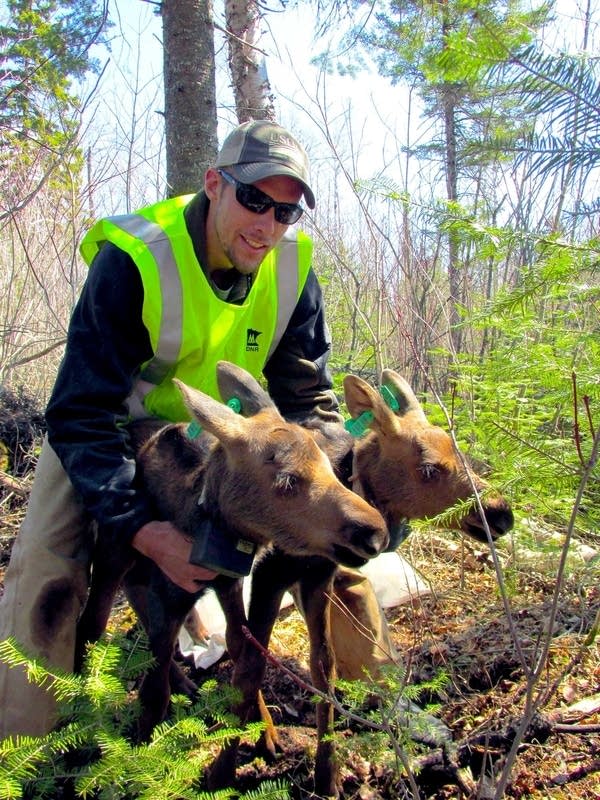 The Minnesota Department of Natural Resources has started the second phase of its ambitious study to determine why the state's moose population is declining so rapidly.
In a $1.2 million study earlier this winter, researchers attached high-tech GPS collars to more than 100 adult moose.
Last week, they began collaring newborn moose calves.
A crew of wildlife handlers from Alaska has flown a helicopter into the wilderness surrounding Ely, Minn., to track a mother moose, called "Dams." A couple days after a female gives birth, explained DNR biologist Glenn DelGiudice, the handlers land and collar the newborns.
MPR News is Member Supported
What does that mean? The news, analysis and community conversation found here is funded by donations from individuals. Make a gift of any amount today to support this resource for everyone.
"Most of the time, they're able to just walk up to the calves, they're anywhere from ... maybe four- to five-days old. They're pretty stationary still; they don't move around much yet," DelGiudice said. "They slip a GPS collar on them, ear tags, take a rectal temperature, a body weight, and maybe a hindfoot length, to get an assessment of their development and condition, and they're pretty much done within about five minutes."
So far, in the $424,000 study on moose calves researchers have collared 25, halfway to their goal of 50.
But three calves have also died, one shortly after being collared, and two after being abandoned by their mothers. In the adult study, four died after being collared. DelGiudice said that's a risk researchers are willing to take.
"Some people might say, 'let nature take its course,' and 'you shouldn't interfere,' " he said. "But if we do that in the case of our moose population in northeast Minnesota, there's a very good chance they'll be gone in about 20 years, maybe less."
The collars allow researchers to track the moose on computers, where they see a precise location every hour. It's the first time moose calves have ever been given GPS collars. Researchers aim to quickly respond to a dying animal to try to learn what happened.
"When that collar kicks into mortality mode, and that happens when the calf is not moving very much, it sends us a text message and an email," DelGiudice. "And then, very similar to the adult study, we can mobilize our team to go into the field and investigate and get that carcass, hopefully before it's scavenged or decomposed."
Researchers will either perform a necropsy on site, or transport it to a University of Minnesota lab for analysis.
The moose population in northeast Minnesota has declined by two thirds since 2006, to fewer than 3,000 animals this year, according to the latest DNR population survey. That follows a similar decline in the northwest part of the state in the 1990s. Research has linked the drop to warming temperatures, but it's still unclear exactly what is killing the moose, and their calves, at such high rates.
Ron Moen, a biologist at the University of Minnesota Duluth's Natural Resources Research Institute, said it's normal for about half of moose calves to die in their first year. But in the past six to eight years, between 60 and 80 percent have not survived their first winter, he said.
"It kind of puts them right at the tipping point where we need to understand what's going on with the calves," he said, "because the calves are the future moose in the population. You need to have them survive."
Moen, a co-investigator for the DNR calf study, also said about 10 percent fewer adult moose are surviving every year. He said those population declines are compounded by a loss of moose habitat and good forage to eat.
"When you put one of those things by themselves, the population could have handled without a problem and there might be a slow decline but it'd be pretty level," Moen said. "But when you put all those three things together, that's why we see the problem we're having."
Even though it's only a week old, the new calf study already has revealed surprises.
"We had a female that moved off 3 to 4 kilometers from its calf after it was handled, and she was gone for a couple days," said DelGiudice, the DNR biologist. "We were watching her on the computer, and we thought, oh boy, this is going to be an abandonment."
But the next morning, when DelGiudice checked his computer, he found the mother back with her calf.
"And they've been together since and doing just fine, so you never know," he said. "We're learning things about their calving behavior and movements that most biologists in North America don't know, because they haven't had the technology."
DelGiudice also said researchers have been surprised by the number of twins. So far two out of every three mother moose have had twins. That's triple the expected rate. The calves also weighed more than anticipated.
But it's still early. Researchers hope to finish collaring calves this weekend. Then they'll monitor their computers throughout the summer, as they continue to try to unravel the mystery of Minnesota's disappearing moose.
Gallery
1 of 1