Minn. House defeats construction projects bill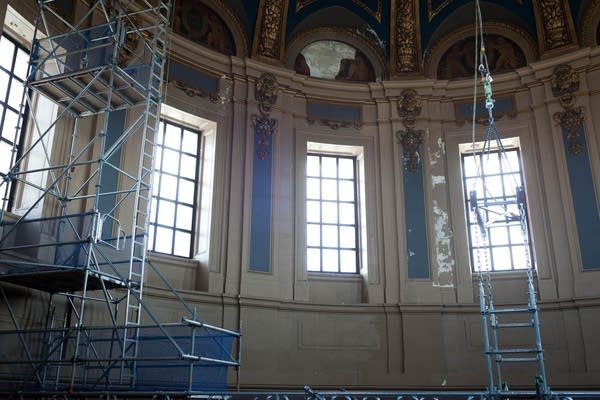 Republicans in the Minnesota House have blocked an $800 million package of public construction projects from moving forward this year, including the next phase of renovation work on the State Capitol.
The DFL-backed bonding bill fell short of the 81-vote supermajority needed for passage. Only three Republicans joined Democrats in voting for the bill, when at least eight GOP votes were needed.
The bonding bill included a long list of projects throughout Minnesota. The biggest one was $109 million for the Capitol building. There were also building improvements at college campuses, flood mitigation projects, regional civic centers, as well as roads, bridges, parks and trails.
Several projects were in the districts of Republican legislators. Rep. Alice Hausman, DFL- St. Paul, the chair of the House Capital Investment Committee, was clearly counting on those lawmakers to support her bill.
"I would probably write a different bill if I just needed a simple majority. But this is the one bill that requires more," said Hausman during Friday's floor debate. "Everyone has to help pass this. We have to work together. So if you have an interest in one part of the bill, it won't happen unless the bill passes, and that's what your community is going to be paying attention to."
With just three full days remaining in the session, Hausman also warned that there was no plan B to salvage some of the bonding projects in a smaller bill.
That didn't sit well with Rep. Rod Hamilton, R- Mountain Lake, who is counting on state disaster aid for his area of southwestern Minnesota that was hit by ice storms.
"We are being held hostage, myself and Representative Schomacker to vote for a bill, whether we agree with it or not, to offer up assistance for the people of southwestern Minnesota," he said. "That is absolutely disgusting."
Other Republicans complained that the bill was too big for a non-bonding year and was distracting from budget work. Rep. Matt Dean, R- Dellwood, also complained that his party was left out of the negotiations that came up with the final version of the bill.
"Bonding bills should be bipartisan, and bonding bills really do need to have pre-agreement in order to move forward. Often times they involve negotiations with the governor's office and the other body in order to move things forward," said Dean. "I just want to point out the fact that that did not happen in this case, and is very necessary in order to pass a bonding bill and moving forward."
Three Republicans voted for the bill -- Reps. Chris Swedzinski of Ghent, Tama Theis of St. Cloud and Mark Uglem of Champlin.
But GOP House Minority Leader Kurt Daudt of Crown said his caucus was still able to send a clear message to majority Democrats about their priorities.
"We need to get the budget here on the floor in bill format where we can debate it and vote on it," said Daudt. "That's what we need to accomplish before the next three days is up."
Following the vote, Rep. Hausman described the outcome as "tragic." She said several Republicans voted against the bill after telling her personally that they would support it. Hausman didn't sound like she was interested in a second attempt to pass the bill.
"What would be the point of taking it up again tomorrow?" she asked. "We've been trying for months to solidify the votes, so overnight nothing is going to change. It's inconceivable to me how people could make this kind of judgment."
Still, DFL leaders in the House and Senate, as well as Gov. Mark Dayton, included a bonding bill in their end-of-session budget framework, and nothing is ever dead while the Legislature remains in session.
Another bonding bill could potentially surface before the deadline for adjournment, which is Monday at midnight.
Gallery
1 of 1