Report: Heroin use steady, but meth is coming back in Twin Cities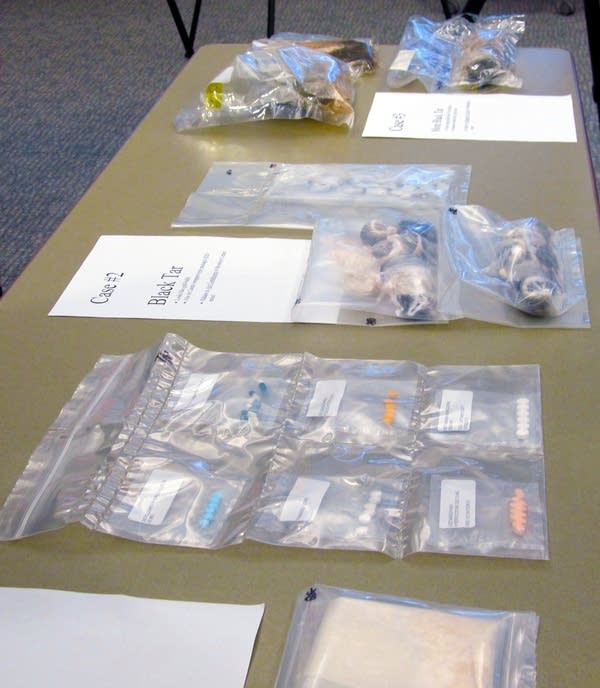 A new report shows that as heroin remains the dominant drug among abusers in the Twin Cities, methamphetamines are making a comeback.
The "Drug Abuse Trends in Minneapolis/St. Paul" report is released twice annually by Drug Abuse Dialogues, an education and training organization founded by former state drug abuse officer Carol Falkowski. Falkowski produces the report as part of an ongoing collaboration with the National Institute on Drug Abuse's epidemiological surveillance network. Her findings show methamphetamine activity has sharply reversed from a previous decline that began in 2006.
"What I'm really talking about is a reversal of a downward trend," Falkowski said. "Not as if it's becoming the dominant drug, by any stretch. Our problems still remain with heroin and other opiates."
Law enforcement seized 27 meth labs in 2012 and meth was the top drug seized by authorities in the seven-county metro area last year, accounting for 22.6 percent of the drug items analyzed, the report says, citing the U.S. Drug Enforcement Administration. The report says meth-related overdose deaths rose from 10 in 2011 to 21 in 2012. Last year, meth-related cases made up 7.4 percent of treatment center admissions.
By comparison, Falkowski said, at the peak of the meth problem, in 2005 about 12 percent of treatment center admissions were meth-related.
"The federal law and the state law that restricted the sales of sudefedrin products in drugstores really was an effective policy in reducing the prevalence of these small-time mom and pop meth labs," she said. "I think what this means is that even though drugs tends to not capture the headlines, it is not as if they disappear."
Your support makes a difference.
MPR News is made by Members. Gifts from individuals fuel the programs that you and your neighbors rely on. Donate today to power news, analysis, and community conversations for all.
Falkowski said her colleagues nationwide and particularly in the Midwest are seeing similar increases in meth activity.
"Once a drug takes hold in rural America, I think it's very hard to reverse that trend."
Also among the report's findings: emergency room visits involving heroin in the Twin Cities nearly tripled from 1,180 in 2004 to 3,493 in 2011. Heroin-related admissions at metro treatment centers last year reached a record high of 12.9 percent of all admitted cases. Heroin arrests by Minnesota drug and violent crime task forces increased 134 percent from 206 in 2011 to 482 in 2012. Opiate-related accidental overdose deaths rose 40 percent from 92 in 2010 to 129 in 2012.
Falkowski said heroin poses a particular risk to rural Minnesota, which she said lacks the treatment and law enforcement infrastructure to deal with the problem.
"And once a drug takes hold in rural America, I think it's very hard to reverse that trend. It's hard to get it un-entrenched," she said.
Gallery
1 of 1