Good sleeping weather; 4th of July looking better; Western heatwave headed for Minnesota?
Fresh Breezes
Note to self. Send Canada a thank you note for fresh summertime breezes.
A fresh breeze is blowing after a week of sticky dew points in the 60s...and a shorter stint in the tropical 70s.
Things are looking up in the Weather Lab these days.
Our change in air masses sticks around for the next few days. No severe derecho-like blobs of damaging winds on doppler, and the 4th of July forecast is looking better by the hour.
Out West, a major heat wave will threaten some all time temperatures records this weekend. Any chance that "Western heat" will spill into Minnesota?
Hint, make sure the AC unit is tuned up.  Any visions of getting through a Minnesota summer without a prolonged 90+ degree heat wave may be vanishing... like a desert mirage.
 Good Sleeping Weather:
Fresh breezes are wafting in drier air from the Canadian Prairies as we head into the weekend. Gone is the gunk...the 70+ degree dew points, shoved into the Ohio Valley by a fresh northwest breeze. The GOES 1km visible image shows more sun...and a northwest breeze pumping in more comfy 50s dew points into Minnesota late Thursday. Windows open, AC off?
Northwest breezes bring in drier air. Image: NOAA via College of Dupage
Sea Change: Warmer (even hotter) and drier weather pattern ahead?
Let's face it, it's been a slow slog into summer this year after a cool wet spring. Late season snow, heavy spring rains and nightmarish overnight derechos and a 15-minute "mini hurricane" last Friday evening have left us all wondering if "true summer" will ever arrive? I may have some good news. There is light at the end of the weather tunnel..and it looks a lot like... summer.
The Twin Cities NWS put together a nice graphic that sums up our soggy spring, and hints a drier days ahead.
In the short run, the weekend forecast looks pretty good...but not totally dry. A cool front slides through Friday PM/evening and brings a few scattered showers that could linger into early Saturday. Skies should trend sunnier Saturday PM & Sunday. Your best chance of a dry outing? Saturday afternoon & Sunday.
 4th of July Looking Better!
The weather outlook is improving for the 4th of July forecast.
Both the GFS and trusty Euro seem to be converging around a solution that favors a bubble of weak high pressure over Minnesota next week.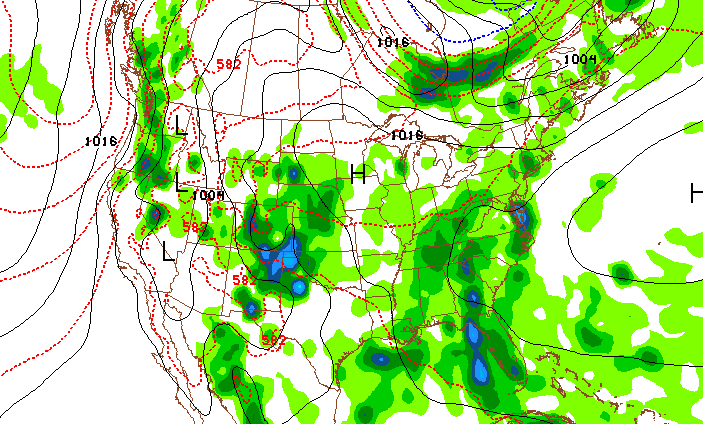 That should keep heavy rains south of Minnesota. The Euro keeps the metro dry on the 4th with mixed sun!
It's still a week out and things can obviously change...but right now here's my best crack at the 4th cast.
-Mostly sunny to partly cloudy, slight & isolated shower chance
-Metro high 82
-Light winds
-Fireworks temp 77F at 10pm
Western Heat Wave: Records may fall
Temps may approach all time record highs in the Desert Southwest this weekend as a massive and prolonged heat wave takes hold. In Death Valley, the forecast high is 129F this weekend. If it hits 130F it will be the 1st time in 100 years. I recall my days in Tucson...when I would go on air at 10pm with the temp still hovering at 99F after the sun goes down. These southwest heat waves are relentless.
Dry heat? So is my oven.
Here's the overview from the Phoenix NWS.
Fun with 120F? Here are some places that often hit 120F in the southwest...and the last time it happened.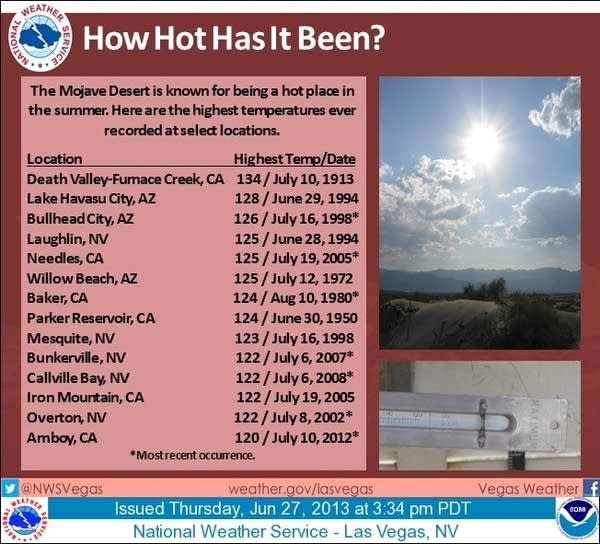 Western Heat Wave: headed for Minnesota?
Looking at the longer range pattern shows a hotter, drier bias for Minnesota. Your grass may actually stop growing so fast in the next few weeks...and need water.
There are signs the big western ridge may spill into Minnesota and the Upper Midwest the week after the 4th of July.
A string of 90s with high humidity? It's looking more likely by the hour.
Enjoy the comfy air mass...while it lasts!
Paul Huttner
Your support matters.
You make MPR News possible. Individual donations are behind the clarity in coverage from our reporters across the state, stories that connect us, and conversations that provide perspectives. Help ensure MPR remains a resource that brings Minnesotans together.