Arts spring from a restored Fergus Falls hotel
Karan Ouren looked out over the roof's edge from atop the three-story Hotel Kaddatz, a collection of artist lofts and a gallery on the city's main street. The view of a white city hall clock tower embedded in the lush trees along the Otter Tail River was arresting and a little dreamy.
Ouren, an abstract painter, relishes the sight. She has lived at the Kaddatz for almost nine years, since the building was transformed from a broken-down former hotel with a collapsing roof into a nexus of the burgeoning arts community here. An introvert contending with multiple sclerosis, Ouren has lived in bigger cities in Texas and Colorado, but she likes the tighter-knit character of Fergus Falls, a city of 13,000 people. If she needs them, "There are a hundred people I could call on and they would be here."
"I'm considered below poverty and I've never been richer," said Ouren, who manages the Kaddatz, polishing its ornate banisters and filling even small cracks in the wooden steps. "Emotionally, as a whole person I am rich. Would I like to sell more art? I would love to. But this place supports me as an individual artist."
Grow the Future of Public Media
MPR News is supported by Members. Gifts from individuals power everything you find here. Make a gift of any amount today to become a Member!
Explore 11 relics in 11 different communities
Fergus Falls is experiencing an arts renaissance of sorts, in no small part thanks to the restored Hotel Kaddatz. In the city's historic downtown now, there are the lofts, two art galleries, a performing arts theater, new studio space above the senior center, at least three arts organizations--including the only office of Springboard for the Arts outside of the Twin Cities--and even a new wine bar and panini restaurant called The Spot, which doubles as a live music venue.
Scores of cities across the state struggle to figure out what to do with old buildings. Especially as rural populations decline or grow older, structures like schools, hotels and churches that were once iconic and served an important community function, become useless. The question in many places is whether a city has the resources, stamina, imagination and good luck to give these buildings new, sustainable life.
Sometimes they do. Empty creameries become coffee and quilting shops. Schools become performance centers. Hotels become senior apartments and serve as new downtown hubs. But sometimes, in the end, even after years of heated debate and false starts, the buildings meet the wrecking ball and disappear.
"Would I like to sell more art? I would love to. But this place supports me as an individual artist."
It's uncanny how often arts come up when people look to save century-old buildings. Not only do they tend to be cheap to buy, making them appealing to the proverbial starving artist, but there seems to be a natural kinship between historic preservation and the creative sensibility. "I believe the people who love the arts also can see what can be beautiful about something old," said Maxine Adams, executive director of the Fergus Falls-based Lake Region Arts Council, which supports arts in nine counties in western Minnesota.
Adams' office is located in another old hotel, called the River Inn, on the banks of the Otter Tail, with cherry paneling and tall French doors "that leak like a sieve" in the winter. "I can sit and look at the architecture and know they don't build it that way anymore," she said. "It would cost millions of dollars and the craftsmen to do it. When somebody with an arts bent looks at that, they think that is so cool. It's a different world view and different priorities."
This argument is born out in cities beyond Fergus Falls. In Granite Falls, an empty church has become an artist studio and just down the block, an old mercantile building on the Minnesota River now houses an art gallery. A decommissioned school in Chatfield is being remade as a center for the arts. Similar projects stretch from Lanesboro to Staples, from Grand Marais to New York Mills to Wahpeton, North Dakota, near the western Minnesota border.
But in Fergus Falls, this sensibility has moved beyond the realm of arts to affect other parts of the economy, too. With a handful of successes behind them, residents are tackling a daunting project - what to do with the city's enormous, vacant, century-old former psychiatric hospital often called the Kirkbride.
Several weeks ago, the city council partnered with a Georgia-based development group, which plans to turn the complex into a boutique hotel, apartments and restaurants. Because the arts community here is so well-developed, it's had a significant role in fostering discussion and planning around the hospital.
Fergus Falls feels like a city in transition. It has a higher than state average poverty rate, of 18 percent, and is grayer than the state average, with 22 percent of its population 65 and older. These are causes for concern among those who live here, who hope arts can give younger people a reason to stay and jobs they'll be interested in. Fergus has gained some of the accoutrements of a thriving downtown--the hip Cafe 116, which serves locally-sourced coffee and food, and the City Cafe and Bakery, run by a couple who moved from Washington state and make root beer rye bread and whimsically-decorated cupcakes. Yet, in the same part of downtown, other businesses struggle. There are empty storefronts. A craft store called Crates of Yarn is going out of business.
Adams thinks there is no question arts are an economic driver. In her western Minnesota region, she estimates they support more than 400 jobs and contribute $13.5 million in annual local economic activity.
"Suddenly four restaurants are open at night, some with live music. There are coffee houses that weren't there before. It's all built up."
Gordon Hydukovich, Fergus Falls' Community Development Director, agrees the arts impact is real. "I think it's growing," he said.
"I do a lot of dealing with different prospectors," Hydukovich said. "They ask about the arts. I bring them through the historic areas, by the historic houses. They notice those things. They talk about vibrancy. When the center for the arts went in, nobody was open at night. Suddenly four restaurants are open at night, some with live music. There are coffee houses that weren't there before. It's all built up."
The meshing of arts and preservation in Fergus goes back decades, beginning with the restoration of the old, closed Orpheum Theater, which in the 1980s became A Center for the Arts.
But it wasn't until Minneapolis-based Artspace spent $2 million to renovate the Kaddatz in 2004 and a nonprofit opened the Kaddatz Galleries on its main floor five years later, that Adams thinks the city turned a corner. "It was a tipping point," she said. "It added additional visibility for the arts. It added a lot to the quality of life here... It helps to keep in people's minds that there is energy here and there are things going on. The arts can carry that message just as well as manufacturing does."
Bringing a hotel back from decline
The Hotel Kaddatz was built during a time of city growth, in 1914, by Charles Kaddatz, a German immigrant who started out with a stand selling fruit and candy. He was so successful, he was dubbed the "apple king of Fergus Falls." He opened a bakery and made enough money to build the Kaddatz, which was upscale for its time, with terrazzo floors and marble wainscoting, ripped out and sold by a later owner.
"It has beautiful brick work," said Chris Schuelke, executive director of the Otter Tail County Historical Society, who lobbied to save the Kaddatz when the city was on the verge of tearing it down. "It was perhaps the most expensive building constructed up to that point in Fergus Falls."
"I remember this as a shabby, scary building that you didn't want to walk by. That was in the '50s."
The hotel's fortunes rose and fell over the years. The world coffee drinking record was set there in 1927 by a man who downed 85 cups in one sitting. But mostly they fell. The first floor was partitioned off for commercial space and the upstairs rooms decayed.
Like old hotels in many small downtowns, where freeways have caused people to speed by, the Kaddatz became an eyesore. "I remember growing up here," said Cory Holte, who lives on a nearby farm and cleans Ouren's apartment. "I remember this as a shabby, scary building that you didn't want to walk by."
The Kaddatz closed in the mid 1970s and was empty for decades. The city took possession of it "just as I was hired in 1983," said Hydukovich. "We had it for 20 years. When we got the building the curtains were on the windows. There was some furniture, carpets on the floor, all the moldings. The art deco lighting was still there. Over a period of time, there were break-ins through the windows. Every once in the while there was an elicit use, a drug party and even a fire. It slowly degraded over those years."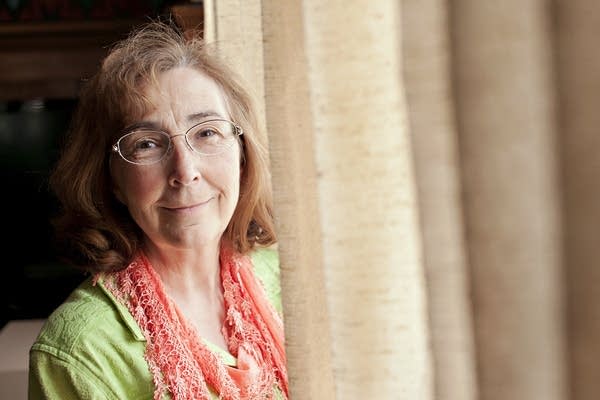 Hydukovich ran more than a dozen developers through the Kaddatz, "but I couldn't find anybody. They wanted too much to help them."
The city considered tearing it down, but also was worried about what would happen if it did. "We kept it so we could keep that main street block intact with no space," Hydukovich said. "A lot of times you don't know what you are going to get into. If you take out a building, it may be doing more to hold up the other buildings than you thought."
The solution, it turned out, came from the community itself, not unusual in these efforts. To be reused, a building has to be cherished, according to Erin Hanafin Berg of the Preservation Alliance of Minnesota, which works to save historic structures all over the state. "There has to be a commitment. The municipality has to say this is worth doing and we're going to do it. There has to be a group of citizens empowered enough to help lead that conversation."
Fans of the Kaddatz, including former A Center for the Arts executive director Rebecca Petersen and Schuelke, stepped up. "There was water leaking through the ceiling," Schuelke said. "There had been a smoldering fire on the third floor. There were hundreds of pigeons. It was really dilapidated." Yet he and others saw enough potential to form a preservation association to save it.
"We got enough donations and volunteers to clean up the main floor to make it usable for A Center for the Arts," he said, noting the community probably put in a thousand donated hours overall. "Volunteers took off the old roof and we had a local roofing company put a new roof on. We raised money and the city contributed the rest." To build support for the building, "We had auctions in there, events, dances, a youth program. Just enough to keep it going as we aggressively looked for developers."
By the time supporters approached Artspace, which builds living and work space for artists all over the country, the coalition was convinced the building should serve an arts-related function. Artspace representatives drove to Fergus Falls and had dinner on the main floor of the hotel. The organization fields a lot of calls about a lot of old buildings, most of which it never redevelops. But this case was special.
"We went up there and met with folks," said Greg Handberg, senior vice president of properties for Artspace. "We met in the Fergus theater and talked about the arts needs in Fergus. We left impressed with the city's support for the project. They built a case that was hard to say no to."
The 10-unit Kaddatz was the smallest project Artspace had ever done. Nor had the organization taken on a building in such a small city. "It's funny, this is the smallest project, you would think it would have a small impact," said Handberg. "But it's a project we very much celebrate. When you think about relative impact on a community, I think it's the most impactful project we have done, given the prominence of that building on Lincoln Avenue. I really felt that the center of Fergus Falls was (downtown) again."
Artspace struggled for several years to find a commercial tenant for the first floor of the building. But then the Kaddatz Galleries, championed by local arts patrons, came along. The gallery serves as the artistic home of renowned local woodcut printmaker, Charles Beck. "We have a little different approach to the artists we exhibit," said manager Gretchen Boyum. "We have more responsibility to local artists. That was a goal of our founding board. We wanted to give them space to let them shine."
Boyum grew up in nearby Battle Lake, but had moved away to Fargo, San Francisco, Philadelphia and St. Paul, before coming back for the job at the Kaddatz. She is an example of the way arts can bring younger people back to town. And she, in turn, has been able to earn money for local artists.
She said when a new senior living facility opened, "We filled up their buildings with local art. The company bought the art."
The Kaddatz "created a little arts Mecca on that block." Schuelke said. He thinks the success translated to support for saving the Kirkbride, Fergus Falls' imposing former psychiatric hospital, which closed in 2009. The city had been struggling to figure out what to do with it. "The Kaddatz project provided the inspiration for local people to take on the state hospital."
Naomi Schliesman, a sculptor and textile artist who has shown at the Kaddatz and teaches workshops through the gallery, thinks the renovated hotel has "had a huge influence on the arts here. Charles Beck is a genuinely sweet, kind person. He's a great inspiration for how we can make artwork and survive in a small community."
A local who left and moved back in 2011 because she "wanted to give back to my community," Schliesman has been involved in preserving and finding a use for the Kirkbride. She collaborated with Michele Anderson of Springboard for the Arts, a St. Paul-based advocacy group that opened its Fergus office two years ago, to design a nine-foot wide chalkboard mirroring the former hospital's distinctive silhouette. She invited the public to write their thoughts about the complex on the board, including new purposes it could serve. The chalkboard appeared in a parade, at the Soap Factory gallery in Minneapolis, and in a later piece of Schliesman's art.
"That got the community involved and gave people the ability to express their thoughts without having to be in a community meeting, where people can disagree with you," she said. Now that a developer has been found for the Kirkbride, artists hope to have input as the plan unfolds, perhaps advocating for studio lofts or class space. One group wants to start a folk school, whether or not it's at the Kirkbride.
"People say I need to move to a bigger city," said Schliesman, who lives on her parents' 12-acre ranch. "I tell them, I respect that. But at the same time, living in a small rural community, I have space to make work. As a sculptor that's an advantage."
The same applies to Ouren at the Kaddatz and the other artists who live there. The apartments, which rent for as little as a couple of hundred dollars per month, are spacious, well-appointed and always full. Currently, they house two piano players, a photographer, a needlepoint embroider, a guitar player, a dancer and even a hairstylist, of whom Ouren said, "When you watch her do her thing, she does it like an artist. It's almost musical."
Inside Ouren's apartment, with its hardwood floors and views of exposed brick, she sometimes has to lift the closet doors a bit to close them, but she doesn't care. "It's wide open," she said. "I could never live in a dwelling with walls and hallways. I love the wide-open space."
"I could never leave," she said. "People look at this as an old building that was burned and affected by a tornado. I see it as home."
Gallery
1 of 1