Greil Marcus, Bob Dylan: A giant of music journalism talks about a giant of music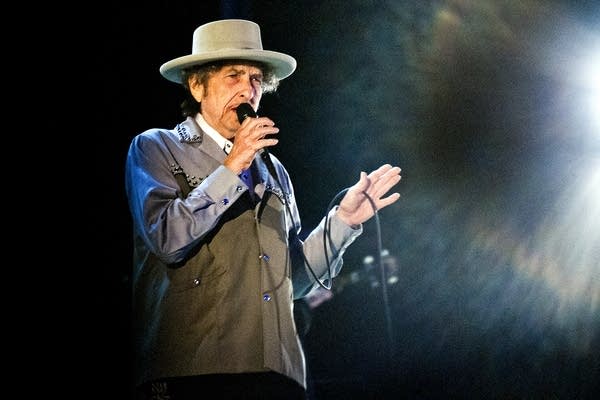 If, like one caller to The Daily Circuit, you don't get Bob Dylan, that's OK with Greil Marcus.
The noted music journalist joined the show on Wednesday, the morning after Dylan's show in Duluth and ahead of his performance tonight at Midway Stadium. Though he has devoted much of his career to covering Dylan, he seemed unfazed by the call from Michael in St. Paul:
"I'm of the younger generation," Michael said, and "I don't get it. I don't understand why Dylan is this big icon and how he's relevant to people of my generation."
"There's no reason at all for anyone to approach Dylan, listen to him, think about him or not think about him as an icon, a symbol, as someone who should be or needs to be relevant to anyone at any time," Marcus replied. "What he's about is his music. The songs he writes, the way he performs them, the way he records them. And if a song moves you, sparks some interest, that's all you need.
Grow the Future of Public Media
MPR News is supported by Members. Gifts from individuals power everything you find here. Make a gift of any amount today to become a Member!
"There's no responsibility on the part of the listener to join a cult. This is about songs, and all I can say is, if you don't get it, then maybe the songs don't reach you. Or maybe you haven't heard the right song. Listen to Bob Dylan's last album, 'Tempest.' Listen to 'Memphis Blues Again' or 'Just Like a Woman' on 'Blonde on Blonde.' See if there's something there for you, and if not, your life will not necessarily be poorer."
Thom Swiss, a University of Minnesota professor who teaches courses on culture, said he thinks Dylan's influence is partly a matter of longevity.
"I think it's just that he's been there forever," Swiss said. "He's influenced almost every contemporary folksinger you can think of. That's a big part of it. The Dylan voice, which was kind of spoken, talky, not terribly well sung in terms of pretty singing — that voice became ubiquitous right after Dylan started."
Without Dylan, he said, "You wouldn't have Lou Reed and so many of the figures today who basically don't have what we call a great voice, but have an emotive, interesting voice."
Marcus didn't appreciate the point. "I think it's always a mistake to take somebody who's interesting in his or her own right and then judge them by their effect on people who are less interesting," he said. "What Joan Baez or Wilco or My Morning Jacket do with his songs might be great, but it's never going to be as interesting as what Dylan himself does with his songs."
Marcus recalled a record company slogan from the '60s, when mainstream singers were recording Dylan songs in great numbers: "Nobody sings Dylan like Dylan."
"Because so many people had said, 'Well, he writes good songs, but God, you just can't get past that scratchy barbed-wire voice,'" he recalled. "If you want to hear somebody plumb the depths, whether of rage, or anger, or distance, or affection, or desperation, or love — if you want to hear that in its fullest, then you have to listen to the person not who wrote the song, but who is seeing the world through the song," Marcus said.
"Every time Bob Dylan sings one of his songs — or, for that matter, songs of someone else — it's as if he puts on a different pair of glasses. And that pair of glasses allows him to see the world in a different way, and when you listen, you see the world in a different way too."
Even so, he suggested that audiences who see Dylan tonight may not be seeing him at his best. The problem, he said, is that Dylan's current band is "purely functional."
"They don't push," Marcus said. "They're not a bunch of inspired players, like the people Dylan was playing with in the early '90s or the middle '60s. They are ordinary musicians and they do their best to follow Dylan's lead and his meanders, his snap judgment in any given moment of how a song is going to be played.
"But in terms of pushing him, in terms of inspiring him, in terms of pulling something out of him that nobody else could get, you're just not going to find that with these people. Everything is on him."
Dylan and his band appear tonight with Wilco, My Morning Jacket and Richard Thompson in a concert that is expected to last four hours. The show is sold out.
LEARN MORE ABOUT BOB DYLAN AND GREIL MARCUS:
• BOB DYLAN BY GREIL MARCUS: Writings 1968-2010
The book begins in Berkeley in 1968, and ends with a piece on Dylan's show at the University of Minnesota — his very first appearance at his alma mater — on election night 2008. In between are moments of euphoric discovery: From Marcus's liner notes for the 1967 Basement Tapes (pop music's most famous bootlegged archives) to his exploration of Dylan's reimagining of the American experience in the 1997 Time Out of Mind. ... Marcus follows not only recordings but performances, books, movies, and all manner of highways and byways in which Bob Dylan has made himself felt in our culture. (Public Affairs)
• Updated Edition of The Old, Weird America, by Greil Marcus
Of all of Bob Dylan's exploits, if there's one that deserves a book-length examination, it's The Basement Tapes. As the author of the official album's liner notes, naturally the task fell to Greil Marcus, and in 1997, Invisible Republic was published — an in-depth, critical look at this mysterious collection of music and the mythology that lay behind it. With its title changed to The Old, Weird America for its 2001 reprint, the book has become a trusted manual on American folk music and Dylan's context within it. On May 5, 2011, an "Updated Edition" of Marcus' now-classic was released in light of Dylan's 70th birthday.
• Book excerpt: Greil Marcus on Recording 'Like a Rolling Stone'
Except on a single take, when they went past the song and made their performance into an event that down the years would always begin again from its first bar, they are so far from the song and from each other it's easy enough to imagine Bob Dylan giving up on the song, no doubt taking phrases here and there and putting them into another song somewhere down the line but never bothering with that thing called "Like a Rolling Stone" again. Following the sessions as they happened, it can in moments be easier to imagine that than to believe that the record was actually made — that, circling around the song like hunters surrounding an animal that has escaped them a dozen times, they caught it. That is what makes an event, after all: it can only happen once. Once it has happened, it will seem inevitable. But all the good reasons in the world can't make it happen. (NPR)
Gallery
1 of 1