As Rochester grows, downtown business owners hope the city keeps its charm
As downtown Rochester prepares for a development boom tied to Mayo Clinic's planned $5.6 billion expansion, local businesses are looking forward to a flood of new customers the project could bring.
• Maps: City of Rochester expansion plans
City officials and Mayo leaders say Rochester is poised to grow by 32,000 residents in the next 20 years. Many downtown business owners hope more residents — and patients — mean more business. But they're also concerned the district will lose its small-town charm.
"People like to come to come here 'cause it's a hometown, 'cause they can go to any mall and get that kind of stuff where they live. They like the mom and pop things."
"I just hope that people that can come here in the retail world will have the opportunity to create a good nucleus of retailers so they can take care of all these people that are going to be coming into town," said O&B Shoes owner Don Hadley, whose store has been downtown for 80 years.
Grow the Future of Public Media
MPR News is supported by Members. Gifts from individuals power everything you find here. Make a gift of any amount today to become a Member!
Hadley said many business owners are concerned they'll be pushed out, either by rising rents or competition from larger, national chains that might cast their eye on the area.
But for all the growth that Rochester has seen in recent years, the 300 or so downtown businesses are still largely independently owned, with names like Eagle Drug and Mac's Cafe, said Rochester Downtown Alliance Director Jon Eckhoff.
"If you own a small business, you take a lot of risk," Eckhoff said. "And to own that small business in a community that's going to grow is a lot easier than to own it in a community that's not."
Still, Eckhoff acknowledges the challenges that come with a growing downtown. For 12 years, he owned a small computer repair shop a few blocks from Mayo Clinic. He chose to move it out of the downtown in 2006 to build a new location on the outskirts of Rochester.
"Certain businesses that can't adapt will probably move further away from the downtown and others that need to get access to that rapid growth will want to move into the downtown," he said. "It's just a natural evolution that all cities go through and we're going to go through that ourselves."
At the Kahler Hotel property on Second Avenue, where some of the small boutiques and shops are in the midst of lease renewals, business owners describe the mood as "tense" and "apprehensive." One said she worried talking publicly might affect her lease renewal at a prominent site near Mayo Clinic.
Interstate Investments, a private firm based in Virginia, acquired the Kahler property, which includes about 60 storefronts and four downtown hotels, earlier this year. Representatives with the company did not return calls for comment.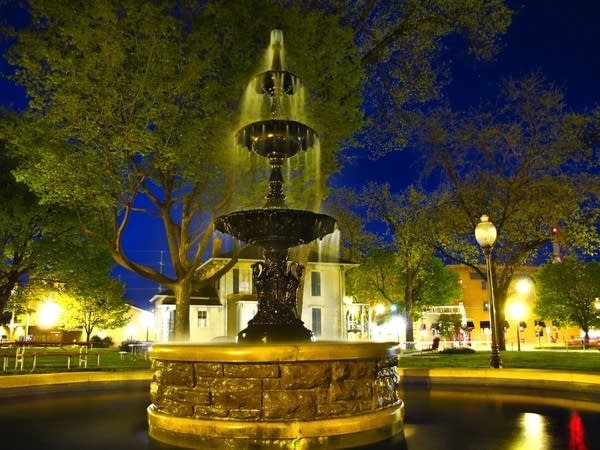 Some say whatever happens with the leases, the character of downtown Rochester probably will not change much. Among them is longtime Kahler property tenant Linda Smith, who owns Optical Vision with Flair, a boutique eye glass shop. Her lease does not expire until 2018, so she isn't yet worried yet about renewing it.
"I don't think the big-named brand things are Rochester," she said. "I mean, people like to come to come here 'cause it's a hometown, 'cause they can go to any mall and get that kind of stuff where they live. They like the mom-and-pop things."
For all the excitement about growth in the district, there is also a lot of confusion about how Rochester will change as property owners try make the city a more attractive commercial destination for hundreds of thousands of patients who visit the clinic each year.
It's unclear if and when larger businesses and chain retailers might decide set up shop in the area. When that occurs, downtown business owners hope there will be room for the old and new.
"We're all willing to change and that's what's going to happen to the city of Rochester, said Hadley, the shoe store owner. "I just hope most of those people will be very open-minded to think about the small retailer, the small businessman... We're not scared of competition, we want to just match it and beat it."
Editor's note: An earlier version of this story incorrectly stated why Jon Eckhoff moved his business from downtown Rochester. The current version is correct.
Gallery
3 of 3
1 of 3
2 of 3