Tom Kornacker wants to add musician's voice to SPCO management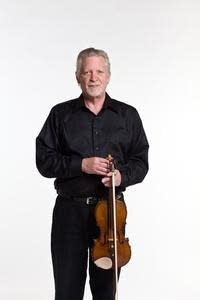 "I was retired for 16 days," laughed the recently un-retired Tom Kornacker.
Tuesday's announcement of Kornacker's appointment as special assistant to Saint Paul Chamber Orchestra President Bruce Coppock came out of the blue to many SPCO devotees. The news came  just days after Kornacker's name was on the list of 10 veteran SPCO musicians taking the retirement package included in the SPCO's recent contract settlement.  Kornacker had already had a long musical career at West Point and in New York before he came to the SPCO, where he was co-principal second violin.
"I took the retirement package because for me, personally, it was the right time," he told me today. "It was an enormous benefit to me, that was given in the last contract to someone like myself who wanted to retire. I had been looking towards retirement anyhow."
"It was time for me. I am of an age where the muscles start to ache a little more and a little sooner and it was a real gift as far as I am concerned that was given to us by the board and those members of the board that wanted us to retire with dignity and that's what I feel that I did and I would not proclaim for anybody else why they took the package or what their motives were. I wouldn't want to do that."
Grow the Future of Public Media
MPR News is supported by Members. Gifts from individuals power everything you find here. Make a gift of any amount today to become a Member!
Kornacker said he did not discuss the retirement package with the other musicians who took it but says he believes that of the 10 there were likely 10 different reasons behind the decision. He says though he is excited that he'll continue to have a role at the SPCO.
"I was with the Chamber Orchestra for 36 years," he continued. "And during that time I was on numerous committees, I was on numerous task forces. I was on the contract renewal that was done in 2003 that changed the whole model of the Chamber Orchestra. And after what can only be described as an incredibly difficult period, I believed that my voice, as somebody who's known the whole institution intimately, is a voice that could help us go forward, resolve the underlying problems and create a really dynamic, exciting orchestra and that's what I wanted to be a part of."
The "incredibly difficult period" to which he refers is the bruising contract fight and lockout that was resolved in April.  Kornacker is now looking to the future.
"I believe very strongly that the whole organization will come out of this in the end stronger and better and that we will have the most vibrant exciting orchestra on the stage that anyone can put together," he said.
Kornacker will have numerous duties in his new job, but perhaps most important will be to seek out musicians to play both in the short- and long-term with the SPCO.
"We have the capability of drawing on really the finest players from all over the country in the first steps of getting on the stage in September to be playing superb concerts," he said. "And I will be doing some travel to areas of the country where I think I can reveal what I think this makes this a very special job. I mean it's rare that a player could come to an orchestra and be expected to play and get to play chamber music and solos with an orchestra and be part of a vibrant organization."
He believes that the SPCO's collaborative model with visiting Artistic Partners -- working with musicians committees rather than a music director -- will be a draw for musicians interested in working in St. Paul.
Kornacker joins Kyu-Young Kim as the second musician in recent weeks to join the SPCO management ranks. Kim, who was on his way to join the New York Philharmonic, changed course and became the SPCO's director of artistic planning.  Kornacker says he's looking forward to working with Kim in their new roles.
"I think that this is something that has been lacking in the entire industry, is not to have the musicians' voice," Kornacker said. "Yesterday was my first day here. I was in three meetings where I think I was able to voice a musician's perspective on the items being discussed that nobody else could really identify with."
"I have always been a conduit between the musicians and the staff and I want to make that less prohibitive," he added.  "And I want it to grow and I want it to be an internal part of the culture."
Unlike Kim, who will continue to perform as second principal violin, Tom Kornacker says his playing days with the SPCO are over.
"No!" he laughed. "It takes being devoted to my instrument and devoted to the music. And playing at the highest possible level is what I did. I was a professional for 50 years. I am devoting my time and my energy and my interest to the organization now in a way that I think I can be of more use, frankly."