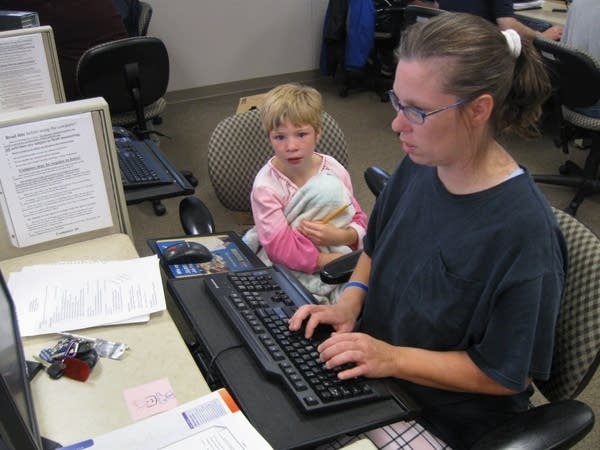 "It's not just that the workplace has failed women. It is also that women are rejecting the workplace," wrote reporter Lisa Belkin, describing the "opt-out generation" in The New York Times Magazine in 2003. She wrote about educated women who were choosing to stay home with their children, rather than rise through the ranks of the careers they were putting on pause.
Writer Judith Warner revisited the women of the "opt-out generation" 10 years later and found they were not trying to get back into the workforce. She wrote in The New York Times Magazine:
The 22 women I interviewed, for the most part, told me that the perils of leaving the work force were counterbalanced by the pleasures of being able to experience motherhood on their own terms. A certain number of these women — the superelite, you might say, the most well-off, with the highest-value name-brand educational credentials and powerful and well-connected social networks — found jobs easily after extended periods at home. These jobs generally paid less than their previous careers and were less prestigious. But the women found the work more interesting, socially conscious and family-friendly than their old high-powered positions.

Among the women I spoke with, those who didn't have the highest academic credentials or highest-powered social networks or who hadn't been sufficiently "strategic" in their volunteering (fund-raising for a Manhattan private school could be a nice segue back into banking; running bake sales for the suburban swim team tended not to be a career-enhancer) or who had divorced, often struggled greatly.
Magda Pecsenye argues in The Atlantic that it's not "opting out" that caused problems for these women. They're simply facing the same struggles that everyone is facing. She wrote:
In Warner's article, a problem of all people — the economy, stupid — is turned into a problem of women. And when women can't magically solve this problem, any choice they make is given a negative moral weight. The media-concocted mommy wars (which Warner is a long-time participant in) rely on attributing moral judgment to acts that are more often financial survival. Warner uses the word "haunted" multiple times to describe their feelings, and attributes this to their inability to use their "prodigious powers of control" on all aspects of their lives, as if by choosing to opt out they'd given up control. Most women don't have anything like an actual choice, and even the ones who do shouldn't be blamed for having only the options they have. Don't hate the player.
Warner and Pecsenye join The Daily Circuit to discuss opting out and opting back in.
RELATED: Breadwinner Moms — Mothers are the sole or primary provider in 40 percent of households with children (Pew)