Record late-season heat wave; little real relief until Labor Day
Record Setting Event
Hot enough for ya?
Somehow you just knew the summer of 2013 would go out with a bang when frost advisories were issued up north a couple of weeks ago. Weather has a way of "averaging" out over time.
The summer of 2013 will go down as warmer than average but will be remembered for some extreme swings in temperatures. It's been a "light switch summer" with weather patterns oscillating between 3-6 weeks of colder than average temps, then 3-6 weeks of extreme heat.
Average in Minnesota? It's just the sum of the means. It's literally been all or nothing this summer. Some climate scientists like Rutgers University's Jennifer Francis think this is a sign of things to come. A slower "climate change induced" jet stream flips from one extreme to the other as weather patterns get stuck for weeks at a time.
Whatever the cause our late summer heat burst shows no signs of letting up until Labor Day -- even though it may ease slightly with highs "cooling" to near 90 later this week.
MPR News is Member Supported
What does that mean? The news, analysis and community conversation found here is funded by donations from individuals. Make a gift of any amount during the Winter Member Drive to support this resource for everyone.
2013 will go down as one of the hottest State Fairs in Minnesota weather history.
11 days at or above 90 degrees in 2013 so far through Sunday
3 to 6 more days of 90+ likely in the next week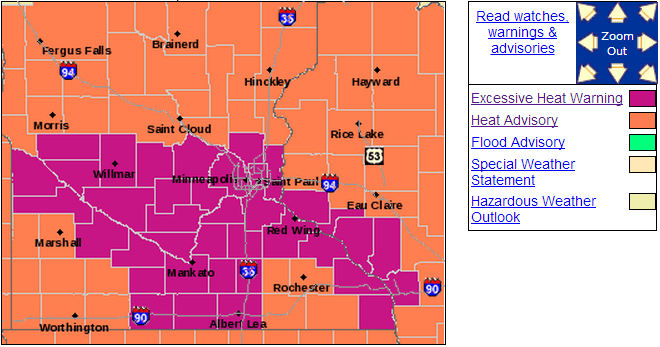 Weird Colors on Weather Map
It's not often we see heat stressed (fuchsia?) colors on the weather map in Minnesota.
Our "Excessive heat warning" remains in effect through Tuesday night for the metro and much of south central Minnesota. I lived through and forecast the deadly Chicago heat wave of 1995 that killed more than 700 people. We learned that the effects of heat are cumulative over days, and hot overnight lows above 80 degrees add to the danger. Your body just can't cool off at night. This kind of unrelenting heat is serious stuff for the very old and young and our pets.
Here's the latest warning language from the Twin Cities NWS.
URGENT - WEATHER MESSAGE
NATIONAL WEATHER SERVICE TWIN CITIES/CHANHASSEN MN
306 AM CDT MON AUG 26 2013
...DANGEROUSLY HOT CONDITIONS THROUGH TUESDAY...
DAYTIME MAXIMUM HEAT INDEX VALUES WILL RANGE BETWEEN 100 AND 110 ACROSS CENTRAL AND SOUTH CENTRAL MINNESOTA AND WEST CENTRAL WISCONSIN TODAY AND TUESDAY. FURTHERMORE...NIGHTTIME LOW TEMPERATURES WILL NOT COOL BELOW THE MID 70S TO LOWER 80S...WHICH WILL FURTHER EXACERBATE THE HEAT STRESS ON HUMAN AND ANIMAL
POPULATIONS.
...EXCESSIVE HEAT WARNING REMAINS IN EFFECT UNTIL MIDNIGHT CDT TUESDAY NIGHT...
AN EXCESSIVE HEAT WARNING REMAINS IN EFFECT UNTIL MIDNIGHT CDT TUESDAY NIGHT.
* TEMPERATURE: HEAT INDICES INCREASING TO BETWEEN 100 AND 110 DURING THE AFTERNOON HOURS THROUGH TUESDAY...WITH OVERNIGHT LOWS ONLY FALLING BACK INTO THE 70S.
* IMPACTS: THE HOT AND HUMID CONDITIONS WILL LEAD TO A HEIGHTENED RISK OF HEAT RELATED STRESS AND ILLNESS... ESPECIALLY FOR THE YOUNG AND ELDERLY...THOSE WITHOUT AIR CONDITIONING...AND PEOPLE PARTICIPATING IN STRENUOUS OUTDOOR ACTIVITIES.
It's not the heat, it's the dew point
Factor in dew point in the 70s and you get some crazy hot heat indices approaching 100 degrees. Your body just can't cool as efficiently through evaporation from sweat when dew points are in the 70s. Here's the "apparent temperature" or heat index expected this afternoon.
Records Tumble: 5 in a row?
We've already set three consecutive records in the metro with this heat wave. We'll set two more in the next 24 hours.
Records so far:
80 degrees = record warm overnight minimum Sunday  (74 set in 1948)
96 degrees = record high Sunday (94 set in 1948)
80 degrees = record warm overnight minimum Monday (75 in 1991)
Records likely:
98 degrees today = record high (94 set in 1948)
81 degrees Tuesday AM = record warm overnight minimum (76 in 1973)
Tuesday's record high of 99 degrees set in 1926 will likely stand for now. Here's the Twin Cities climate calendar from the Minnesota Climate Working group.
"Ridge 594:" July-Like Upper Air Pattern
Our upper air pattern looks more like July over the U.S. these days. A huge (594+ decameter) ridge of upper level high pressure centered over Kansas City -- essentially the "Bermuda High" --  intensified over the weekend. This high amplitude pattern means heat over the central U.S. and cooler weather on the coasts. Heres' the 500 millibar (18,000 feet) upper air chart from Monday morning.
The ridge will break down slightly later this week. We should see some slight relief from the intensity of the heat and humidity after this week. But highs will still "cool" to only around 90 degrees by Thursday.
Heres' a look at the European model data from Weatherspark cranking out several more 90+ degree days.
Slight Storm Risk
The heat is capping out atmosphere over most of Minnesota. It's just too hot aloft to get air rising for storms. There is a slight risk that storms will blow later tonight. Here's the risk area from NOAA favoring areas just north of the metro.
No real relief until after Labor Day?
This hot upper air pattern shows little sign of giving way soon. The Euro shows some signs of relief next week. NOAA's CPC keeps things toasty for the next 10 days overall.
NOAA's GFS keeps it hot into next week then cools things off into the 80s and eventually 70s late next week. That's still above average, but would bring some relief to what is already a record setting late summer heat surge.
In the meantime, stay cool and hang in there!