Monarch butterflies migrating through Minn. despite population decline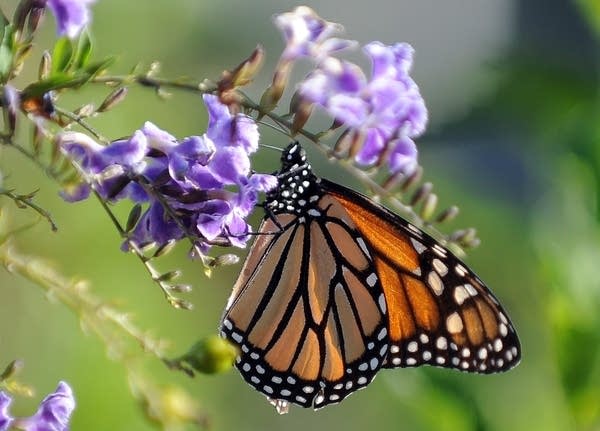 Monarch butterflies are in their migration through Minnesota right now, but reports of declining numbers worry conservation experts.
From MPR News earlier this summer:
Scientists blame extreme weather in the southern states for a massive die-off of the Monarch this year. Its absence may also be sending messages about the environment's health. Suburban sprawl, mowing and farm chemicals have reduced the population of milkweed, the only plant where Monarchs place eggs.

A generation of Monarchs may have been lost, says Elizabeth Howard, director and founder of the Monarch research group Journey North.
Karen Oberhauser, professor of conservation biology at the University of Minnesota, joins The Daily Circuit to discuss how this year's migration is offering clues to explain the declining population.
Gallery
1 of 1
Gain a Better Understanding of Today
MPR News is not just a listener supported source of information, it's a resource where listeners are supported. We take you beyond the headlines to the world we share in Minnesota. Become a sustainer today to fuel MPR News all year long.