The emerald ash borer is a tiny pest. But it's hobbling the North Shore's big timber business.
When city crews discovered the ash borer this summer in Superior, Wis., all of Douglas County was quickly placed under quarantine. That stopped firewood from being moved outside the county. But it's also kept the region's timber industry from transporting unprocessed ash trees through September.
That could have a big impact on the region.
"It's not all going to be placed on the loggers or all on the mills, every level of that supply chain is going to feel a certain level of pain because of this new quarantine," said Jon Harris, Director of the Douglas County Forestry Department.
Duluth officials say it's only a matter of time before the emerald ash borer crosses the St. Louis River into Minnesota. It's already creating problems.
The Sappi mill in Cloquet, Minn., has stopped buying ash from Douglas County for now. The mill mixes in a small percentage of ash with aspen and maple to produce specialized cellulose used in clothing and other products. It also buys chips and slash to fuel its biomass boilers. Buying ash from the quarantined area in Wisconsin means Sappi will now have to enter into a compliance agreement with the federal government.
"If it's only the limited volume that we might get out of Douglas County, it's probably not too big an issue for us to deal with. The challenge gets to be if and when the quarantine area expands," said Gary Erickson, the mill's regional manager of wood fiber and fuel procurement. "As more things become quarantined, and a bigger volume of it becomes quarantined, it just becomes more and more difficult."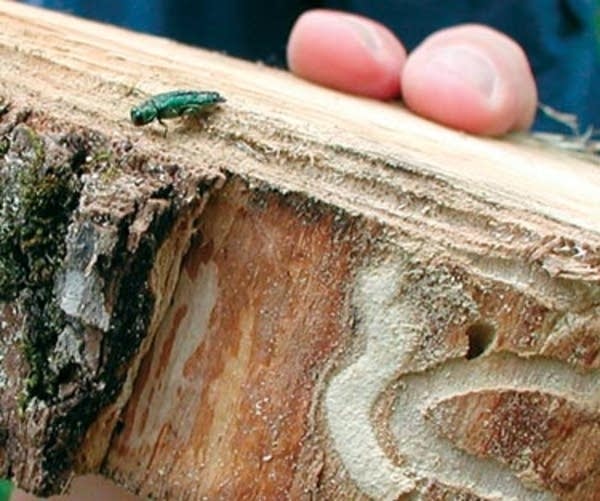 Sappi already buys wood from several Wisconsin counties under a gypsy moth quarantine, another invasive pest. And Erickson says Minnesota is considering implementing a quarantine for that species in Cook and Lake Counties.
The ash borer quarantine is more than just a nuisance for loggers like Max Ericson of Minong, Wis.
The Sappi mill is of one of Ericson's main customers, but it's not buying Ericson's ash right now. He may have to hold on to timber after he cuts it in the summer months. Regulators restrict the movement of cut ash until October 1, when the beetle stops flying and can't spread as easily.
"When you buy a timber sale, before you start cutting, you pay money down, and you have to pay before you cut," Ericson said. "So you have the expense of having your money tied up in stumpage, tied up in your labor, and fuel for the skidders, and all that to produce that wood, and then it has to lay there for potentially four or five months."
While the quarantine may help keep the ash borer in check, it also comes with a cruel twist: If mills stop buying ash, that hurts Douglas County forester Jon Harris' ability to prevent the pest's spread.
To halt the ash borer's movement, "you want to harvest trees in a certain way," Harris said. "If we're unable to do that, because we lose our markets, we won't be able to minimize the spread."
Officials suspect the emerald ash borer spread to Superior by hitching a ride on firewood. And that upsets loggers like Ericson.
"The chances of loggers spreading the emerald ash borer from way down in the central part of the state clear up to Superior are slim to none," said Ericson. "But we're the ones who are going to have to deal with the consequences in order to protect the natural resources that we do have."