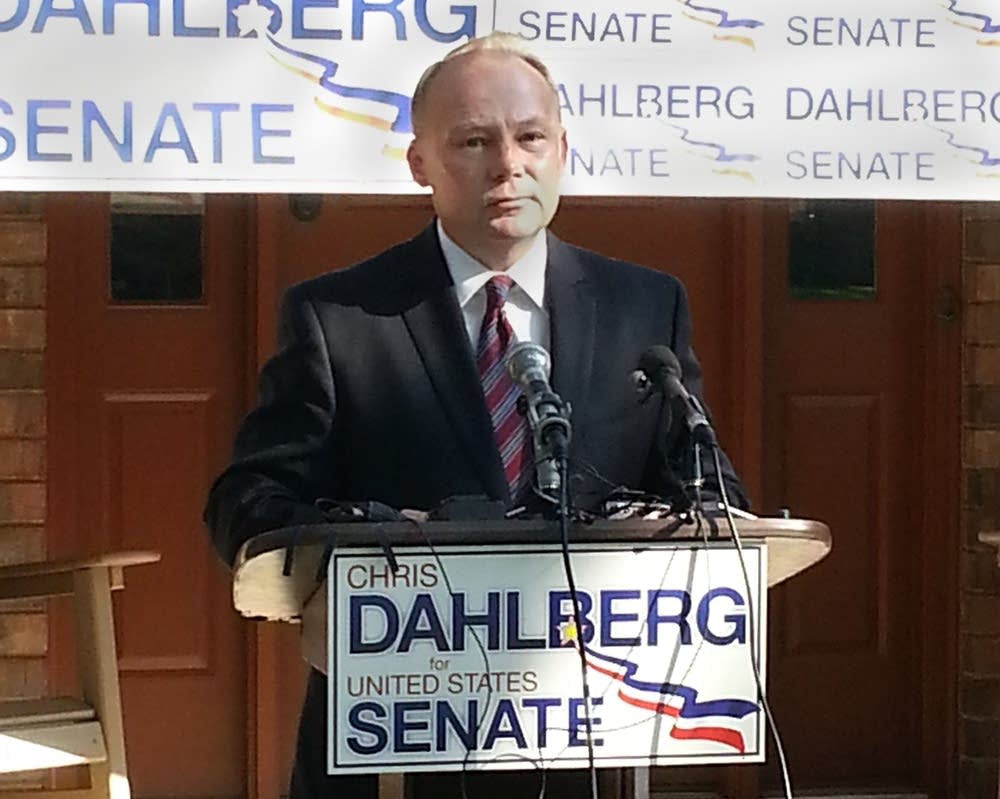 St. Louis County Commissioner Chris Dahlberg made his campaign for the U.S. Senate official today with an announcement in suburban Minneapolis.
Dahlberg, of Duluth, chose the front porch of a friend's home in this northern Twin Cities suburb of New Brighton to launch his campaign. He said he will conduct his campaign on front porches, talking to Minnesotans about what they want done in Washington.
An attorney and a 25-year Army reservist who was deployed to Iraq about 10 years ago, Dahlberg, served on the Duluth City Council before being elected to the St. Louis County Board, which he chairs.
He joins four other Republicans who hope to run against first-term Democratic U.S. Sen. Al Franken next year.
Dahlberg promised a different type of Republican campaign from the ones Minnesotans have become accustomed to. He said he will focus less rhetoric and more on what it takes to improve the economy and reduce the federal debt.
"The old Republican formula for running candidates is not working and only gets us clobbered," he said. "That's why I'm presenting myself today as a Republican candidate for the United States Senate. We need a candidate that can appeal to all voters, not just Republicans."
But like many other Republicans, Dahlberg said he favors defunding the Affordable Care Act and that he thinks that it's fine to link the future of "Obamacare" to negotiations over the debt ceiling and federal budget. Some Republicans in Congress have threatened a government shutdown if the federal health care overhaul is not delayed.
To appeal to voters beyond core-Republicans, Dahlberg said he will focus on issues of concern to the middle class. He said the federal government does not need more money and that he favors local government control whenever possible.
Before he can take on Franken next year, Dahlberg will first have to win the support of Republicans in what is now a five-way battle. Also running are state Sen. Julianne Ortman of Chanhassen, state Rep. Jim Abeler of Anoka, and businessmen Mike McFadden, of Sunfish Lake, and Monti Moreno, of Marine on St. Croix.
Dahlberg said he will abide by the party's endorsement process and agree not to run in the primary only if all of his competitors agree to do the same.
Hubbard Broadcasting founder Stan Hubbard encouraged Dahlberg to get into the Senate race. Dahlberg said he caught Hubbard's attention because he's a Republican who has won big in a Democratic area of Duluth.
Hubbard said Dalhberg is the best candidate to take on Franken.
"I think he has a better understanding of what needs to be done to help Minnesotans to create jobs and to represent us in Washington," Hubbard said.
Hubbard said he's already given the Dahlberg campaign the maximum amount of money he can legally contribute. Federal law allows individuals to give candidates up to $2,600 per election cycle. He has also been introducing Dahlberg to friends and colleagues.
But Hubbard insists he wants nothing in return for his support other than better government, which he said is less-intrusive government with fewer rules and regulations that hold back prosperity.
"This is the guy I support," Hubbard said. "You know, the Wild is my team. I support the Minnesota Wild, but I don't tell them what to do."
Dahlberg welcomes Hubbard's support but said it will not buy any special access or political favors.